Rafael Concepcion returns to New York after defeating Banal in 10th round knockout
CEBU CITY – Rafael Concepcion of Panama overpowered AJ Banal on Saturday to score a dramatic 10th round knockout and win the WBA Interim super-flyweight crown. The end came in the 2:35 mark of the 10th round with a solid right to the face in a neutral corner. The thousands of local fans in attendance at the packed Cebu Coliseum were dismayed and stunned as the hot favourite AJ Banal was brought to his knees and was unable to beat the referee's count apparently due more to exhaustion..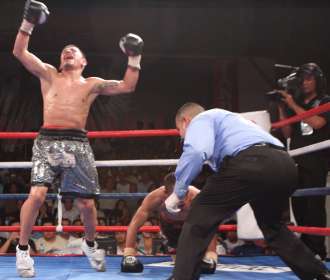 After Banal was counted out, Concepcion celebrated as he lay on the canvas. He was in tears and revealed later on he found the strength and courage to overcome AJ Banal by remembering his family and new born baby girl in Panama.

Concepcion moved up to 11-2-1 with 7 KOs while Banal dropped to 17-1-1 with 14KOs.

Rafael Concepcion and his team will now return to New York. Their flight will land at New York's JFK airport at 6:25 am on Monday 28th July.

Concepcion's manager Damon de Berry is currently considering the next move for Rafael. There is a high probability he will defend his title before the 15th September before the showdown takes place for the regular WBA superflyweight championship between the two top-rated Japanese fighters - Nashiro and Kohei Kono.

Accordingly, the winner from this contest would then meet Concepcion before December 15, 2008 to determine the ABSOLUTE champion of the superflyweight division.

Article posted on 26.07.2008
previous article: Margarito Stops Cotto In The 11th Round Of A Classic!
next article: Margarito-Cotto: The Prediction and the Outcome



If you detect any issues with the legality of this site, problems are always unintentional and will be corrected with notification.
The views and opinions of all writers expressed on Boxing247.com do not necessarily state or reflect those of the Management.
Copyright © 2001- 2015 Boxing247.com - Privacy Policy l Contact