The Battle is Over: Margarito Upsets Cotto
By Vanessa McConnell, photo by Naoki Fukuda: Antonio Margarito (37-5, 1NC, 27 KOs) got exactly what he wanted and took the WBA world title from Miguel Cotto (32-1, 26 KOs) July 26 at the MGM Grand Arena in Las Vegas. Cotto made it to the eleventh round when his uncle/manager/trainer Evangelista Cotto threw in the towel. This was one of the most anticipated fights of the year and turned out to be one of the bloodiest. Cotto was undefeated until now..

Predictions indicated that Cotto would win because he was a much faster fighter and had lethal power punches and combinations. But Margarito beating him has made fans rethink their stance.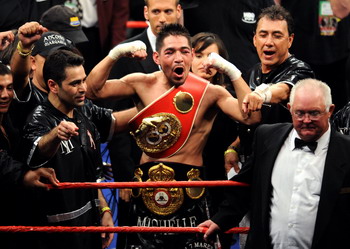 Both fighters gave a good fight in what most were calling a "bloody war" but in the end one winner reigned supreme in "The Battle" and now Cotto's camp and fans are hoping for a rematch. Both fighters wanted the win badly. Cotto started out strong and ended weak and it was the other way around for Margarito. Once Cotto was worn out, Margarito took advantage and took the title.

Cotto dominated Margarito in the first six rounds but Margarito gave him a good run for the title. Margarita was warned early in the fight for low blows and took a lot of combinations and jabs from Cotto but Margarito woke up in the fifth round and showed signs that he was picking the pace up and Cotto was winding down. Cotto was still going strong in the sixth round but Margarito landed three uppercuts and the fight begin to turn in his favor.

Cotto began to bleed in the seventh round from his nose and mouth and by then Margarito began working on his body to break him down and continuing to take advantage of his weakening uppercuts. By the ninth round Cotto began to get mad and show his frustration but Margarito was not fazed by his now weak combinations and dominated the round and fight from that point on. Cotto was counter punching but he was not match for Margarito at that point.

Both fighters were worn out by the tenth round, and Cotto came strong with combinations but Margarito came back just as strong. By the eleventh round Cotto was bleeding bad and hurting bad. Cotto was hurt and being dominated so bad going into the eleventh round, Margarito scored a knock down. Cotto got up but was knocked down again and that was when the fight was stopped.

Margarito has his sights set on fighting Oscar De La Hoya in December of this year. Article posted on 26.07.2008
previous article: Margarito-Cotto: The Prediction and the Outcome
next article: Steve Cunningham congratulates the Philadelphia Soul



If you detect any issues with the legality of this site, problems are always unintentional and will be corrected with notification.
The views and opinions of all writers expressed on Boxing247.com do not necessarily state or reflect those of the Management.
Copyright © 2001- 2015 Boxing247.com - Privacy Policy l Contact