Hard-hitting middleweight contender Amin Asikainen chasing the Euro title again
by Ville Niemonen: Though heís ranked as middleweight champ Kelly Pavlikís number five challenger by the respected Ring magazine, Finlandís Amin Asikainen remains virtually unknown to most boxing fans. Hugely popular in his home country, Asikainen burst onto the scene in May 2006 when he kayoed tough Frenchman Christophe Tendil in the fifth round to win the vacant European Union middleweight title..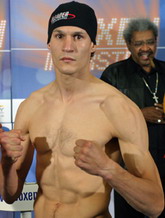 This was just the beginning though, because it didnít even take a full month for Asikainen to become the middleweight champion of Europe. Reigning champ Sebastian Sylvester was left without opponent for his title defense on the Nikolay Valuev-Owen Beck undercard and Asikainen came in as a late-sub. The hard-hitting Finn, although unbeaten in 17 fights, was a huge underdog going in to the fight. Sylvester, since getting knocked out in his pro debut, was on 21-fight winning streak and had just beaten world-ranked Morrade Hakkar, Lorenzo Di Giacomo and Steven Bendall in three consecutive fights. Some were probably expecting another successful defense for the German, but Asikainen had other ideas. The fight was fairly even after seven rounds, one judge had Sylvester up by two points and the other two by one point. However, Asikainen was beginning to find his range, and in the final minute of the eighth round he connected with a left hook that send Sylvester to the canvas. ďHurricaneĒ made it to his feet but it was clear he was in no condition to continue and so Asikainen was declared as the new champion.

The homecoming of Asikainen was media event in itself. Finnish TV crews and other members of media were waiting at the airport for the champ and his new belt. After couple months of rest, the work begun for his first defense, which would take place at the glorious Hartwall Arena in Helsinki. The opponent was German Alexander Sipos, who was posting a record of 17-1-2. The tricky Sipos gave Asikainen some problems early on, but in the end the Finn easily prevailed by unanimous decision. Next up for the champion was even a tougher task when he faced the dangerous Lorenzo Di Giacomo of Italy. The challenger had been beaten just twice in 36 fights and had given Sylvester all he could handle before losing a close unanimous decision just a year earlier when challenging for the same title. The event was huge in Finland as it not only featured Asikainen, but also heís stablemate Juho Tolppola in high profile fight, challenging unbeaten Italian Michele Di Rocco for European Union light welterweight title. The main event was supposed to be a closer fight than it actually turned out to be. Asikainen put on, aside from heís title-winning effort against Sylvester, arguably the best performance of his career, totally dominating Di Giacomo and scoring a near-shutout on the cards.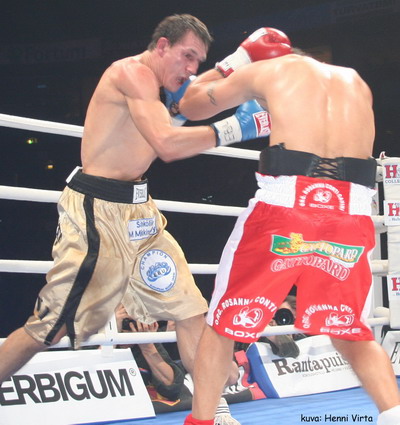 The victory over Di Giacomo had moved Asikainenís record to 20-0 and it was soon to be 21-0 as he easily stopped journeyman Martins Kukuls in the sixth round of scheduled eight in a tune-up fight in May 2007. The champ had fought his last three fights before supporting crowds in Finland but for the next one he had to travel to Germany again. It wasnít gonna be easy as he was facing Sebastian Sylvester in rematch. Former champion was 4-0 since losing his crown and was eager to tie scores with the man he had lost his title to. Asikainen started well, almost dropping Sylvester in the opening round, but then got maybe a little bit carried away from his gameplan and the German was able to win many of the middle rounds. The fight was still close going into the eleventh round, at that point the judges had it 2-1 for Sylvester. Unfortunately for Asikainen, that next round ended prematurely. Sylvester had already hit Asikainen behind the head during the fight and did it again in the eleventh, this time clearly hurting his opponent. Referee Giuseppe Quartarone failed to give Asikainen the five minutes, which according to rules heís entitled to have, to recover and one knockdown later it was all over, the title had dramatically slipped away from the Finnís hands.

Although suffering a major setback, Asikainen was soon back in action. On September 28, he outpointed Sylvain Touzet of France over four rounds in a bout held in Sweden. The fight wasnít that significant, but Asikainen showed that the loss to Sylvester hadnít left any marks on him as a boxer. In October he was fighting again, this time in Helsinki. He was facing respected French journeyman Christophe Karagoz. The fight was scheduled for ten, and once it began, it was all Asikainen. Karagoz had no chance and in the end lost a wide decision. After two less-meaningful fights, it was clear that team Asikainen was searching for tougher opponent for the next one. And who did they pick? None other than former IBF jr. middleweight champion Yory Boy Campas, who despite going 6-4 in his last 10 fights, was still highly respected and everybody was aware of his tremendous punching power. It was almost five years since Campas had been stopped, and that time it was against future Hall-of-famer Oscar De La Hoya, who stopped the Mexican warrior in seven one-sided rounds in Las Vegas. Eager to show his full potential, Asikainen did no worse. In the seventh round the home-town favorite connected with a perfectly timed right cross just as Campas was stepping in. Campas was clearly staggered and Asikainen moved in for the kill. Campas didnít throw any punches in return and another flurry from Asikainen left referee Erkki Meronen no choice, he stopped the contest 56 seconds into the seventh round.

Stoppage win over Campas was a strong statement from Asikainen. He showed everyone heís truly a world-class fighter who could no longer be ignored. Since losing his European title to Sylvester, Asikainen had been begging for rubber match. At the moment it looks like the fight wonít happen for a while as Sylvester vacated the title in order to challenge countryman Felix Sturm for the WBA title. Asikainen, however, is in good position for marquee fights. Heís fighting for the vacant title, probably before the year ends. The opponent is rumored to be Khoren Gevor, German-based Armenian, who lost a grueling fight against IBF champ Arthur Abraham last August. Before Asikainen gets to fight Gevor, he must get past a tune-up fight against the ever-dangerous TBA on August 30 in Tampere, Finland. Should Asikainen be victorious in his next two fights, heís definitely ready to challenge either Sturm or Abraham. And if Kelly Pavlik by that time is still somewhere around 160lbs, heís for sure the one Asikainen wants. Article posted on 21.07.2008
previous article: Alexander Povetkin - Is He Really Ready For Klitschko?
next article: Mexico vs Puerto Rico: A Sweet Science With Bitter Chemistry