Toney vs Rahman On Wednesday, Who Wins?
15.07.08 - By Kent Appel, photo by Jan Sanders/Goossen Tutor Promotions -- This Wednesday night July 16, 2008, in Temecula, California two former world champions James "Lights Out" Toney and Hasim "The Rock" Rahman will square off in what may be the last opportunity for either fighter to get a chance to seriously challenge for the heavyweight championship of the world...

The Toney verses Rahman fight will be broadcast on the Fox Sports Network starting at 11 pm EST Live/8 pm PST.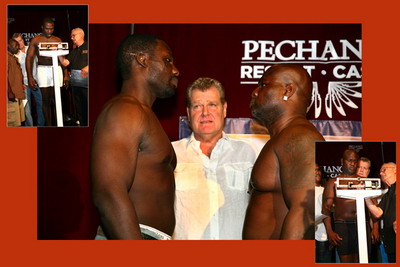 Former world middleweight, super middleweight, and cruiserweight champion Toney, 70-6-3 KO 43 who turns 40 years of age in August has gone 2-2-1 in his last five fights including a twelve round draw with Rahman in 2006 for the WBC heavyweight championship while former heavyweight champion Rahman, 35 years old, is 4-1 in his last five fights including a loss to Oleg Maskaev in 2006 which cost him his WBC title belt.

Although Toney has fought sparingly in recent times he has faced much tougher competition than has Rahman, who has faced off with journeymen opponents since losing his title to Maskaev.

In addition to fighting Rahman, Toney has fought current WBC champion Samuel Peter twice as well as contender Dominick Guinn losing two decisions to Peter and winning a twelve round decision over Guinn.

Quite frankly the outcome of Toney verses Rahman 2 hinges on how much the almost forty year old Toney has left because I believe Toney has the style to beat Rahman provided father time has not caught up to him.

Unlike a lot of commentators and writers who thought Rahman won their first fight despite the judges' decision of a draw, I thought the draw was a fair decision but was a fight Toney could have won if he had just been busier and let his hands go more.

As it was I felt Toney landed the cleaner, crisper punches throughout the fight and while Rahman landed the more solid punches, they didn't nullfy Toney's output enough, hence the draw.

The key in this second fight is although Rahman made good use of the left jab in their first fight and he possesses the harder punches of the two fighters, Toney showed the ability to absorb everything Rahman had to offer and if Toney can increase his offensive output he will walk away the winner this time.

Another key factor also has to do with the passage of time. Has age slowed Toney's reflexes down to the point where his superb defensive skills won't carry him away from as many of Rahman's stronger punches?

I am going out on a slight limb here and say, no, James Toney's skills have not eroded enough to stop him from pulling out a close unanimous or split decision win over Rahman if he is able to fight his fight.

Weigh-In Results

JAMES "LIGHTS OUT" TONEY
226 lbs.

HASIM "THE ROCK" RAHMAN
244 lbs.


FRANCISCO "CHIA" SANTANA
151 1/2 lbs.

ALEJANDRO BOGARINE
153.5 lbs.


RICO RAMOS
121 lbs.

JONATHAN VELARDEZ
120 lbs.


MIKE DALLAS JR.
144 lbs.

ARTEMIO REYES JR.
142 1/2 lbs.


JUAN ANGEL ZAVALA
130 lbs.

CARLOS HERRERA
131 1/2 lbs.


MARCUS DICKERSON
207 lbs.

HELAMAN OLGUIN
234 lbs. Article posted on 16.07.2008
previous article: Harold Johnson: The master mechanic haunted by Archie Moore