Adamek sets the Clock on 3/4 Time, Gomez Quits After Six!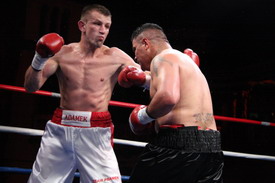 By Jason Sardelis, photos by Emil Kegebein: July 11th, Aragon Ballroom, Chicago, Illinois: Tomasz Adamek 35-1, 24Ko's outclassed mismatched Gary "Pit Bull" Gomez 18-10-1, 7Ko's with the Utah resident calling it on his stool. Adamek used his combinations well. Not just his punching, but combining his quick hands and quick feet. The skilled Polish fighter used what was taught to me by my trainer Coach "K" as "setting the clock."

"Setting the clock is the simple tactic of moving your feet immediately after you finish punching. Get off and get out or find a new spot, a new position whether for safety or to launch your next attack. Coach would say move get one move, move get two move and so on. Your opponents experience, hand and foot speed will determine how high you can set the clock..

If he said, set it on three I would find my spot fire a three piece then move my feet looking for the next opening. The movement can be several steps or just a small step or a pivot. Sometimes just enough to change your angle, then punch and move. Adamek's clock against Gomez was set on three and four all night.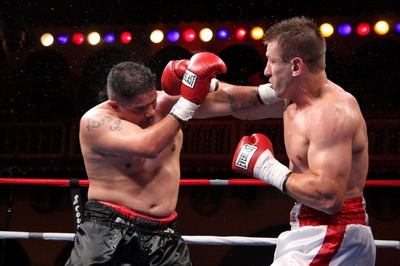 Adamek started with a quick multiple jab, mixing up his combinations always moving when finished. Adamek scored to the body and head firing from all different angles. At times his movement made the Gomez look like a "Pitbull" trying to eat out of his bowl while his owner kept moving the bowl.

Gomez coming in off two losses offered very little defense and less offense. The only right hand I saw was a clean one in the third round, and it had no effect. "The Pit Bull" never could catch up with Adamek, failing to cut off the ring. Gomez just followed the confident Polish fighter around eating leather every time he would catch up. Adamek landed twice the punches Gomez threw, finishing a good night of target practice. Gomez was unable to answer the bell for the seventh round claiming an injury to his right hand.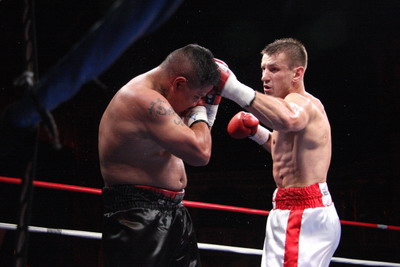 Adamek moved up to cruiserweight after losing his light heavyweight title to Chad Dawson February 2007. He beat Luis Andres Pineda in June then added Josip Jalusic to his hit list in December. Adamek beat O'Neil Bell in a IBF Cruiserweight Title Eliminator, April 2008 when Bell refused to fight between rounds 7 and 8. Adamek was ahead on all three judges cards. Adamek is next in line for a fight with IBF cruiserweight title Steve "USS" Cunningham 21-1, 11 Ko's.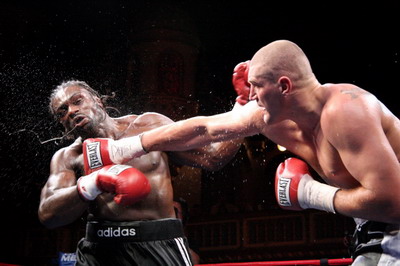 On the undercard: 6'8" heavyweight Mariusz "Polski Olbrzym" Wach 17-0, 8 Ko's overwhelmed Eric "Night Train" Boose 14-3-1, 8 Ko's with a heavy attack blasting out the "Night Train" at 1:53 round seven.




Middleweight Derrick "Superman" Findley 12-2, 7 Ko's stopped Andrzej Fonfara 10-2,3 Ko's Findley floored Fonfara twice in round two causing referee Celestino Ruiz to call it at 2:59 of the second round. Article posted on 12.07.2008
previous article: Daniel Santos Back On Top Of The World After KO Win Over Joachim Alcine!
next article: "Superman" Findley Strikes Again Before "Steel Yard Brawl"