Back from Working with "The Russian Giant" - Darrel Madison Anxious to defend Title!
By: Jason Sardelis - New York State Heavyweight champion Darrel Madison 10-0-1, 3Ko's has returned from Germany where he was working as a sparring partner for 7'0, 320lbs Nikolay "The Russian" Valuev. After convincingly beating veteran Zuri Lawrence 23-14-4 0Ko's to win NY states vacant heavyweight title in May Madison was brought in by team Valuev as a sparring partner due to his slick switching southpaw style, similar to Chagaev's..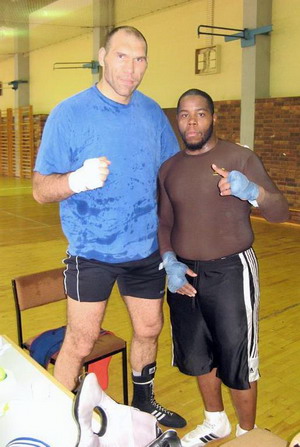 Valuev was scheduled to meet Ruslan Chagaev in a rematch of their April 2007 fight which Chagaev won a majority decision. The fight which was originally scheduled for July 12th has been canceled due to WBA heavyweight champion Ruslan Chagaev undergoing surgery this week to repair a torn Achilles tendon in his left ankle the original rematch scheduled in May was also called off because was Chagaev ill.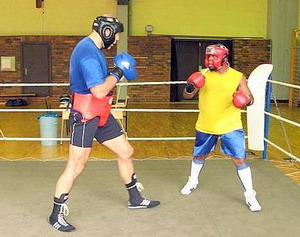 Madison a three time Gold Glove winner, 2005 Ringside World Champion and nationally ranked amateur is primed and looking forward to defend his title. Madison would love a fight with fellow Long Islander and former New York State Champion Derrick Rossy.

Rossy, a 1997 Patchogue-Medford High School graduate and former Hansen Trophy winner as a outstanding high school football player went on to Boston College where graduated and established himself as football standout. Rossy also is a NY Gold Glove winner, Empire State Champion and former New York State Heavyweight Champion.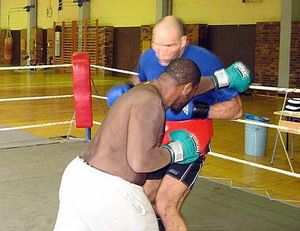 In January, Rossy 18-2, 10 Ko's beat former heavyweight contender Ray Mercer in the first heavyweight championship bout in China winning the interim WBO, NABO heavyweight title, the vacant WBC Asian Boxing Council heavyweight title and WBF International heavyweight titles.

Madison and Rossy met several times as amateurs and have created a great rivalry. The fight would be a big one and promoters will chomp at the bit for that showdown. That fight should take place on Long Island.

Team Valuev angered by the second Chagaev pullout petitioned the WBA and won the right to fight John Ruiz for the vacant WBA title. Chagaev was named champion in recess by the WBA. Ruiz, " The Quiet Man". 43-7-1, 29 Ko's is the first Hispanic heavyweight champion. Madison looks great, his work with Valuev has increased the 30 year olds conditioning and confidence. Valuev's agility and movement should be improved after working with the "Cagey" Madison. Article posted on 11.07.2008
previous article: James Toney - Hasim Rahman Training Camp Updates