Torres-Holt II Second by Second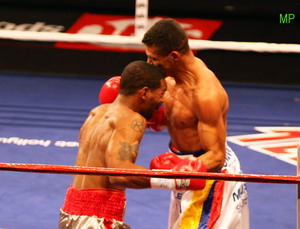 09.07.08 - Jaime Castro Nuņez: The purpose of this article is to analyze the fight that took place last July 5 at the Planet Hollywood Casino in Las Vegas between Ricardo Torres and Kendall Holt. the progressive analysis of the sixty one-second fight will reveal details of what has been called, erroneously, "the most dramatic one round fight in recent times." And I write "erroneously" because what makes it "dramatic" is actually a spectacular head butt. Here we go.

0:00-0:12: Torres and Holt in the center of the ring. Torres attacks with a left. Some exchange.
0:13: Torres catches Holt with a huge right hand over the top. Down goes Holt. It's Torres's fourth hand of the night.
0:15: Torres goes to the neutral corner. Holt gets back on his feet. Jay Nady counts. Holt doesn't seem to be hurt, as he moves and jumps. Nady says: "Come to me." Then he asks: "Are you all right?" Holt is able to continue..
0:25: Nady says: "Box!"

0:25:-0:31: Torres puts pressure on Holt. During these six seconds, there is a wild exchange. Holt fights back.
0:32: Torres connects Holt, who kisses the canvas for the second time. The referee counts; he looks at Holt and asks: "Are you ok?" Kendall Holt is fine, but Nady insists: "Are you sure?" Holt wants to stay in the action. Twelve seconds later, the fight resumes.
0:44: Nady says: "Box!"

0:47: Torres runs after Holt, who eats a left while backing up. Three seconds later, Holt gets cornered. Torres attacks without control.
0:50: Torres keeps chasing Holt, who is now fully cornered. While backing up, Holt receives a left on his nose. Immediately, Torres throws a descending right, but fails because Holt flexes his legs. Holt is bent, with his head bellow Torres's chin.
0:51: After missing his last right hand, Ricardo Torres attempts to find his distance. Holt remains bent, bobbing and weaving.
0:52: Torres is somehow erratic. Holt connects to Torres's body. Simultaneously with this punch, Holt, who was bent, tries to go up. He is on Torres's left side. While going up, Holt's head crashes into Torres's lower jaw. Torres's head shakes hard. The referee is close, but doesn't see the head butt by Holt, thus letting the fight continue. Everything happens between seconds 50 and 52.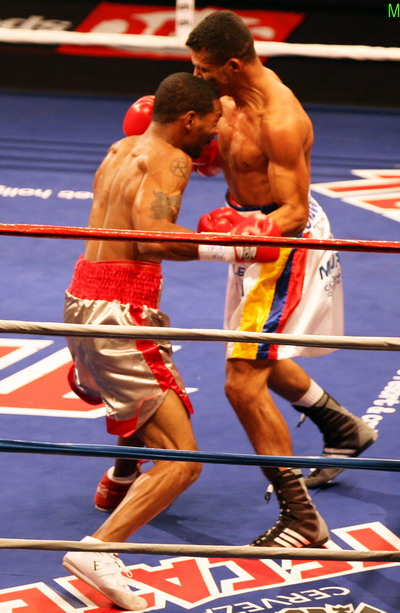 0:53: After been hit with Holt's head, Torres goes against the ropes. Both of his hands are down. Disoriented, Torres tries to stand up.
0:54: Holt runs after Torres to connect him with a huge right. Down goes Torres. The referee starts counting.
1:01: Jay Nady stops the bout.

Things to analyze:
Kendall Holt showed heart and determination. He got up twice and fought back. Ricardo Torres, on the other hand, probed to be a dangerous, hard-hitting pugil. He was disciplined while setting Holt up, but disorganized when trying to finish him off.

The fight presents one critical moment: the head butt at second 52. When Torres goes to the ropes a second later, he is already knocked out. The factor that determines Holt's victory is the head butt, not the right hand that came after.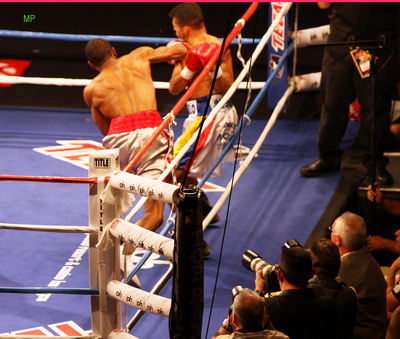 Kendall Holt's knockdowns ratified Genaro Rodriguez's decision last September 1 in Barranquilla. In that opportunity, after the knockdown, Holt was visible hurt. He backed up without counter punching. He didn't answer to Torres's assault until Rodriguez stopped the fight. The Las Vegas bout, on the contrary, showed a steady Holt after both knockdowns. He jumped and counter punched.

***I would like to thank Mrs. Michelle Viescas for her invaluable help and support.
Article posted on 09.07.2008
previous article: Tomasz Adamek Requests Fans Bring Polish Flags To Chicago Fight On Friday Night