Holt-Torres II: SHOWTIME to Replay Thrilling Bouts On July 8
Photos: Tom Casino/SHOWTIME - Paris Hilton and Good Charlotte guitarist Benji Madden enjoy the action from ringside during last Saturday's SHOWTIME boxing matches at Planet Hollywood Resort & Casino in Las Vegas, Nev.

Hagler-Hearns gave way to Holt-Torres Saturday as fireworks arrived a day late on SHOWTIME. In one of the most dramatic and explosive opening rounds and rematches in recent memory, Kendall Holt and Ricardo Torres combined to knock each other down three times in 61 seconds on a truly special edition of ShoBox: The New Generation.

After Holt hit the canvas twice in 34 seconds, the WBO No. 2 contender rallied spectacularly to knock Torres out cold and win the World Boxing Organization (WBO) junior welterweight title at the Planet Hollywood Resort & Casino in Las Vegas. Bob Arum's Top Rank, Inc., presented the exciting event, which aired on SHOWTIME at 11 p.m. ET/PT (delayed on the west coast)..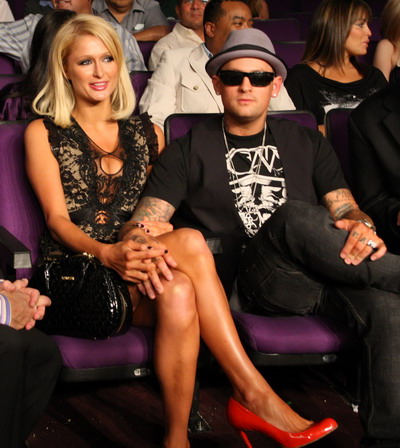 After Torres floored Holt 13 seconds in with a right to the head, the champion knocked the challenger down a second time 21 seconds later. With fans in attendance and those watching on television believing the fight was over, Holt connected with an overhand right to Torres' head, sent him crashing to the ropes and ended matters at 1:01 of the opening round when referee Jay Nady stopped the exceptionally thrilling contest.

"I may go down, but I get back up," Holt, who was cut over the right eye, said. "This is better than a dream come true. Let the blood flow."

Since the turnabout was so sudden and unexpected, everyone in the theater, including Mike Tyson, Paris Hilton and Julio Cesar Chavez, watched a replay on a video screen to see what had really transpired during the 61 scintillating seconds. Article posted on 08.07.2008
previous article: Adamek Holds Chicago Public Workout On Tuesday