Torres-Holt-Peterson-Castaneda Weigh-In Quotes And Photos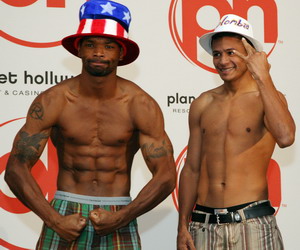 Photos: Tom Casino/SHOWTIME-- Ricardo Torres and Kendall Holt each weighed in at 139 pounds during Friday's weigh-in. Lamont Peterson and Rogelio Castaneda each tipped the scales at 141 pounds. Ten months after a wildly controversial ending to their first fight, Ricardo Torres will defend his World Boxing Organization (WBO) junior welterweight title against No. 2 contender Kendall Holt in a rematch on a special edition of ShoBox: The New Generation on Saturday, July 5, 2008, live on SHOWTIME at 11 p.m. ET/PT (delayed on the west coast).

In the 10-round junior welterweight co-feature, undefeated World Boxing Association (WBA)/WBO No. 5 140-pound contender Lamont Peterson (24-0, 11 KOs) will put his undefeated record on the line against former International Boxing Association champion Rogelio Castaneda. Top Rank will promote both contests from the Planet Hollywood Resort & Casino in Las Vegas, Nev..

Torres (32-1, 28 KOs), who will defend his WBO crown for a third time, rallied to score a hotly debated 11th-round TKO over Holt (23-2, 12 KOs) on Sept. 1, 2007, in the champion's hometown of Barranquilla, Colombia.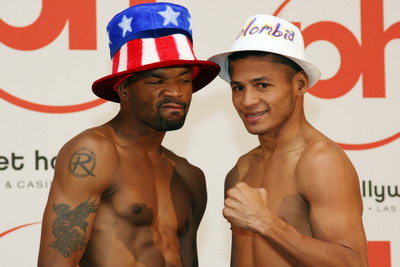 RICARDO TORRES

"Holt's style bothered me the first few rounds of our first fight, and it took me a while to figure him out. He is not an easy guy to fight.

"Holt kept running away from me and he wouldn't stand still. He wasn't really doing anything except running.

"I made some mistakes in the first fight. Now, I know how to resolve some mistakes I made and take advantage of Holt's mistakes. I will pressure him and make him do things that he is not ready to do.

"I don't think Holt is going to change how he fights. He is going to run and stay away from me. We plan to cut off the ring and keep him off of the ropes.

"I had some personal problems to take care off before taking this fight against Holt. This was the best opportunity for me. They talked about me fighting Ricky Hatton at one time, but it didn't happen.

"Holt is a great boxer. His hand speed bothered me in the first fight. I have to get close to him and not let him dictate the rhythm of this fight."


KENDALL HOLT

"If it don't make dollars, it don't make sense. No one else would have made Torres this kind of money except for me. That is why he took the fight.

"Torres hits really hard, but I will stand my ground and box at my leisure.

"I got caught in an exchange against Torres and the referee prematurely stopped the first fight. The referee stopped the fight because he said I was hurt, but so what? You stop the fight when a fighter can't defend himself. Arturo Gatti wouldn't be who he is if they had stopped his fights.

"After looking at the tape of the first Torres fight, I should have been circling and sticking the jab. Torres caught me at a good time and in an exchange when my hands were down. The referee prematurely stopped the fight. I was still able to defend myself. I wasn't incoherent.

"I fought after the Torres fight and was able to get past our first fight mentally, emotionally and physically.

"Torres fought pretty passively against me. This fight, I will focus on keeping the action alive and strategically weakening him. I am going to be as active as Marvin Hagler. I am going to make Torres pay for his mistakes.

"Torres is not going to come in there and just try to take my head off. If he said that, he is lying. He is worried about getting hit. When you are a knockout puncher, why would you be asking for smaller gloves?

"This whole week I have been thinking about hitting Torres and watching him fall. When I start to calm down, this fight is in the bag for me. If I box Torres' ears off, I box his ears off. If I knock him out, I knock him out."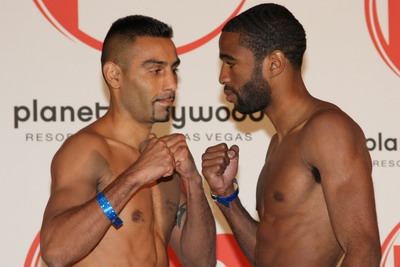 LAMONT PETERSON

"If Castaneda gets too aggressive, I am going to have to let him know that he cannot charge me.

"I can't look past Castaneda. If I don't do my job and do what I am supposed to do against him, I won't be able to have the bigger fights.

"I match up with any of the guys with the 140-pound belts, and I know I can beat them. I would out-skill Timothy Bradley. I can show everyone that I can box against Ricky Hatton. I would track Paulie Malignaggi down

"This has been the longest time for me between fights. I am ready to hit and be hit. I am ready to work.

"How I win and how I look is important tomorrow night. The better I look, the more demand there will be for me."


ROGELIO CASTANEDA

"Peterson is a good boxer, but can't fight. I want to do whatever is necessary to take him out of this fight. I want to fight inside and come in behind my jab.

"I want to give Peterson his first defeat. I know that I have to knock him out to defeat him. I am not going to win a decision.

"I don't really know my fighting style. They tell me I'm a boxer and an aggressively strong fighter. I want to run through Peterson.

"I have had problems with cuts. I always get cut in my fights." Article posted on 05.07.2008
previous article: Open Letter From Chris "The Mechanic" Smith