SUMMER SCHOOL: What Makes a Boxer Great?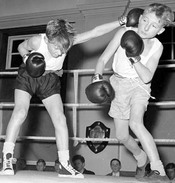 02.07.08 - By "Old Yank" Schneider: In this first of the summer of 2008 series, we will examine what makes a boxer great. This tutorial is for boxing fans and by boxing fans. Without your input it will fail. With your input is should be a blast. Because of your input you might even attract a comment or two from a known trainer, boxing historian, corner man or even a world champion. We may never agree on what makes a boxer great, but we will prove that boxing fans are great!

Let's get started.

What makes a boxer great? Is it applying the sweet science like few can? Is it about power so great that the show can be closed with a spectacular icing? Is it about displaying a heart the size of Brooklyn, Mexico City, San Juan or Cardiff? Is it about being sprinkled with some special "defense dust" that allows a boxer to swivel on an invisible ball and cock and then magically pop up on the opposite side of the ring? Is it about grinding out a record one fight at a time until no one can deny greatness? Is it about the marquis names one can nail up on a resume? Is it about how long a boxer can stick around, hold onto a belt and still win? Is it about beating hot young prospects or taking down old lions? Is it about fortuitous rankings and slimy sanctioning body favors? Is it about great promotion? Is it about entertainment value? Is it about the luck of the draw of a particular division? What makes a boxer great?

I'm a huge fan of basic, fundamental boxing technique. I make no secret of the fact that my favorite fighters are those who master the basics of offense and defense in a balanced manner. My eyes date back to Mohamed Ali (known in my early days as Cassius Marcellus Clay). He is my model of the fighter that mastered the basics. Work off the jab. Punch straight. Use basic combinations and build on them as the fight wears on. Bang the body to cause an opponent's hands to drop. Make minor head movements while using gloves for defense. Use footwork to keep in position to throw and maintain balance, while using that footwork to move out of harms way just as quickly. Use footwork to alternately find position to score points and when available, use that footwork to turn in, sit down and deliver some power. Wow! That's my thing!

Some of my favorite current fighters that display great basic, fundamental boxing technique are Kelly Pavlik, Juan Manuel Marquez, Manny Pacquiao and Israel Vasquez. A hot shot new comer that is in the league of great purists is Juan Manuel Lopez.

For pure entertainment I favor the likes of Ricky Hatton. As a boxer, I think he leaves much to be desired. But as a showman in the ring, it is hard to find one better. Hatton finds a way to break all the rules and still come out a winner. He is too small. He has too shot a reach. He has skin made of tissue paper. And he wins! How he does it remains a huge frustrating mystery to me. He's a C-class fighter with an A-class boxing record. Go figure!

But greatness has a history too. I will leave the laundry list of historical greats to some of the huge talents of boxing history that regularly find themselves posting on Eastside Boxing. I ask them, what made those greats of history so great?

Any questions raised about boxing greatness must acknowledge two truths: there are great boxers and there are boxers who are remembered as great. Sometimes these two paths intersect and sometimes they don't. For example, Kelly Pavlik is a great fighter. Only time will tell if his string of great performances will continue to the point of eventually intersecting with a list of career accomplishments that make him a memorable fighter. And then there is Carlos Monzon. A great fighter who strung together accomplishments against hugely talented opposition that eventually led to the inevitable recognition of all-time greatness.

So here are a few boxing greats in my book and the "why" that goes with them. My sweet science purist is Ali. My "icing" favorite is Ernie Shavers – few got back up! My warrior favorite is Eric Morales. For defense my favorite is the unparalleled Pernell Whitaker. My showman favorite is a tie between Prince Naseem Hamed and Ricky Hatton (one for in-the-ring showmanship and the other for his princely entries). My longevity favorite is Joe Calzaghe. My weight-range favorites are Manny Pacquiao and Floyd Mayweather. My fake-it favorite is Sven Ottke. My upset favorite is Jimmy Young. And…

Yes, it is true; I fudged a few names in there because they will be more recognizable by young fans then my true favorites of old. But this is summer school, not a 50 year class reunion!

So what do you think makes a fighter great? Is it the blazing hand speed of a Roy Jones, Jr. in his prime? Is it a Tommy Hearns because he had the best trainer of the day (Emanuel Steward)? Is it the natural (somewhat wasted) gift of a James Toney?

Summer school is in session! C'mon fans, let's see what you've learned and what you can teach! What makes a fighter great?

Article posted on 02.07.2008
previous article: Sinan Samil Sam- Paolo Vidoz - Who Wins?
next article: Danny Williams Vs. John McDermott - "Now Virtually A World Title Eliminator"