Rafael Concepcion intensifies training in New York for his WBA title shot
Rafael "El Torito" Concepcion has arrived in New York from Panama to intensify his training for the WBA super flyweight fight against AJ "Bazooka" Banal which was left vacant by Alexander Munoz. "Rafael is looking strong. He arrived in New York last week and he is looking forward to stepping up his training." says Damon de Berry from Optimum Sports Agency..

Rafael Concepcion is now training in Brooklyn at the world famous Gleason's gym with fellow Panamanians and well renowned trainers Pedro Romero and Hector Roca. Hector Roca has trained no less than 18 world champions, as well as training the "million dollar baby" Hillary Swank for her Oscar winning role in the film.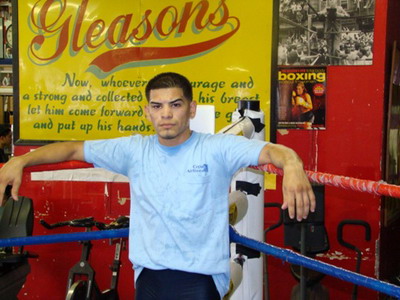 "We relish this opportunity for Rafael" says Pedro Romero "and we believe Panama will have their 26th world champion."

The fight will take place on the 26th July 2008 in Cebu City, Philippines and it's going to be explosive. In his last fight on March 27, Concepcion scored a third round TKO over Jean Piero Perez. He has power in both hands with a record of 10-2-1 with 6 knockouts.

Concepcion is rated No. 6 by the WBA while Banal is ranked No. 3.

"Banal will have the home-crowd advantage over Concepcion but this title shot is a dream come true for Concepcion and he won't let it go to waste" De Berry added.

Rafael Concepcion is managed by Optimum Sports Agency who is grateful to the well-known matchmaker Sampson Lewkowicz for setting up the fight.

De Berry concluded, "Concepcion has been waiting for this opportunity a long time and he's not taking any chances. He's determined to come away with the win". Article posted on 02.07.2008
previous article: Monte Barrett - An Ideal Opponent For David Haye?
next article: Toney, Rahman to visit "Best Damn Sports Show Period"



If you detect any issues with the legality of this site, problems are always unintentional and will be corrected with notification.
The views and opinions of all writers expressed on Boxing247.com do not necessarily state or reflect those of the Management.
Copyright © 2001- 2015 Boxing247.com - Privacy Policy l Contact