Urango - Vilches Undercard Recap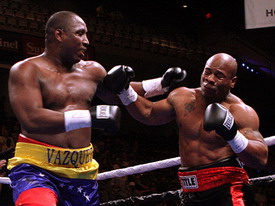 By Wray Edwards: Photos © Wray Edwards/ ESB. I travel all over the world covering boxing events, and nowhere else is the combination of a great venue and an associated promotion/management team so dependable and consistent as the Hard Rock Live in Miami. Last Wednesday night Joe Tessitore & Teddy Atlas for ESPN's "Wednesday Night Fights" hosted an excellent evening of Boxing action.

Besides the Juan Urango and Joe Green attractions, there were four other fights on the card which included a surprisingly exciting Heavyweight fight between Wilmer Vazquez, 6 (4) - 0 – 0, Venezuela and Rodney Wallace, 4 (4) – 1 (1) – 0, from North Carolina. Also an action-filled Welterweight/Super Welterweight contest between David Estrada 22 (13) – 4 (2) – 0 from Chicago and Alex Pacheco 14 (12) -6 – (4) – 1 from Colombia. These Pics are frozen moments in the careers of these brave men.:




Wilmer Vazquez (left) and Rodney Wallace had a short but sweet contest. Wallace, who reminded me a bit of Cliff Couser, was diligent…

but took a lot of punishment from Wilmer.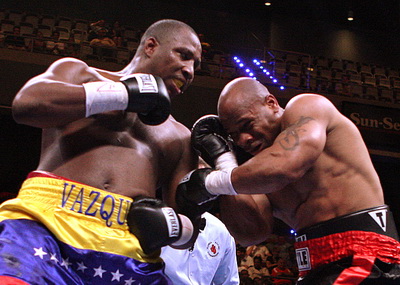 Rodney tried to get close in for brawling, but Vazquez was quick on his feet for a guy with so much excess baggage.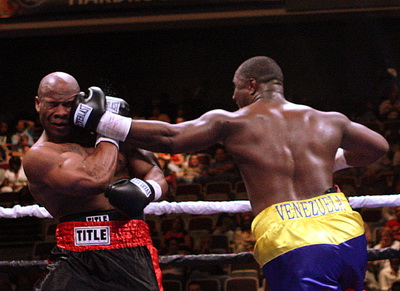 His mobility gave him distance to do this with his left on many occasions…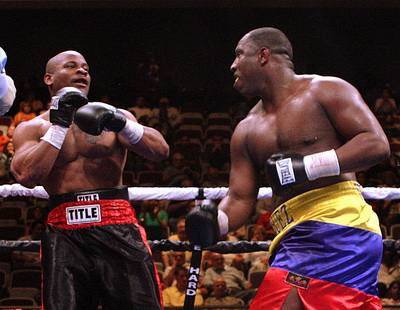 as well as his right which caused the ref to stop the bout at 1:45 of Round Three for a TKO victory.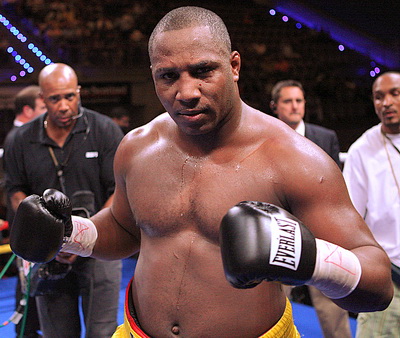 Wilmer's got some tools and they got him the W this night.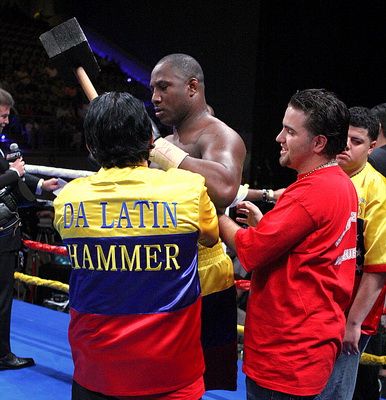 He styles himself as "Da Latin Hammer" and…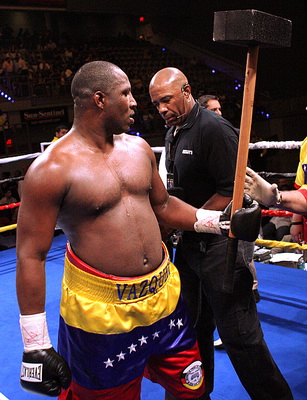 likes to pose with one. He was fun to watch and if he trims down a bit there could be big opportunities for him.


ALSO FEATURED WAS A CONTEST BETWEEN "KING" DAVID ESTRADA AND ALEX PACHECO AT 149+ LBS.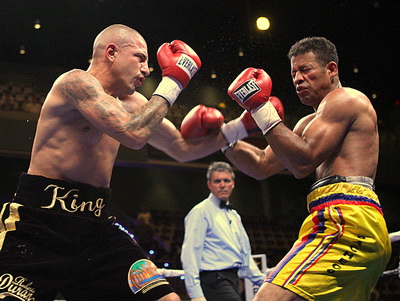 Dave took every opportunity to rough up on Alex but not without getting…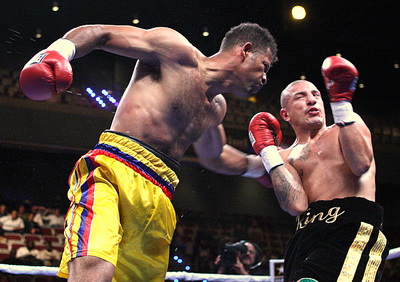 some payback…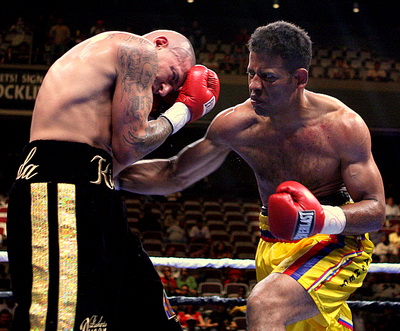 almost every time. Well, as you might imagine…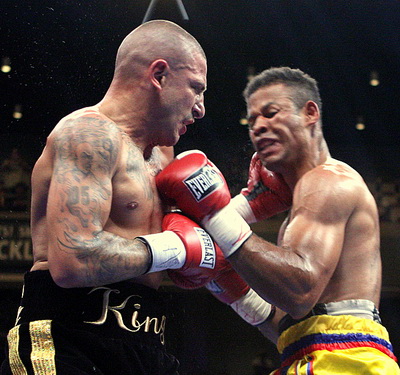 Estrada was not pleased with all that so he got really serious and put Pacheco down several times…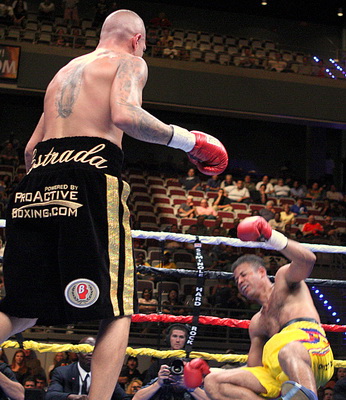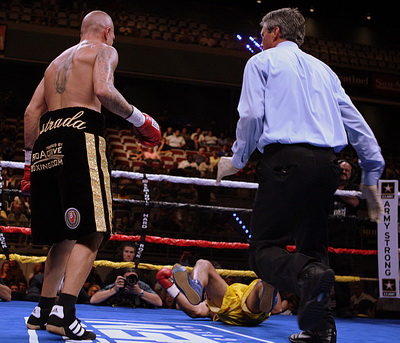 this being the final time which required medical assistance to get Alex…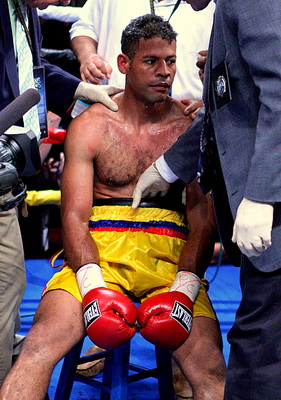 up on a stool to go over what just happened with some sense of dismay.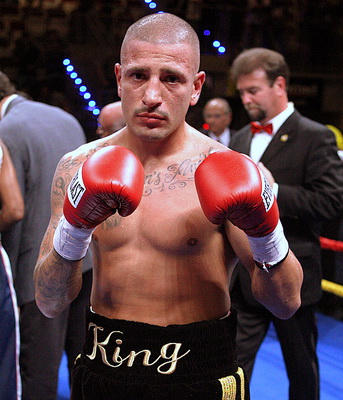 Estrada has some real style and we shall see him again soon.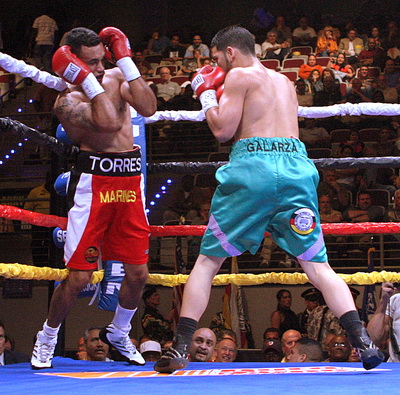 IN WELTER ACTION KENNY GALARZA FROM PUERTO RICO FOUGHT AMURY TORREZ FROM NEW YORK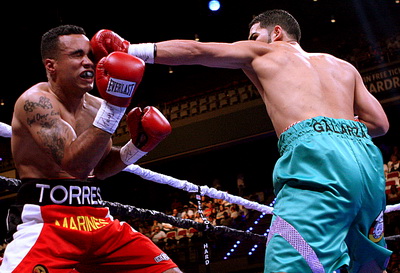 Galarza had lefts…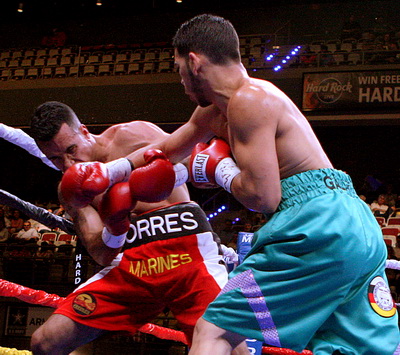 and rights aplenty which…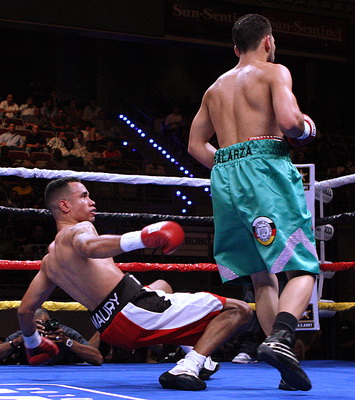 had Torres down several times. Each time Torres got gamely to his feet and soldiered on until this final KD.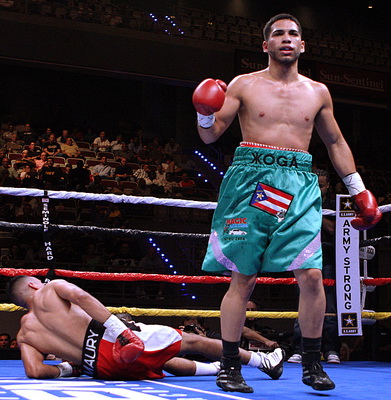 As Kenny walked away the ref had seen enough and called the contest…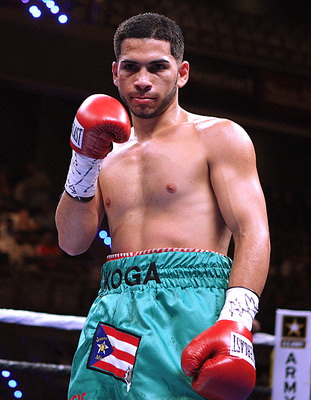 a TKO win for Galarza at 0:30 of the Third Round.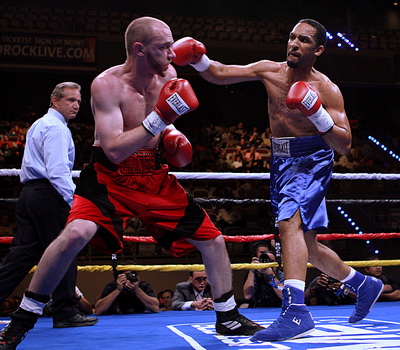 Also Jr. Middles Wilford Scypion (blue trunks) and William Ganes duked it out with Wilford earning a TKO win at 1:54 of Round "you got me??"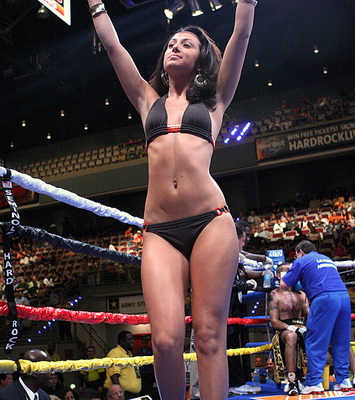 Thanks again to Seminole Warriors Boxing.

David Mamet the director of "Redbelt", a movie about mixed martial arts, was interviewed by a Fox Sports News hack (who shall go nameless here). During the interview one of them said that Boxing is pretty much dead, and the other arrogantly and stupidly agreed. This pathetically biased interview just proved once again that MMA types and their mentors are as crude outside the ring as they are in it. The Fox reporter obviously had stars in his eyes and wimped out at a moment when he could have honored both sports…but he failed.

WARNING!!! If you have anything valuable with you when you visit Oakland Park, Florida…keep it in your lap!! See you at the fights. Article posted on 27.04.2008
previous article: Selcuk Aydin new WBC International Champion, Solis Stops Jikurashvili in two