Ngoudjo-Mbaye; Pascal-Zuniga On June 6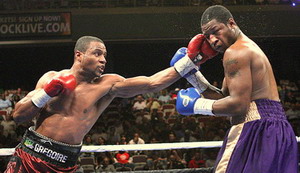 Photo by Wray Edwards / East Side Boxing: In what is quickly becoming an annual tradition, Group Yvon Michel (GYM) is proud to announce the 3rd annual open-air Grand Prix Boxing Gala at Uniprix Stadium in Jarry Park. A grand kick-off to both summer and the race itself, this year's gala take place on Friday June 6th.

The can't miss summer spectacle is a proud production of the Budweiser Boxing Series presented by the Casino de Montreal and is a centerpiece attraction to Montreal' s most significant sporting weekend as the city plays host to visitors from across the globe. The first two editions were spectacular, propelling its participants to stardom. 2006 saw current World Champion Joachim Alcine (30-0-0, 19KO) feed off the atmosphere to deliver his best performance to date.. "The atmosphere along with the unconditional support of 8,000 spectators kept me going and contributed to the victory in a fight that was one of the most difficult in my career," said the undefeated Alcine who used the victory as a springboard to his WBA Championship.

World title challenger Hermann Ngoudjo was also able to shine "Under the Stars" as he headlined the 2nd edition of the Grand Prix Gala in front of an even larger crowd. His hard fought victory over 'Knockout King' Randall Bailey (36-6-0, 33KO) was a classic that saw both fighters get up off the canvas and go the distance in a narrow split-decision. «Randall Bailey is the hardest puncher that I've faced in my career. During the short period when the rain was falling on the stadium, I could feel the cries of encouragement as people descended upon the ring. The crowd was a big difference and gave me energy to finish strongly which was the difference in the fight, » said the personable Ngoudjo.

The first two editions of the Grand Prix Gala were an exceptional one-two punch of fistic fireworks and were widely acclaimed by many media outlets. American network ESPN2 presented both events and fell in love with the atmospheric amphitheater in which they were presented. Said ESPN announcer Joe Tesitore: « The best Moment of the year 2007 for ESPN2 NIGHT FIGHTS was at the outdoor stadium of Montreal on June 8th. Thousands of fans swarmed the floor level and surrounded the ring, chanting in unison, splashing in the water and cheering on their hometown hero to a razor-thin win. You could argue that some of the best ESPN fight cards in last 10 years have been in Canada. This one should add to the list! »

HERMANN NGOUDJO VS. SOULAYMANE MBAYE
IBF Championship Elimination

For the third edition, of the Grand Prix Boxing Gala, Hermann "The Panther" Ngoudjo (16-2 9KO) will once again be stepping up and taking centre stage. Ngoudjo has once again worked himself back into a position to challenge for a world title and will be challenging former champion Souleymane "The Sensation" M'baye (36-2-1, 21KO) in a final IBF Title Elimination match-up. GYM recently won a purse-bid in order to stage this critical fight that will see the winner go on and fight for a World Title. "We had a very tempting offer in order to present this fight in Europe at the end of May. The insistence of Hermann helped us decide to bring this clash to Montreal where the fans truly deserve it," said GYM President Yvon Michel. Hermann Ngoudjo delivered remarkable performances in both Las Vegas and Atlantic City during the last year only to see the decision to slip through his fingers by controversial scoring from the judges. The Panther first saw a split-decision go the other way versus legendary Mexican Jose Luis Castillo (56-8-1, 48KO) and then more recently lose an agonizingly close verdict to IBF champion Paul Malignaggi (24-1-0, 5KO). The latest setback had "The Ring" magazine declare in a lengthy report that "Ngoudjo deserves a break." But there are no breaks in boxing and the 'Black Panther' will once again be in tough against Mbaye who was champion of France in 2001, champion of Europe in 2002, and captured his first world title in 2006. The fighter who emerges victorious from this struggle will earn the right to fight for the IBF World Championship presently held by Paul Malignaggi as early as this fall. According to his trainer Howard Grant, «Hermann dreams of another shot and a chance at revenge, I don't think that's the case for the American Champion. Before we get there though we have to get through Mbaye and that will be no easy task. »

This will be the 5th time since 2006 ESPN2 will present a GYM promoted card.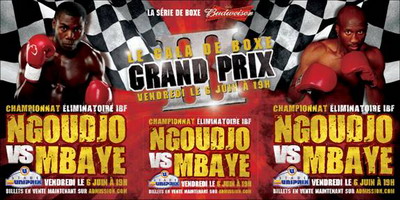 JEAN PASCAL VS. FULGENCIO ZUNIGA
Career Test for Undefeated Fighter

Jean Pascal has pronounced himself healthy and injury-free from a shoulder injury that has hampered his last three performances. Pascal realizes that his period of apprenticeship is over and he is not neglecting anything in preparation for what separates him and a world title. Presently in training camp, Pascal is dividing his time between Montreal and Phoenix Arizona in order to not overlook any detail in preparation for the challenges that lay ahead. Pascal's most immediate challenge promises to be his hardest yet as he faces Colombian Fulgencio Zuniga (20-2-1 17KO), a powerful top-ten fighter who is ranked #9 by both the WBC and IBF. It will be the Laval fighters first versus a top-ten opponent and Zuniga who has the reputation of being solid on his legs with enormous power is already coming out firing. "Pascal does not belong in the same league as me, I saw his last fight and I think after June he might want to change professions," said the Colombian when asked about his impressions. Zuniga has been able to back up his words in the past, putting current world champion Kelly Pavlik (33-0-0, 29KO) down with a left hook in the first round of their 2005 clash. In his last fight, Zuniga again showed just how powerful he can be; faced with the daunting challenge of facing Russian wonder Victor Oganov who entered the ring with a prefect 26 knockouts in 26 fights, the former world-title challenger persevered with a ninth round knockout of his own. The winner of the June 6th fight could see themselves in a world title fight as early as this year and Pascal who is unified North American Champion is excited at that prospect: «I never had so much time to prepare for a fight and I feel ready as ever! June 6 will be the 3rd time that I will be fighting in front of the great fans at Uniprix Stadium. I know that I will have zero margin of error, Zuniga is a good strong fighter and for me to be successful I'm going to have to utilize my entire range of talents! For Jean Pascal and his team this will mark the beginning of a new era. »

5 OTHER EXCITING FIGHTS

In addition, spectators will be able to see the most prized prospects of Canadian boxing. The charismatic Phil 'The Italian Sensation' LoGreco (15-0-0, 8KO), the spectacular Manolis Plaitis (10-0-0, 6KO), the rugged Nicholson Poulard (9-2 4KO) as well as the explosive young David Lemieux (6-0 6KO), and undefeated Benjamine Besmi (7-0 4KO) all promise to electrify those in attendance!

PUBLIC TRAINING AND OFFICIAL WEIGH-IN

Public training featuring all the principle participants will be taking place from a number of exciting locales across the city, stay tuned for the exact location and times.

The official weigh-in as in years past will be held in the heart of downtown Montreal and Grand Prix headquarters on Crescent Street on Thursday June 5th.

It is thanks to our numerous supporters as well as our principal partners and backers that we can return with « Grand Prix Boxing Gala III » on June 6th, the Friday of the F1 Montreal Grand Prix. During the whole week, thousands of tourists and corporate customers are in the city to take in the sights and partake in Grand Prix fever. This event offers an occasion to live another magical evening in this captivating week. More than 3000 tickets are already were reserved!

Before the action begins, spectators will once again be invited to a « Tailgate » party featuring music, refreshments and entertainment that promise to set the mood for the evening. A number of surprises and activities are being planned and will be revealed within the coming days.

Tickets begin at $30 and go on sale at Saturday at noon on the Admission Network (790-1245) and through GYM (383-0666). Article posted on 26.04.2008
previous article: Dirrell-Hanshaw Rumble Headlines May 2 SHOBox at Chumash Casino Resort!
next article: Exclusive interview with heavyweight Moultrie Witherspoon