Dat Be Dat Prevails in Boston - Report & Photogallery
By Peter Mark Heintzelman, Photos by Peter Mark Heintzelman: The fights this past Saturday night, at Boston's Roxy, promoted by Richie Cappiello's Cappiello Promotions, provided ticket payers with a great card from start to finish. But no event was better than the main, when heavy featherweights, Dat "Be Dat" Nguyen and Robert "Don't Lose" DaLuz, duked it out to the end in the eight round main eventer..

Nguyen, of Vero Beach, Florida, coming off his first defeat, was hungry for a "W," and returned to his second home, New England, to get back on the winning track. Supported in his corner by Jack "The Cutman" and James "DJ" Montanocordoba, Nguyen came in at 124 lbs thanks to his new conditioning and nutrition coach, DJ.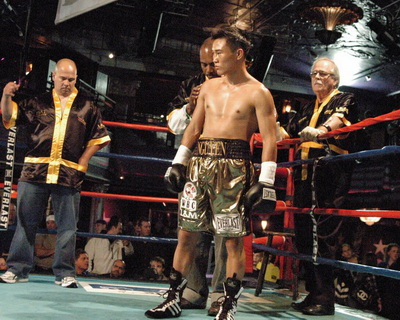 Buddy McGirt, normally working with Nguyen, stayed in Florida, to support his son, James McGirt, who was also fighting this weekend. He came in, in the eyes of those in the know, as the favorite.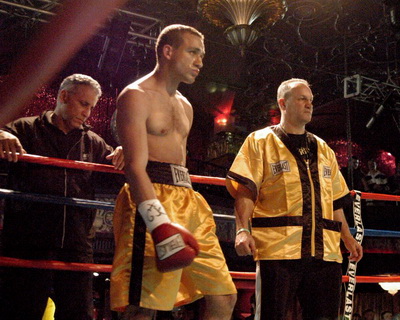 But hometown man, Robert "Don't Lose" DaLuz, of Providence, Rhode Island, was hungry for a win, and with famed trainer, Peter Manfredo, Sr., working his corner, they had analyzed Nguyen's style, and were ready for the challenge. "I'm a boxer and a puncher, I can move, I can counter, I can do all that, and I can definitely hit," said DaLuz to EastSideBoxing prior to the fight.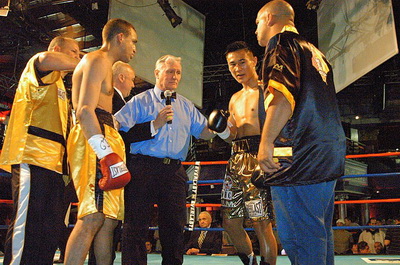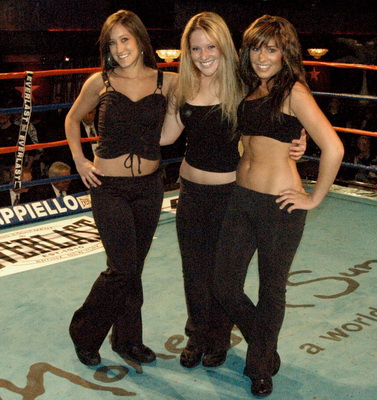 After the fanfare of their entrances and entourages, the announcers and referee's instructions, the first bell rang, and the action began . . . and never stopped until eight bells later.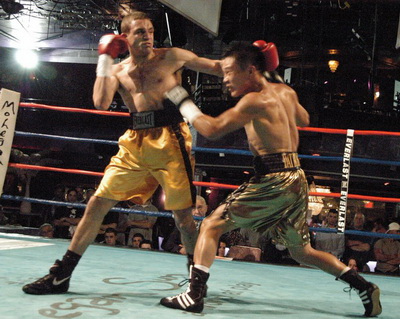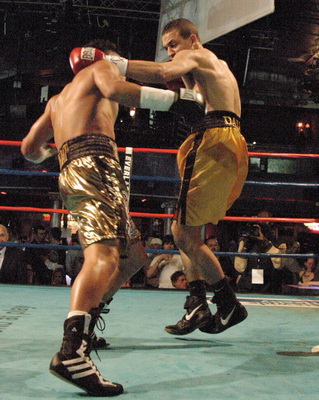 Although starting the first round at a circling jab distance, Dat headed for the body. While gamely trading jabs and body shots, DaLuz showed his slickness, evading the onslaught by sliding and circling away from danger, not from fear, by no means, but by style, intending to throw Dat off his pace, off his style. They trade shots fairly evenly throughout the first two rounds. DaLuz never looked like the underdog some thought he might be. These guys looked very evenly matched, and the fight was on, to the fans ecstatic delight.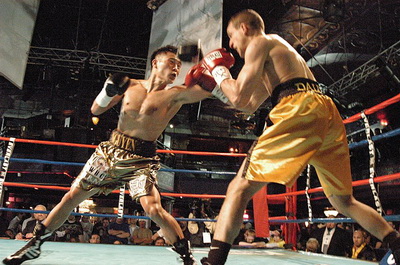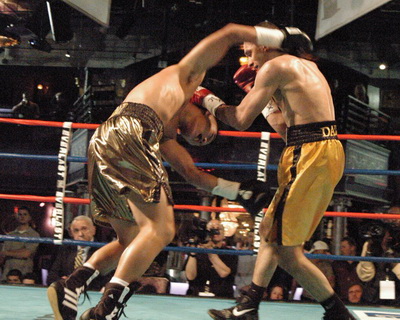 In round three, the crowd roared in the balcony, while Manfredo yelled instructions to DaLuz from the blue corner, Dat took control, with a nice shot to the head and body shots that scored his side of the judges' cards. Yet, DaLuz just kept on coming forward attacking the unfazed Nguyen. Dat finished the round with a great left to his opponent's ribs, that won him the round.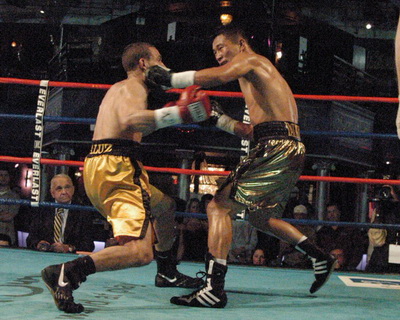 When round four began, they went at each other, fighting close inside, head to head, and trading punches at great rate. Referee Mike Ryan, climbs inside close to watch the action and look for fouls, but almost gets clocked by the fighters' wild swings! Ryan breaks the grab near the red corner, and Dat jumps right back on DaLuz and pushed him into the ropes and started inflicting pain to the midriff, yet DaLuz was not in trouble and absorbed the punishment without apparent effect. These guys are putting on a real good show! Another real nice round! Even a judge commented that these are all really good fights!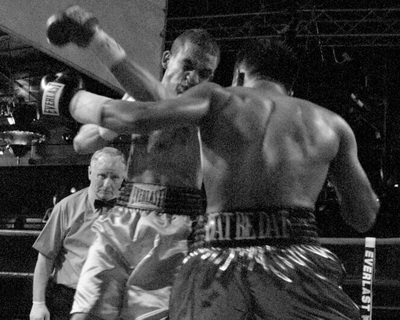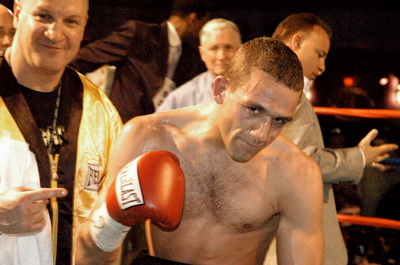 Rounds five through eight, showed more of the same, as the featherweights showed why the lightweights often put on the most exciting bouts on a fight card, as their energy levels never waned, as they traded head and body shots, circled the ring, and accumulated the judge's points and the crowd's admiration. "Use the right hand," yelled Manfredo, "knock him on his ass."

When the eighth and final bell rang, the crowd cheered wildly for the great fighters' efforts, while the featherweights met in the middle of the ring, and acknowledged each other with respect.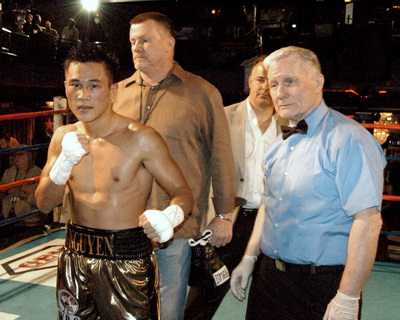 The majority decision fell in favor of Dat "Be Dat" Nguyen, 76-76 even, and twice at 78-74.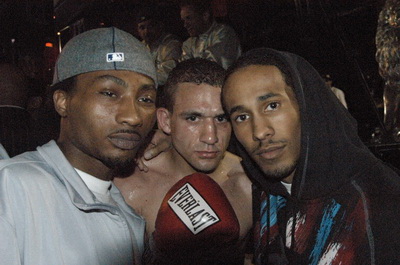 After the fight, Robert DaLuz commented: "I was not hurt. It was a great fight, I really thought I landed the more clear effective shots. His shots were wide. He took my shots, and I took his glancing blows. My shots were clean. I want a rematch, but its probably not going to happen. "Did you lose anything in that ring," EastSideBoxing asked: " Only the win," he replied.




"It was a close fight," added corner man Manfredo. "It was very close, but Nguyen may be did a little bit more. I kept telling Daluz to throw his right hand, and they didn't have a solution for it. I told Daluz, they haven't figured out your right. He has balls, and he comes to win, and he hits hard, you know? I just picked him up, this was like my third fight with him, and he looked good."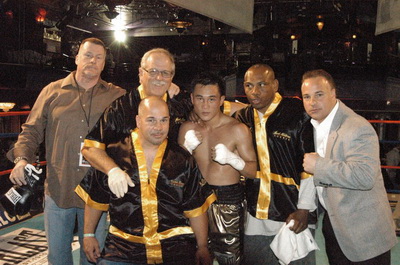 With the win, Dat "Be Dat" Nguyen, restarts his engine, and with his great corner and support of his promoter, managers and trainers, his record improves to 12-1, 6 KO's, while DaLuz walks out of the blue corner at 10-11-2, 9 KO's, but wanting a rematch that may never come. Article posted on 17.04.2008
previous article: Bad to the Bone: Morrison vs. Hipp (1992)
next article: Calzaghe/Hopkins: Sledgehammer a Tire or Have a CAT Scan?