Joel Julio Work out Quotes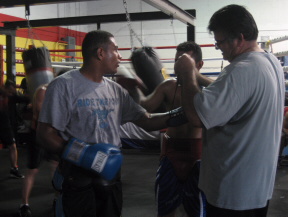 Jaime Castro-Núñez: LOS ANGELES, California (April 16, 2008). In just two more Wednesdays, Joel Julio's fans will have the opportunity to see what the "Loved Child" has refined and learned since his knockout victory over Cornelius Bundrage on July 11, 2007, in Hollywood, California, at the Kodak Theatre.

I had the opportunity to watch his training session last April 5th thanks to the generosity of Féliz "Tutico" Zabala, Roberto Quesada, Mario Santamaría, and David Obregón, the 29-year-old light middleweight pugil who sparred with Joel. Courteous, good-humored and accompanied by his lovely wife, Lilly, the Colombian arrived to the Miami Fight gym in order to oil his joints and practice what he will be doing on Wednesday, April 30, in Canada..

Armed with a notebook, a laptop, and a camcorder, I arrived around 11:15 AM to the gymnasium, where I caught Joel Julio warming up before exchanging leather with David Obregón of Chontales, Nicaragua. Mario Santamaría was assisting him with the gloves. "Joel Julio is in good condition right now. Both his timing and speed are great," said the co-trainer.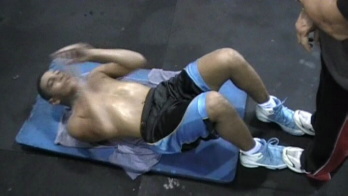 And while Santamaría assisted him with the gloves, Roberto Quesada, who is Julio's head coach since 2006, initiated a conversation with this author by saying that "Joel is a boxer that will become champion of the world very soon. That's inevitable! He has excellent conditions, he has power on both hands, he has the talent, and he is young. Boxers reach their prime around 26 and most of them become champions between 26 and 30, and Joel is only 23. He has not reached his maturity as a boxer. Joel fell into my hands when he was 21," Quesada continued. "He had a lot of fights in Colombia and I have been in his team ever since he arrived to Miami, but in 2006 I became his head coach. We are currently working on his defense. Joel is a hard-hitter, fast, and potent boxer".

But the 154-pounder is not a finished product, since we are constantly learning. Life and experience have given Quesada the right approach. "Yes! Life is a learning process. Sometimes, you know, there are combinations that he does not practice, combinations that he does not throw, or that I teach and he does not use them during the fight. Remember that the experience you get in a fight is not replaced by any training. Joel is constantly learning."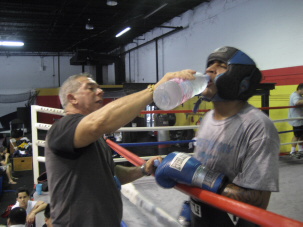 Talking about the preparation for his bout against Ishe Smith (19-2-0) on April 30 in Vancouver, Canada, here is what the trainer said: "We still have three more weeks. That means we have two weeks of intense training and another one for touching up." Is the Monteria-born 100% ready? "He is 70%" [April 5], Quesada answered. "Joel is having a very difficult opponent, we do not underestimate anybody. We never train thinking about the championship match, we are always focused on the immediate rival. The most difficult fight is the next one."

And while I was exploring Quesada's training approach, Joel Julio joined us. He looked tranquil and comfortable, ready to spar. "I have trained very hard for this fight. At this point I feel like the only thing I have to do is to maintain that ideal condition. My best motivation is that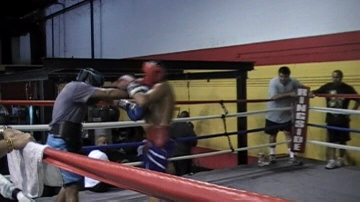 he [Smith] is a tough guy. My fans can expect a renovated Joel and I will not disappoint them. I have not fought in ten months, but I have been trotting and working out. Perhaps my rival thinks that the inactivity will affect me, but that is not true. In fact, I am in great shape!"

Julio and Obregón sparring session started very slow, but little by little they heated up the Miami Fight gym with hooks and straight hands. Joel Julio looked very fast. As a good student, Joel followed Quesada's instructions to box, move, and throw combinations, while in the red corner Santamaría commanded Obregón to "use the jab" and "keep Joel busy." David kept the pressure throwing bombs and Joel consistently avoided them by using his feet to stay out of range. At the end of the leather exchange, Obregón gave him a hug, while looking at me: "Joel pega duro" (Joel hits hard), he said, exhausted.

Article posted on 16.04.2008
previous article: Margarito: The last step for Cotto before a fight with Mayweather?
next article: Kirkland, Angula, Gamboa on HBO Boxing - May 17