Edwin Rodriguez Remains Undefeated! Fight & Photo Coverage from The Roxy in Boston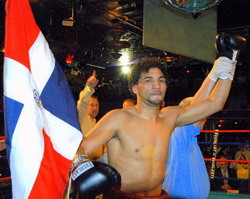 14.04.08 - By Peter Mark Heintzelman- Photos by Peter Mark Heintzelman

Worcester, Massachusetts' promising super middleweight, Edwin Rodriguez, was looking for his fourth professional win in only eleven weeks, and came out on top against a very tough and competitive, Jeffrey Osborne, Jr., of Davenport, Iowa.

Prior to the fight, Osborne, a second generation boxer, had stated to EastSideBoxing, that he had lots of respect for Rodriguez, who he characterized as a slick fighter. That his game plan was to take the fight to Rodriguez. It may well have been the fight of the night!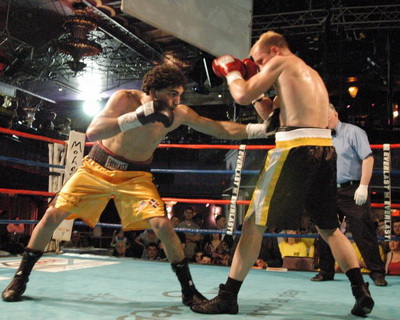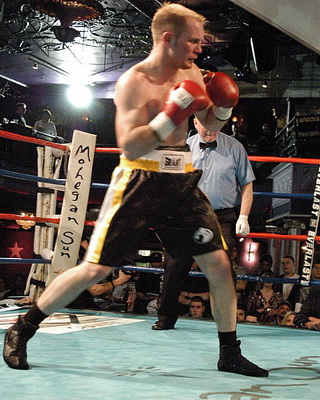 At the first bell, Osborne came forward and never looked back, trading jabs and body shots with Rodriguez, that earned Osborne a lot of respect from his opponent, and the appreciation and respect of the crowd in attendance. Rodriguez seemed intent, in the first round, to land that one big shot and knock his opponent out. But Osborne was not in the mood to go down, and stood his ground.




But it was in the start to be Rodriguez's night, as he showed remarkable talent and skills in only his fourth professional bout, after a stellar amateur career.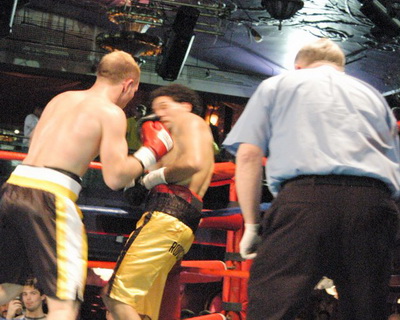 Rodriguez landed a series of devastating body and head shots, that would have put a lesser opponent on the canvas from the get go. As Osborne seemed intent on avoiding Rodriguez' outside game, the Iowan kept advancing inside, to try and head but and body punch Rodriguez into submission, and did a great job of challenging Rodriguez to fight out of style.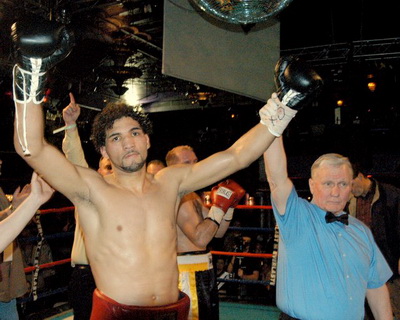 Yet, Rodriguez caught on to the strategy, and showed slick style, of trading punches, then slipping to the side, and going back outside to jab his way to the victory. He would push his opponent into the ropes, and pummel him with shots, then circle around his prey, and tag him with effective jabs. "Pick up the pace," yelled Peter Manfredo, Sr., working Rodriguez' corner, and the crowd chorus rose, "Edwin, Edwin, Edwin!" As Rodriguez had Osborne pinned to the ropes and defenseless during an onslaught, referee, Mike Ryan, had seen enough, and waived off the bout at 2:55 of the fourth and final round.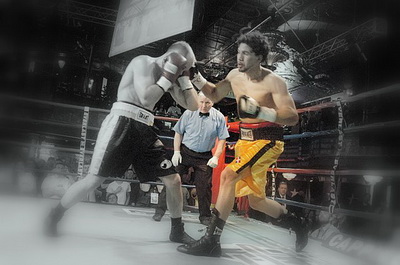 It was a great bout, lots of fighting, lots of trading, and Osborne never slowed down as Rodriguez showed great skills in overcoming Osborne's perpetual advances, and the crowd cheered and applauded both fighter for a great bout.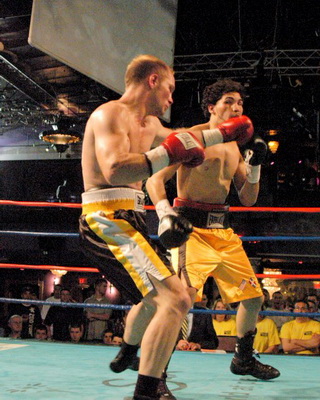 After the fight, the undefeated Rodriguez commented to EastSideBoxing.com: "It feel pretty good, it was not just a win, and I finally showed up and I took him out. All my fights have been tough. What I did was I kept my head down, to avoid his head buts, as he had two fights that ended in no contests, because of head buts, or something like that. He tried to get inside and use his head, and I said, "ok, let's go." So, he came to fight tonight, and I'm glad he came to fight, because the people deserve good shows. He did try to throw me off course, but I was in great shape and I have a great team in my corner, which is my advantage."

His famed trainer, Peter Manfredo, Sr. also provided post-fight analysis to EastSideBoxing: "I seen a lot of things I liked tonight, especially when I told him, between the third and fourth round, that he has to go into another gear, and this kid's coming and he's going to make you fight. I want everything to come off the jab, a few times you come off the right hand. The jab is the main ingredient, the jab is the most effective punching, its not just jabbing, its setting things up, its controlling and keeping your opponent off balance. And that's what he did, he did a lot of constructive things with the jab tonight, like setting up the right hand, controlling his opponent, setting the right distance."

" I think you can see the noticeable difference in Edwin's boxing skills as he progressed from his first fight to this his fourth," added attorney manager, Larry Army, Jr. "Its just another fight that we can learn, and take something from this. Every opponent that we have had, we learned something."

With the win, Edwin Rodriguez extended his undefeated professional record to 4-0, 3 KO's, while Jeffrey Osborne, Jr., though leaving his record at 4-10-2, also comes away with the respect and admiration of his new fans at the Roxy, for a game effort. The old adage, "you can't always judge a fighter by his record," was proven again tonight by Osborne. Article posted on 15.04.2008
previous article: Leon Margules: "The scoring of Johnson-Dawson was a disgrace"
next article: Castillo Brothers Star as Main and Co-Main Events at VIP Boxing in Miami