The Aftermath: Post Fight Analysis On Cotto-Gomez, Dawson-Johnson, Margarito-Cintron, and Tarver-Woods!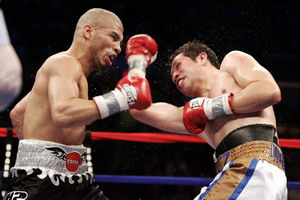 14.04.08 - By Vivek Wallace, photo by Chris Farina - TopRank - Fight aficionado's around the world walked away from their television tubes on Saturday night high on life. Not only had they witnessed a great evening of boxing, but the results rendered set the stage for some huge things to come in both the Light Heavyweight and Welterweight divisions. Although the four fights witnessed went a long way in answering questions, perhaps it's the ones raised that will serve as the appetizer, en route to the potential main course. As we continue to digest what happened last Saturday night, we take an in-depth look in the form of a close-up analysis.

Miguel Cotto-Alfonso Gomez: Most can remember a few years ago in the NBA when sports fans had a chance to see the elevation in the game of Dwyane Wade who went from a young, somewhat injury prone player to one who would rise to the occassion at every stop and ultimately end that season with an MVP award in his sports biggest stage.. It appears that this same 'spirit' exist in Miguel Cotto who continues to impress and show us why he remains to some the unofficial ring king of the welterweight division. The evolution of Miguel Cotto has been a total thing of beauty to watch, even for those who in the past have failed to admit it. Many thoughts come to mind when the name is mentioned. The enigmatic ways of his only embellish the full effects. Part raging fire, part consummate pro. Part friendly foe, part deliberate stranger. The blue collared fighter in a white collared sport. Simply the kind of guy that is completely happy being a quiet storm in the midst of a sport widely known for the loud and wild. Very little can be said to actually take away from the perception we have of Miguel Cotto, but bearing that in mind, his future still holds a few questions. All of Cotto's recent headlining opponents - Mosley, Judah, Gomez - were stationary targets who take a lot to land a little. The trouble here is that the guy most want to see Cotto square off against (Mayweather), is not. Against Gomez, Cotto had a round (rd 4) in which he landed 60 flush shots. Few have landed a whole lot more than that in a full 12 round fight against Mayweather. Gomez was a very credible fighter, but at the end of the day he falls considerably short of the tier 1 ranks in his divisions elite. That fact makes it tough to truly judge the outcome of this fight because it explains the dominance of Cotto's past, yet doesn't really address the potential of what lies ahead in his future. It appears that Cotto's next challenger (Margarito) will also be a stationary target, however, one equipped with a granite chin and two iron fist. Some would argue that no fighter Cotto has faced - to include Colombian Ricardo Torres who had him badly hurt - has the power of Antonio Margarito. For now it appears all questions have been answered, but for the constantly evolving Miguel Cotto, two more remain. Can he overcome a fighter with iron fist and a granite chin?, and can he overcome a target that can make him miss and make him pay (Mayweather)? For now it's a mystery of the unknown, but soon we shall all find out. Perhaps as early as July 26 which is his next targeted ring date.

Chad Dawson-Glen Johnson: If I had to title this segment it would be 'Dawson's Creek', because it appeared that Chad was up the proverbial 'creek' without a paddle, yet somehow, by way of boxing politics, he managed to escape. Going into this fight I felt and stated that Dawson would win by split decision at best and it appears that I was right. Trouble is, the only split in this decision was that Dawson felt he won, and the rest of the world felt the total opposite. Although Dawson did look sharp at some points, the overhand right was his nemisis once again and by all accounts, he technically lost the fight. Glen Johnson proved once again that he is the official unretired emeritus champion of the light heavyweight division. His legendary status can't be stripped no matter how one chooses to take it because no one has ever convincingly done it in the ring. Chad Dawson was no exception. Dawson won a few rounds early, but Johnson did far more to solidify himself as the divisions best. In this fight there were certainly more questions raised than questiones answered. Will Dawson award Johnson a rematch before moving on? Will the WBC demand an immediate rematch? If so, will Dawson relinquish his strap for a big money bout with Tarver? The questions on this topic can mount up for days, but as of right now, the only answer rendered was the one that let us know if Chad Dawson can be beaten? That answer would be an emphatic YES!

Antonio Margarito-Kermit Cintron: This fight proved a few things to many people. Some things that were already speculative, and a few that weren't. It proved to the masses that despite the lower skill level and despite the many losses, Antonio Margarito belongs amongst the higher echelon of the welterweight division; And it also proved to us that as athletic as he is, Kermit Cintron lacks the heart required to take a lickin' and keep tickin'. Cintron came out looking like he was ready to right the wrongs of his past, but as most previously felt, the moment he realized that his power was not enough to overcome the granite chin of Margarito, his confidence evaporated like dew under the morning sun. In the beginning of the fight when Cintron was able to box and create space with his jab it made all the difference for him, but an apparent flashback to his slow start against Paul Williams made Margarito figure out a way to nullify that jab immediately. That way was his patented pressure, and once again he performed to perfection. The future for Kermit Cintron leaves many questions. Similar to Zab Judah, Cintron has become one of those 'bridge' fighters who remain entrenched somewhere between the good and the great, not quite a full-time member of either side. Where he goes next could be a boxing venue near you, or maybe even the retirement ranks. As with most things about Cintron, we'll never know until it happens. Margarito, on the other hand, has solidified his duel against the divisions unofficial welterweight king. The tentative date is scheduled for July 26, as for the results, we'll have to wait and see, but I would agree with trainer/HBO Commentator Emanuel Steward who said "that's gonna be a helluva fight"!

Antonio Tarver-Clinton Woods: This fight was the 'dud' of the night, as Clinton Woods - despite a vast improvement - was thoroughly outclassed. Antonio Tarver did enough to win but never quite showed the kind of effort that made you think that he would be a favorite against the man believed to be his opponent in the fall, Chad Dawson. This was Tarver's first real step-up in opposition since his humbling loss to Bernard Hopkins. Althought it was a caliber above his last few opponents, many would argue it did little to prepare him for what lies ahead. Tarver's effort was enough to put him in the ranks of the light heavyweight elite, and aside from Johnson and Dawson, few others have proven to be better. Bernard Hopkins has already beaten him and Roy Jones Jr. has no need to face him again, leaving few others of any true notoriety to challenge him. If the WBC request that Chad Dawson gives Glen Johnson a rematch, that could spell trouble for Tarver, who then would not have a true target to consider, and could ultimately end up facing Johnson again if he does indeed defeat Dawson in a potental rematch. Once again we have a scenario where more questions were raised than those that were answered. For those fight fans that follow the trend, it's obvious, this isn't such a bad thing after all.

*** KEYNOTE: The Weekly 'Left-Hook Lounge' feature will be extended to a four-part series as follows:***

Monday: A 'Weekend Wrapup' feature piece taking a look at major ring moments or headlines of the past week.

Wednesday: The Q&A mailbag session.

Friday: A feature piece entitled "Call 'em Out Friday's", which will be dedicated to the 'buzz' in the fight game, calling out those fighters who fans want to step up (I.E. Pacquiao who won't give Marquez the rematch, Mayweather who hasn't taken the Cotto fight, Dawson who won't give Johnson a rematch).

Saturday: A prefight analysis/breakdown on the night's headliner(s) - (Only on Saturday's featuring marquee matchups).

(Got Feedback or Questions? Write ESB's Vivek Wallace at vivexemail@yahoo.com or show some love at www.myspace.com/anonymouslyinvolved)

Article posted on 15.04.2008
previous article: Nate Campbell Claims Amir Khan Is Nothing But A Fraud
next article: Joe Calzaghe - "I'm A More Experienced Fighter Than Bernard Hopkins"