Chris Henry Arrives In Romania; Ready For Diaconu
Chris Henry, # 3 WBC Light Heavyweight contender from Houston, Texas, arrived just hours ago in Bucharest, Romania for his scheduled WBC Interim Light Heavyweight Championship April 19th against # 1 Contender and local favorite Adrian Diaconu. At a short press conference, Henry picked Glenn Johnson to knock out Chad Dawson Saturday night.The winners of the Dawson-Johnson fight and Diaconu-Henry will meet to unify the WBC Light Heavyweight title..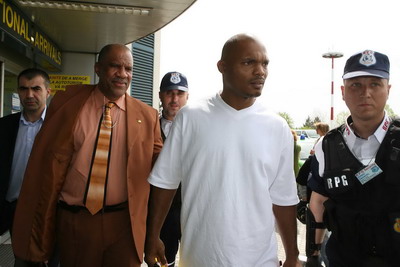 Traveling with Henry is his dapper trainer Percy Michael Roberts. Gentleman in dark blazer thinking "Sellout and big fights to come!" is hard-working promoter Chris Ganescu of Bucharest. Head trainer Ronnie Shields will arrive Saturday in Bucharest.


Chris" Hard Hittin' Henry: "I feel just great. We have had an excellent training camp and I'm coming to win April 19th. This is my lifetime opportunity and I plan to take advantage of it fully.

Now, I like Glenn Johnson over Chad Dawson, by late round TKO next week and I like Tarver over Woods by decision.

I appreciate Gankor Promotions, the WBC and of course Adrian for giving me this opportunity. I hope, for his sake, Adrian isn't looking past me because I'm coming with it on April 19th.

I'm going to win this fight. He has no idea what he signed up for and is up against in Chris Henry.

My trainer, Ronnie Shields, has me ready and I'm ready to fight right now. My manager, Bob Spagnola has done a great job getting me the right opportunities and now it is all up to me. "Spags" managed a few real world champions and contenders and I have been with him since I turned professional so I'm very confident.

I was with trainer Bobby Benton, son of Texas boxing legend Bill Benton, when I turned professional, but we felt I needed Ronnie Shields to add just a little polish and experience, but Bobby will still be in my corner as a second, along with Mike Roberts.

I have been with Ronnie Shields for over six months now and he has had so many champions such as Mike Tyson and Jesse James Leija along with the Main Events stable so my corner is a real asset when under pressure.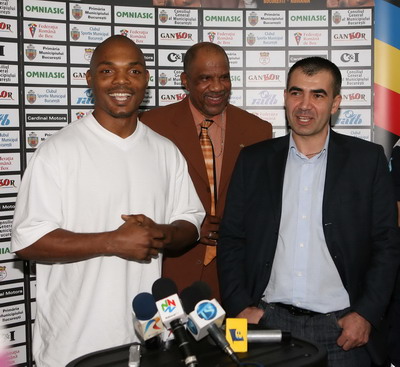 I have had three excellent sparring partners out of Houston and I have been training at Willie Savannah's Boxing Gym in Houston.

I won a National Under 19 Tournament around 1998, and I
was a National Golden Gloves Finalist in 2005, losing only to pro Chazz Witherspoon. I was highly recruited by the top promoters, trainers and managers all over the country.

I was an all-around athlete growing up. My high school football coach in Beaumont, Texas told me I had to pick between basketball and boxing and I chose boxing and haven't looked back. I was on my way to a few college scholarship opportunities at the time.

I was born in Lafayette, Louisiana but have pretty much lived in what they call the "Golden Triangle" of Beaumont, Port Arthur, and Orange, Texas.

I believe this will be a "fight of the year" candidate because I know Adrian can really fight.
2
I'm looking forward to my trip to Romania. I know that there is a lot of history over there and I aim to bring some of it back with me April 19th.

Thank you all for this opportunity." Article posted on 12.04.2008
previous article: Undercard Results From The St. Pete Times Forum