Calzaghe: "It's Boot Hill for Hopkins' Career as a Fighter!"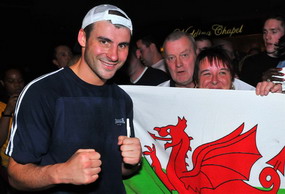 LAS VEGAS, NEV (April 11, 2008) -- Photos by Tom Donoghue / Planet Hollywood Resort & Casino-- Boxing's quickest and deadliest gunslinger, SOUTHPAW JOE C WALES, is not only boxing's current longest-reigning world champion, he is also the only active fighter in the top-five of boxing's all-time list for consecutive successful title defenses. There isn't a professional fighter -- dead or alive -- that has ever left the ring from a Joe Calzaghe showdown with anything but a loss, dating back to his pro debut in 1993, 44 bouts ago.




"Hopkins fancies himself "The Executioner" but he will be the one walking the "last mile" when he leaves his dressing room to enter the Planet Hollywood Ring with me on April 19," said Calzaghe, after his public workout at Planet Hollywood Resort & Casino this week..

"I'm used to getting called out, that goes with the territory when you're boxing's top gun. History has already documented that Hopkins is in my rearview mirror when it comes to the length of our title reigns and the number of consecutive successful title defenses. And I passed him by with title unification victories against undefeated champions. I literally ruined the career of IBF/IBO champion Jeff "Left Hookless" Lacy, who has never been the same since he fought me, and I manhandled WBC/WBA champion Mikkel Kessler, who hasn't been seen in a ring since I filled him full of left hooks last November. Who of any note has Hopkins fought recently? Let's see, there was Winky Wright, who was 10 pounds over his best weight and Antonio Tarver, whose best days were already behind him and had to lose 125 pounds before the fight. Wow, what a light heavyweight legacy."

Calzaghe (44-0, 32 KOs), from Newbridge, Wales, who is closing in on his 11th year as super middleweight champion since winning the title on October 11, 1997, has held the title three months longer than Hopkins' reign as middleweight champion (April 25, 1995 - July 16, 2005.) Calzaghe's most recent victory, over Kessler, his 21st consecutive title defense, put him in a fourth-place tie on the all-time title defense list -- four behind all-time leader Joe Louis -- forever dropping Hopkins from the top-five.



"It's Boot Hill for Hopkins' career as a fighter and his foul mouth. He's going to be notch No. 45 on my belt. I am going to turn off that idiot's spigot. He can justify and spin what he said anyway he wants, but it's recorded for posterity on You Tube. . Personally, I think he's jealous of my matinee idol looks. My face looks like I'm ready for a screen test while his looks like it was hit by a screen door!"

Hopkins vs. Calzaghe "Battle of the Planet," is presented by Golden Boy Promotions, Frank Warren's Sports Network and the Planet Hollywood Resort & Casino. The 12-round light heavyweight championship fight between The Ring magazine champions for Hopkins' title, will air live from the Planet Hollywood Ring at the Thomas & Mack Center in Las Vegas on HBO's World Championship Boxing, beginning at 9:45 p.m. ET / 6:45 p.m. PT.

Remaining tickets, priced at $1500, $1200, $750, $450, $350 and $250, may be purchased by calling 866-USFIGHT or online at www.planenthollywood.com. Article posted on 12.04.2008
previous article: Santana Decisions Lopez, De Leon Stops McGirt Jr.
next article: Boston Roxy Weigh-In For Saturday Night Fights And Photogallery