Tarver, Woods, Dawson, Johnson Workout Quotes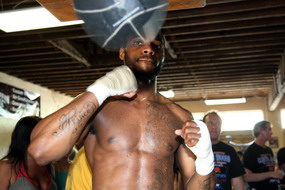 Photos: TOM CASINO/SHOWTIME - IBO champion and former undisputed light heavyweight kingpin Antonio Tarver (26-4, 19 KOs), of Tampa, Fla., will challenge IBF 175-pound titleholder Clinton Woods (41-3-1, 24 KOs), of Sheffield, England, and undefeated WBC light heavyweight champion Chad Dawson (25-0, 17 KOs), of New Haven, Conn., will defend against former world champion Glen Johnson (47-11-2, 37 KOs) of Miami, by way of Jamaica, this Saturday, April 12, at the St. Pete Times Forum in Tampa, Fla., on SHOWTIME (9 p.m. ET/PT, delayed on the west coast.

Tickets for a doubleheader promoted by Gary Shaw Productions and AT Entertainment in association with Fight Academy are on sale at the McDonald's Box Office at the St Pete Times Forum and all Ticketmaster outlets, by phone at (813) 287-8844 or 727-898-2100 or online at ticketmaster.com. They are priced at $27.75, $52.75, $102.75, $202.75, $302.75..

Limited ringside seats are available at $602.75. Limited VIP Packages are available at $1002.75. Prices do not include service charges. For dinner reservations, the night of the event, call 813-301-6926 or log on to ticketmaster.com. Parking passes are available at ticketmaster.com.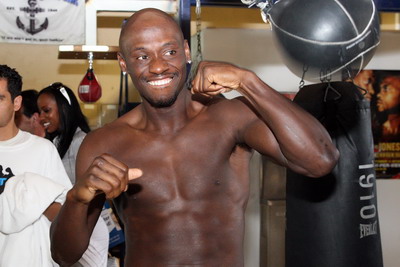 ANTONIO TARVER

"I've fought the best, beat the best and look forward to showing everybody that I am currently the best light heavyweight in the world. People keep looking back at my fight against (Bernard) Hopkins, but that wasn't me in there. I was in shape, but, coming off the movie and having to lose all the weight, I wasn't in fighting shape. But I'm in fighting shape for this one.

"I've had one of my very best camps, feel stronger than ever and I am already on weight. I'm excited about Saturday and putting on a show. I respect Woods; he's come through in a lot of tough fights.

"But if he fights like he always does and comes to pressure me, this fight is going to end early. When I have to try and chase down guys and corner them, that is when I have trouble. I don't think I will have to go looking for Woods.

"I know some people think that I'm the underdog in this fight, but all that does is challenge me more and I am at my best when I'm challenged.

"I expect to and am confident that I not only will win, but will win in spectacular fashion. I am going to break Woods down and knock him out.''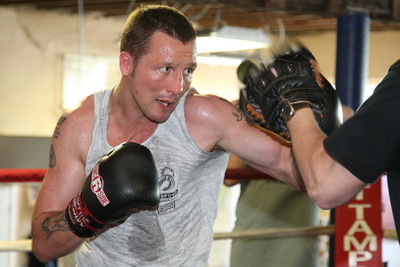 CLINTON WOODS

"I can't wait for Saturday. I've had a fantastic camp and am in tremendous shape. I'm really looking forward to fighting in America again. There is a massive difference between the fighter fans saw the first time and the type of fighter I am now. I was just a baby then. Not so anymore.

"I've never ducked anybody; I've fought all my mandatories. I feel now I'm the real deal and can't wait to show that to the fans in the United States.

"When Roy Jones beat me, he was at his best. But I wasn't near the fighter I am now.

"I hope this is an easy fight, but I always train for a tough one, and for this I have trained for Antonio Tarver like he will be at his best.

"This is a huge fight for me. A win will really make me a big name in boxing, both here in the states and at home in the UK.

"I don't feel I need a knockout to win. I'm not worried that the fight is in Tarver's backyard. The IBF promised me a fair decision.''

CHAD DAWSON

"I'm expecting a tough, hard fight; in fact, this is definitely my toughest fight, but Johnson is tailor-made for me.

"I'm faster, younger and stronger. If he comes out aggressively, I will use my jab and my legs (footwork) to keep him at bay.

"He may try to push forward, but if the fight goes past six rounds, I will be the one pushing him back.

"I would love to unify the division. I won't start to feel like a true champion until I start beating the bigger-named guys, but none of them want to fight. Nobody is calling me out. So, all these fights are stepping stones on my way to the top.

"If a fight could be made with Kelly Pavlik, I'd drop to 168 pounds in a heartbeat.''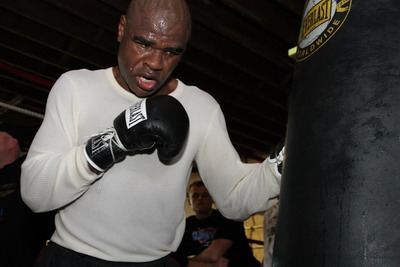 GLEN JOHNSON

"Experience is almost always the key, and it is in my favor and I will use it in this fight. My game plan, as always, is simple: hit and not be hit.

"I had a beautiful, wonderful camp and I am in tremendous shape. I know that at this stage of my career that this fight could be my last great opportunity. I can't afford any mistakes like before.

"Dawson is a young, fast fighter with a lot of upside but I know what I have to do. I have fought guys faster than him. So, I don't worry about his speed

"No matter what he does, I have a strategy to counter it.

"This is going to be an exciting, intense fight but if I do what I do well, I will come out victorious.'' Article posted on 10.04.2008
previous article: CBS C.S.N. To Host College Boxing Championships