Dat Be Dat Nguyen: ďIím A Fighter Whoís Afraid Of Nobody!Ē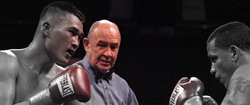 By Peter Mark Heintzelman, Photos by Peter Mark Heintzelman: Twenty-five year old, featherweight, Dat ďBe DatĒ Nguyen, an absolute New England fan favorite fighter, headlines this Saturday night exciting fight card on the Cappiello Promotionsí ďEthnic InvasionĒ boxing event, that brings professional boxing back to Boston, at the Roxy. Nguyen has gathered a faithful following, because of his exciting action-packed fight style.

Training for his fight this weekend down in Florida, with trainer Buddy McGirt, Dat Be Dat, took time out of his training regimen to speak with EastSideBoxing about his upcoming bout in Boston against Robert Daluz, 10-10-2, 9 KOís, of Providence, Rhode Island:

EastSideBoxing: Dat Nguyen, you are now 11-1, 9 KOís, and your last fight in Arizona on August 31, 2007, gave you your first loss, against an Arizonian, Gregorio Torres. Did you feel you lost that fight, and what did you learn from that experience?

Nguyen: I actually thought I had won that fight, but sometimes, when you fight out of your area, the close ones go to the local fighter. But, I felt I fought well enough to win, its just that the decision did not go in my favor. It taught me, that I have to make the right decisions about who I fight, and not to leave the outcome of a fight to the judges.




EastSideBoxing: How does it feel to you to be headlining on Cappiello Promotions card on Saturday, April 12, 2008, at The Roxy in Boston, Massachusetts?

Nguyen: It feels good, I like to think I put on a good show, and Iím very proud of that. I know I will be at 100 percent, so the fans know that will see me fight at my best, because Iím in good shape and can go a full eight rounds. And also, I know that being the main event, Iím not a swing fight, so I know when I will fight. When Iím a swing fight, it doesnít always work out to start my fight on time, and thatís a main concern, and I wrap my hands and it drains my energy. I have been wrapped like 3 hours before my fight, because I was a swing fight, and it made my hands sore before the fight even began. I am looking forward to seeing my fight start on time.

EastSideBoxing: Dat, I see you have a heck of a fan base in New England. Do you get that impression as well?

Nguyen: Yes, I get them to my fights, because I come to fight, and I have that mentality. I donít talk trash or anything, I just come to put on a good fight, and I think my fans know what they are going to see, when they come out to see me, and thatís an exciting fight with me giving all I have to win my fight.

EastSideBoxing: What do you know about your opponent on April 12th, namely 29 year old Robert ďDonít LoseĒ Daluz, 10-10-2, with 9 KOís?

Nguyen: I went to his the fights in Hollywood , Florida about two months ago, to watch
My friend, James McGirt fight, and I got to see Daluz fight against Gary Stark, from New York. So, I saw a little bit of his power. He threw a few punches, and he looks like he covers up a lot, so, I think itís a good fight for me.

EastSideBoxing: Speaking of McGirt, is Buddy going to be working your corner at the Roxy in Boston this weekend?

Nguyen: No, Buddy canít work my fight, because he has other fighters fighting somewhere else this weekend, so heís staying in Florida this weekend. But I have been working with Buddy McGirt at the gym, and so, come fight night, I will be focused, and it will all come together. So, I think, Victor Ramos, who has worked with me in the past two fights, and heís a good friend of Buddy, and we work well together.



EastSideBoxing: What can your fans expect from you on Saturday night at the Roxy in Boston?

Nguyen: They are going to see the real me this time. From my last fights, you can see I was there but not at the best I can be.

I want to fight the best fighters out there, and Iím not going to take any fighters lightly from now on, so I donít look at their records anymore.

Iím going to fight, like its my last fight every time. Because, heís coming to fight, regardless, and I have to fight my best. Whoever you put in front of me, Iíve gotta take care of business, and thatís my new attitude from now on.

Iíve been working, running, a lot of stretch work, on my punching power, and conditioning my legs, and my weight is there to, and Iím not trying to make my weight a day or two before the fight, Iím at weight now. I learned I have to be serious about my weight, and not try to lose weight the last day or two, because it drains energy. So, my fans are going to see a real, real exciting Dat Nguyen.

EastSideBoxing: Your promoter, Richie Cappiello, said he would like to see you fight Matt Remillard some day. Is that in the cards for you, and whatís your reaction?

Nguyen: I donít care who I fight, really. I have seen Matt fight, and I know Matt. Someday, I hope we do step into the ring together. But, whenever he wants to fight, I am always ready! Itís a little early in our career for us to fight. We are both at the level where people expect a good fight. Both times I have fought with Matt, I was in the worse shape that I could be, and if they think thatís the shape I would be in when I finally do fight Matt, they are wrong. So, someday, when they are ready to fight me, they may not want to! Because, thatís how boxing goes! But, Iím always interested in a match up with Matt someday, because I know that he has a fan base too up in New England, and that would be a great fight, for me and him to be headlining a New England card someday. I know Matt personally, and I think that, once he gets a couple more wins in, and I get a couple more wins in, that we can do it. Because, I look forward to some day, stepping up to the plate to fight Matt, somebody who people speak highly of. Iím tired of fighting at my level, and I look forward to stepping up against a guy like Matt. Iím a fighter whoís afraid of nobody, so someday we can be matched up in six months or a year from now, I think that would be awesome.

EastSideBoxing: Are you still with Jack and Jack? (Jack Luce and Jack Matera)

Nguyen: Yea, Iím still with Jack and Jack, and theyíve been supporting me, and I appreciate them on my side. They also help me out with my bills, and let me focus on boxing, they help me get by, but the main thing is for me to do boxing, and thatís my main focus. So, I get by, and keep looking for those bigger fight opportunities.

EastSideBoxing: Whatís your prediction as to the outcome of your fight with Daluz at the Roxy?

Nguyen: I hate to predict my fight, I hate to predict it. I know that I will fight for a full eight rounds, if thatís what it takes. I know my opponent, and that he will come in good shape to fight, and I donít want to predict anything, but you are going to see the best of me Saturday night!

EastSideBoxing: Anything else you want to say to your fans at EastSideBoxing.com?

Nguyen: I always read EastSideBoxing.com, and I want to stay in touch with all my friends and fans, and I hope I get an opportunity to talk to them in Boston when I fight at the Roxy this weekend, and give them the pictures that they want. But that, when I get the opportunity, I want to greet everyone of my fans out there, and I appreciate your support, because without my fans, I am nothing.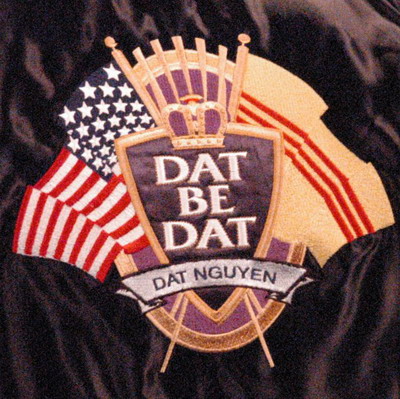 Robert ďDonít LoseĒ Daluz has more knock outs to his record than Nguyen, however, and isnít coming to Boston to lose. Heís known as a rugged opponent, not afraid to mix it up. Fasten your seatbelts for this one - - its going to be one bumpy ride!


The undercard has six other exciting bouts scheduled as follows:
Six Rounds Middleweight
Donald Orr, 11-0, 6 KOís of South Boston, MA
v.
Jorge Gonzalez, of Chicago, IL,5-3

Six Rounds Jr. Welterwelterweight
Simeone Dunwell, 6-0, 2 KOís of Haverhill, MA
v.
Damien Antoine, 7-22-1, 3 KOís of Akron, OH

Four Rounds Jr. Welterweight
Jose Valesquez, 0-2, Worcester, MA
v.
Anthony LaMonica, 5-0, 4 KOís of South Boston, MA

Four Rounds Heavyweight
Phil Miller, 2-0, 2 KOís, of Providence, RI
v.
Carossee Auponte, 0-2, of Philadelphia, PA

Six Rounds Heavyweight
Abraham Okine, 14-3, 8 KOís, of Worcester, MA
v.
Joe Stofle, 10-12-2, 9 KOís, of Saint Charles, MI

Four Rounds Super Middleweight
Edwin Rodriguez, 3-0, 2 KOís, of Worcester, MA
v.
Jeffrey Osbourne, 4-9-2, of Davenport, Iowa


The Roxy, one of the most exciting boxing venues in the Northeast, is located at 279 Tremont Street, Boston. Ticket prices for the Saturday, April 12th fights, are $75.00 ringside, and $40 general admission. Call 508-586-2277 for tickets - MasterCard and Visa accepted. All fights and fighters subject to change. Any remaining tickets will be available at the door. Get your tickets early for this one; its bound to be another sell out for Cappiello! For more information, see www.cappielloboxing.com . Doors open at 5:30 pm and the first bell rings at 7pm. Article posted on 08.04.2008
previous article: Selcuk Aydin headlines in Turkey; Solis on the undercard
next article: Hector Camacho Jr. Headlines "The Best of Both Worlds"