Aaron Williams Interview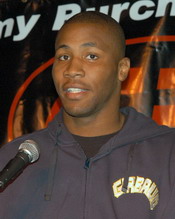 Interview by Peter Mark Heintzelman, Photos by Peter Mark Heintzelman: Undefeated cruiserweight ďAwesomeĒ Aaron Williams, 16-0-1, 11 KOís, is in for the fight of his life tonight, on ESPN2ís Friday Night Fights, at the Twin River Event Center, in Lincoln, Rhode Island. Just five days shy of his 22nd birthday, the likeable Williams, from Las Vegas, sat down with EastSideBoxing, to discuss his fight plans against Andre ďTombstoneĒ Purlette, 40-2, 35 KOís.

EastSideBoxing: Aaron, are you coming into this fight with any injuries?

Williams: No injuries. I feel great, I had a good camp I was camping with Chad Dawson, so we had fun, and were running in the mountains every weekend.

EastSideBoxing: Aaron, what do you know about Purlette, and his game plan?

Williams: Weíve boxed in the past, and we know each other, and Iíve been on him since I was 15 years old, so Iím going to let my hands do what they do best, and thatís to box. Its going to show in the fight. Iíve sparred with him before, but not in any official match.

EastSideBoxing: Where do you train, and with whom:

Williams: Iíve been boxing at Top Rank Gym, in Las Vegas. Iíve been sparring with Duncan Dokawari -heís a big guy, so Iíve gotten some good work in with Duncan, and Iíve been running in the mountains, and Iím doing what Iím supposed to be doing.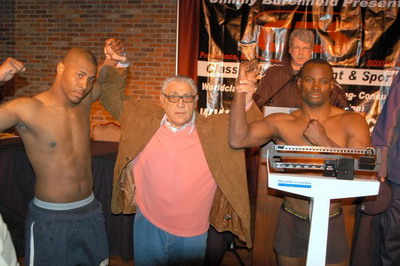 EastSideBoxing: Whoís working your corner Friday night:

Williams: Eddie Mustapha Muhammad, and my new managers will be in the corner with me, Pat Doljanin and Albert Falcon.

EastSideBoxing: How would you describe your fight style, a boxer, or a puncher?

Williams: Iím a boxer puncher. I like to box first, then I sit and I like to hit the guy. I can punch a little bit, so thatís all I do.

EastSideBoxing: Does your age differential make a difference?

Williams: Hopefully, I think so. Youth vs. veteran, I go for the youth, I go with youth any day.

EastSideBoxing: A 13 winning streak you have by my count, so when is that going to end?

Williams: Itís going to continue, Iím feel like Iím doing what Iím supposed to do, and continue with those victories.

EastSideBoxing: So, how does it feel to be on ESPN2 again?

Williams: It feels great. Iíve fought on TV twice already. You may have seen me - I fought last year and I was in the top ten fights of the year with a knockout. So this time, its going to be bigger and better.

EastSideBoxing: So, what do you think of Chad Dawsonís fight coming up with Glen Coffee Johnson - who do you think it going to win?

Williams: I believe Chad is going to probably stop him late, a later stoppage of the old guy late in the fight.

EastSideBoxing: So, does it put more pressure on you to be on national TV?

Williams: No, I put pressure on myself, I feel great and Iím focused.

EastSideBoxing: But, you get lots more exposure on national television, doesnít that affect you?

Williams: Yea, but it doesnít change my style, I just come out and do my best, do my boxing.

EastSideBoxing: Aaron, do you currently have an occupation besides boxing?

Williams: Iím a full time boxer now, I have no other job.

EastSideBoxing: At 21 years old, what are your plans and dreams for your future in boxing?

Williams: My goal is to win the cruiserweight title, and keep if for a minute, then move up to heavyweight. Thatís my goal.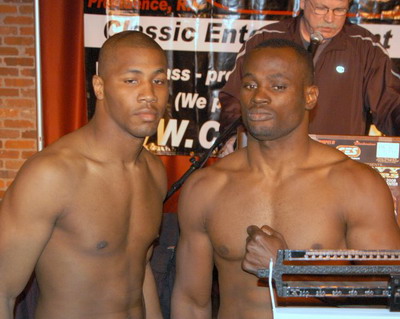 EastSideBoxing: So, whatís your prediction as to the outcome of your fight on Friday night?

Williams: Iíll let tomorrow be the judge. I will guarantee my hands will be ready, so how itís going to come, is how its going to come.

EastSideBoxing: Anything else you want to say to your fans at EastSideBoxing?

Williams: I want everybody at EastSideBoxing to keep looking out for Awesome Aaron Williams. Come meet the new future of boxing, and new faces!

Aaron Williams is property tagged ďAwesome,Ē having won twelve bouts in a row, and is known as a boxer-puncher who loves to throw vicious body shots.

Tickets for ďHeavy HittersĒ are priced at $35.00 (ADA stage seating only), $40.00, $50.00 are sold out, (Bronze), $75.00 (Silver), $100.00 (Gold) and $150.00 (Jimmyís Platinum Club) and are available to purchase by calling CES (401.724.2253/2254), going on line at www.cesboxing.com or www.twinriver.com, at the Twin River Event Center (100 Twin River Road, Lincoln, RI), or any TicketMaster location. Contact CES 401.724.2253/2254/www.cesboxing.com) or Twin River Events Center (877.82.RIVER/ www.twinriver.com) for more information. Doors open at 6 PM/ET, first bout at 7 PM/ET. Twin River has waived its 18+ rule for ďHeavy Hitters.Ē Anybody under the age of 18 must be accompanied at all times by an adult and they must enter through the West entrance. Article posted on 05.04.2008
previous article: Andre ďTombstoneĒ Purlette: A Good Fighter Becomes Great Under Pressure!