Twin River Presser & Weigh In Photo gallery: Estrada-Whitaker, Williams-Purlette
By Peter Mark Heintzelman, Photos by Peter Mark Heintzelman - At the scales: Trish Kilcullen - Jimmy Burchfield's Classic Entertainment & Sports, Inc., in association with Twin River Event Center, Budweiser and ESPN2 Friday Night Fights, host "Heavy Hitters" this Friday. And heavy hitters there are, as the main event features strong-man, Jason "Big Six" Estrada, 11-1, 2 KO's scheduled for ten rounds at heavyweight with of Lance "Mount" Whitaker, 32-4-1, 27 KO's, as the scheduled main event on ESPN2's Friday Night Fights..

Estrada, of Providence, Rhode Island, is one of the most highly decorated amateur boxers in American history, including being a member of the 2004 U. S. Olympian team, and is now rated #9 by the NABO. He is on a four fight winning streak, and only looking upward.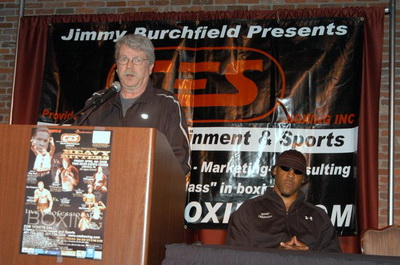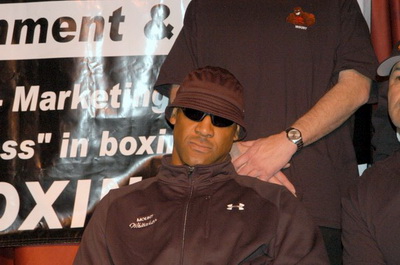 Speaking of upward, Estrada faces his biggest opponent to date, literally, in the 6' 8" tall Whitaker -- why do you think they call him "Mount Whitaker?!"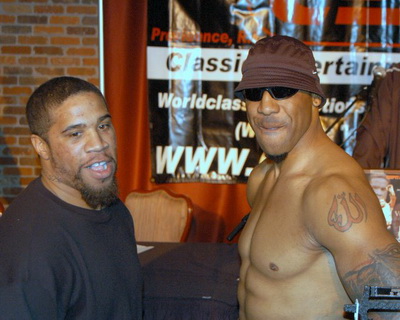 "You don't look 6'8"!," taunted Estrada at the face off following Thursday's weigh in at Twin River's Comedy Club, where both fighters leveled the scales dead even, at 239 pounds a piece. Estrada looked in great physical shape.

Whitaker, of Van Nuys, California, and former NABO, NBA, & WBC Continental Americas Champion, also adds to his credentials winning performances in the California Golden Gloves, and U.S. National Championships, an a silver medal in his locker from the 1994 Goodwill Games. Whitaker has won eight out his last ten bouts, losing only to Sultan Ibragimov and Luan Kasniqi, both very weighty opponents.

While the Providence pugilist has a number of apparent advantages, namely fighting on his home turf, and having a 8 years younger frame than his opponent, the Californian has a huge 84 inch reach and height advantage over the 6'1" Estrada . While Estrada's professional record only boasts two knockouts, Whitaker has twenty-seven knockouts!

Count 'em: 27!

So, on paper at least, this fight looks more than worthy of the national television spotlight it will have on Friday Night Fights. Thank you, Jimmy Burchfield!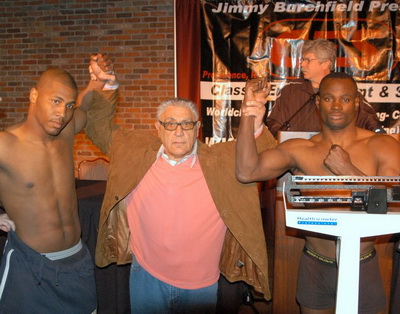 The co-main event of the evening, features an event worthy on its own of being a main event, namely the much anticipated match up between Las Vegas' "Awesome" Aaron Williams clashing with Andre "Tombstone" Purlette, for eight rounds at cruiserweight.

And just look at the co-feature fighters credentials:

Williams, a 9-Time U.S. National Champion, and rated number 10 by the NABO, sports a record of 16 wins, no losses and one draw, with 11 knockouts. Not to mention, Williams is on a 13 bout winning streak! As if that doesn't give Williams an edge, fight fans will see former WBA light heavyweight champion, and esteemed trainer Eddie Mustafa Muhammad, in his corner. Mustafa had Williams training with, none other than light heavyweight, Chad Dawson, in preparation for this fight. "Aaron is boxing beautifully," said Mustafa. Williams is managed by the ever watchful team of Albert Falcon and Patrick Doljanin.

In the other corner, Andre Purlette, of Miami, Florida, is a former NABO cruiserweight champion, who got started boxing, because he was tired of getting beat up for his lunch money back in his native Guyana. He is trained by James Ali Bashir. He has won his last fight consecutive fight, and sports a record of 40-2, with monstrous 35 knock outs to his credit. "I've known him a long time," 9-time U.S. national amateur champion Williams noted. "We've sparred back in the day. He's going to come to fight and it's going to be a very interesting fight – youth versus a veteran.

After today's press conference, the fighters on the card weighed in as follows: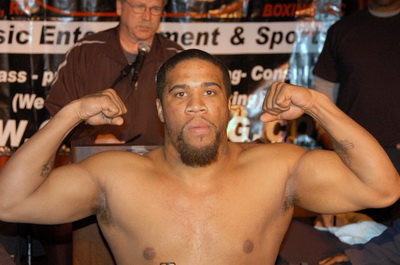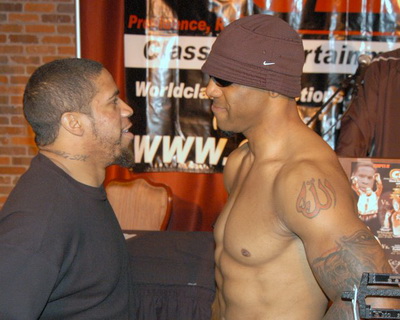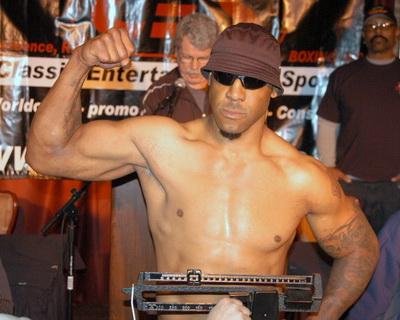 Main Event: 10 Rounds Heavyweights
Jason "Big Six" Estrada, of Providence, RI, 11-1, 2 KO's, 239 lbs
v.
Lance "Mount" Whitaker, of Van Nuys, CA, 32-4-1, 27 KO's, 239 lbs.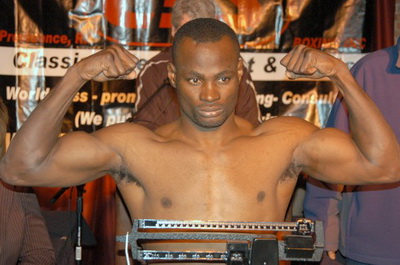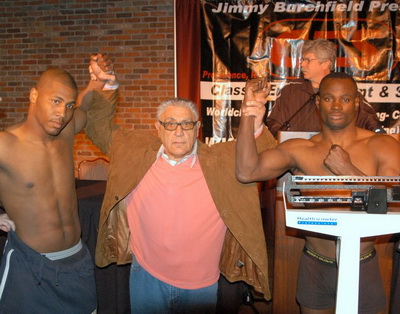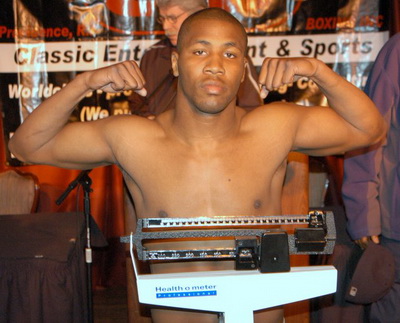 Co-Feature: 8 Rounds Cruiserweights
"Awesome" Aaron Williams, Las Vegas, NV, 16-0-1, 11 KO's 200 lbs
v.
Andre "Tombstone" Purlette, Miami, FL, 40-2, 35 KO's, 199 lbs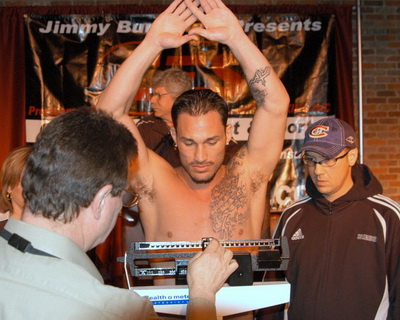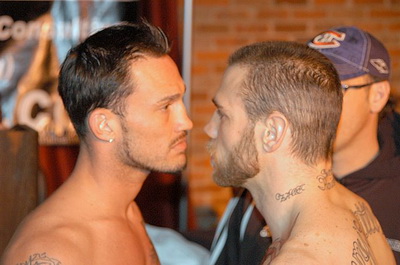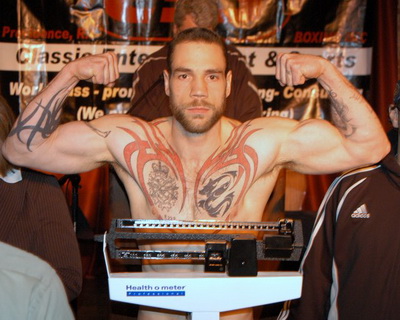 Six Rounds Light Heavyweights
Joey "KO Kid" Spina, Providence, RI, 21-1-1, 15 KO's, 177 lbs
v.
David Whittom, Lac Beauport, Quebec, Canada, 10-5-1, 6 KO's, 176 lbs.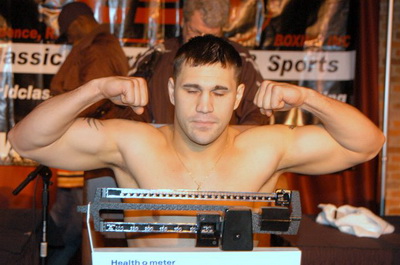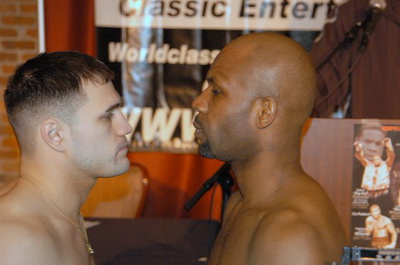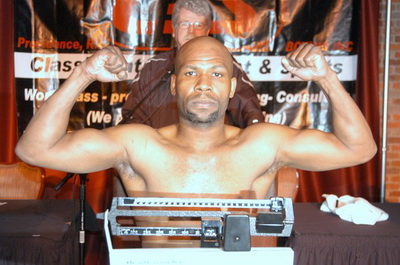 Six Rounds Light Heavyweights
"Irish" Joey McCreedy, Lowell, MA, 7-1, 5 KO's , 175 lbs
v.
"Hurricane" Henry Mayes, Baltimore, MD, 6-5-1, 4 KO's, 177 lbs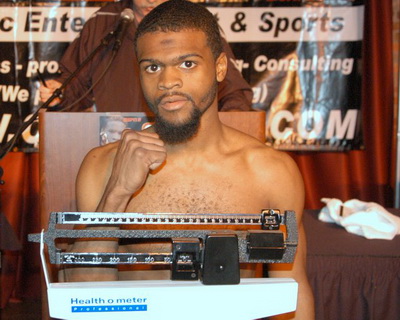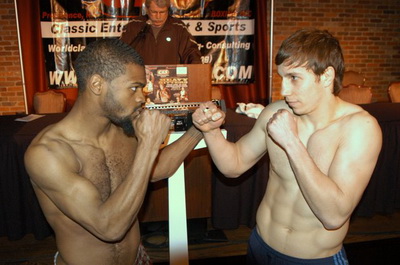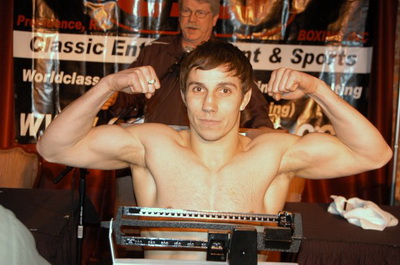 4 Rounds Super Middleweights
Andrey Nevsky, East Boston, MA 4-0, 3 KO's, 166 lbs
v.
Fitzgerald Johnson, Ashboro, NC, 1-3, 1 KO, 167 lbs


4 Rounds Super Lightweights
"Hammerin" Hank Lundy, Philadelphia, PA, 10-0-1, 6 KO's
v.
John Mercogliano, Medford, MA, 4-1-3, 3 KO's

Lundy showed for the 1:30 pm weigh in, but Mercogliano was no where to be found.
At 4:30 p.m. Boxing Commissioner Bill DeLuca had patiently waited long enough, and hearing Mercogliano was still traveling on Rt 95, told CES Boxing's camp that he would weigh them in on Friday morning, 9:30 a.m. sharp in the commission's offices at Twin River.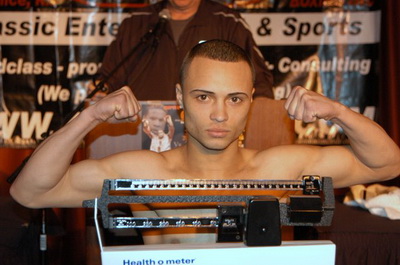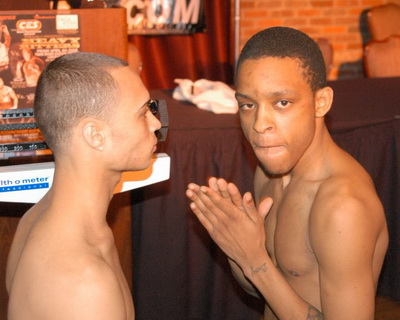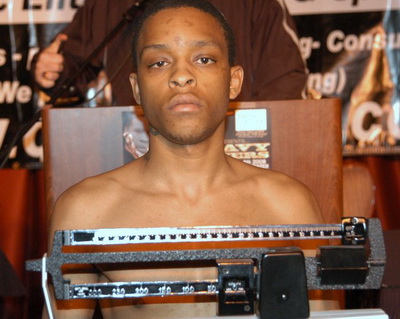 4 Rounds Flyweights
Isander Beauchamp, Lynn, MA 4-0, 1 KO, 114 lbs
v.
Rob Bell, Flint, MI, Pro Debut, 114 lbs.
At the scales: Boxing Commissioner Bill DeLuca and Twin River's Racing & Athletics, Chris Tobiasz. Referees scheduled for the fight night: McKittrick and Charpentier. Timekeeper: Paul Goodwin.
The great Rocky Marciano will be posthumously inducted into the CES Ring of Honor in a special ceremony with his brother, Peter, accepting on behalf of the Marciano family. Marciano (49-0) fought 28 times in Providence, winning 24 by knockout.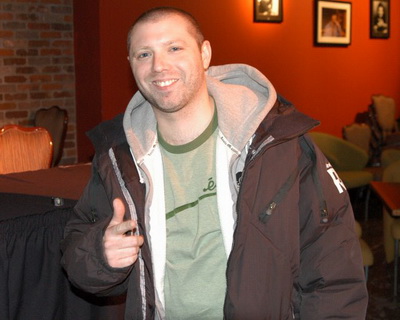 And the matchmaker responsible for this fantastic card: Ted Panagiotis


PRESS CONFERENCE QUOTES

Jason Estrada: "Liked Lance, I don't do too much talking. I hope everyone enjoys the show. It's a great card with fighters like Aaron Williams and Joey Spina also fighting. I see Lance brought his whole squad. I'm going to have my street team tomorrow night and it's going to be noisy."

Lance Whitaker: "I do my talking in the ring. I'd like to thank ESPN and Classic Entertainment & Sports."

Aaron Williams: "It's going to be a good show tomorrow night. Come and enjoy the show. I won't let anybody down."

"Andre Purlette: "This is my first time in Rhode Island. I'm expecting a good show. I met Aaron before. I expect a good fight from him. You're going to see things you've never seen before."

Joey Spina: ""The 'KO Kid' is back. This is my second fight back (since suffering a broken hand). My nickname's 'KO Kid' and there's a reason for that. I'm the 'KO Kid" and I'm going to knock this guy out."

David Whitton: "Seven years ago, my coach, Eric Lucas, fought Vinny Paz and broke up the party. We're two strong punchers. One is going down and it's not going to be me."

Tickets for "Heavy Hitters" are priced at $35.00 (ADA stage seating only), $40.00, $50.00 are sold out, (Bronze), $75.00 (Silver), $100.00 (Gold) and $150.00 (Jimmy's Platinum Club) and are available to purchase by calling CES (401.724.2253/2254), going on line at www.cesboxing.com or www.twinriver.com, at the Twin River Event Center (100 Twin River Road, Lincoln, RI), or any TicketMaster location. Contact CES (401.724.2253/2254/www.cesboxing.com) or Twin River Events Center (877.82.RIVER/ www.twinriver.com) for more information. Doors open at 6 PM/ET, first bout at 7 PM/ET. Twin River has waived its 18+ rule for "Heavy Hitters." Anybody under the age of 18 must be accompanied at all times by an adult and they must enter through the West entrance. Article posted on 03.04.2008
previous article: In Defense of "Money" Mayweather Part II: Eyes On The Prize