Israel Vazquez Victory Celebration Luncheon Quotes & Photos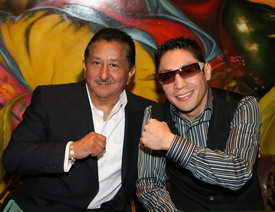 Photos: Joe Miranda/For Sycuan Ringside Promotions - Sycuan Ringside Promotions and Frank Espinoza's High-Flying Boxing Club honored one of the greatest, most talented pound-for-pound and exciting fighters in the world, Israel Vazquez, at a victory celebration luncheon Wednesday for his legendary, instant-classic victories over arch rival Rafael Marquez. Vazquez, who is promoted by Sycuan and managed by Espinoza, successfully defended his world 122-crown by rallying dramatically to outpoint Marquez on Saturday, March 1, 2008, in the rubber match of an epic, memorable series.

Vazquez would reign supreme in the exhilarating trilogy, taking two out of three. Each slugfest would top the previous one in energy, excitement and goosebumps, making it one of the most critically acclaimed trilogies of all time..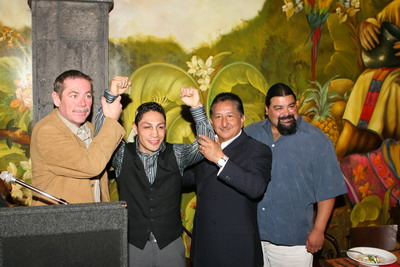 Sycuan Ringside Promotions will present a similar tribute ceremony for Vazquez next Wednesday night, April 9, at the U.S. Grant Hotel in San Diego.

SCOTT WOODWORTH: "What separates the three incredibly tremendous battles between Israel Vazquez and Rafael Marquez and all the rest is this: All the other trilogies had one, maybe two great fights, but that was it.

"The fights that Vazquez and Marquez gave us produced three spectacular fights, with each one being better than the last. I have been involved in boxing a very long time and this is the best trilogy that the sport has ever seen.

"Every night since the third fight ended I go to bed watching a different round. One night it might be round four; another night, he could be round 12 where Israel displayed his true warrior spirit.

"I've watched that last fight over 20 times. It was the greatest win that I have ever witnessed. I am so thankful to Israel and his family, who sacrifice so much of their time.

"We can't honor Israel enough for his performance March 1, or in any of his fights with Marquez. The dedication he put into his training in the months before were on display and undeniable in the third fight. Israel Vazquez is truly a once in a generation type fighter.

"He became a superstar with those fights and we at Sycuan are thrilled to have the privilege to promote him.

"Boxing is a sport not always known for its trust, but Israel's manager, Frank Espinoza, has been as trust-worthy and as great a friend and business partner as you can have.

"Both Frank and I knew that Marquez was going to be a tough fight. We also knew that sometimes great risk actually does equal great rewards, and in this case it absolutely has. Israel and Frank deserves all the accolades. We, at Sycuan, are just delighted to be part of it.''




WILLIE TUCKER JR.: "Israel gave such a spectacular performance in such a spectacular fight; we have nothing but admiration and love for him and his wife. The finish of the fight was so exciting, so dramatic, it brought tears to my eyes. It was such a historic moment.

"In 1998, before we knew we wanted to be boxing promoters, we saw Israel fight. To think we are now and have been his promoter makes us so proud.

"It's an honor to have Israel and Frank and their families as part of the Sycuan family.''

FRANK ESPINOZA: "I want to thank Scott and Willie and all those at Sycuan for making this victory celebration possible.

"On March 1, 2008, Israel won the last fight of an historic trilogy. He put on an unforgettable performance that will surely land him in the Hall of Fame.

"His display of bravery and relentless passion to win made him countless fans around the one and made him one of boxing's pound-for-pound greatest.

"On that incredible Saturday night, Israel carved his way into the history books and, in winning, made Team Vazquez and Sycuan Ringside Promotions a part of history.

"Twenty years from now when they are replayed for future generations, fans will know that Israel Vazquez, Rafael Marquez and their promoters made three spectacular fights a reality.

"They'll realize just how special a fighter Israel Vazquez was and why he'll always be known as "El Magnifico.'

"We're here to pay tribute to a warrior who refuses to take no for an answer, a fighter who truly is an inspiration to those who ever thought about giving up in a tough situation, a fighter who went from a longshot contender to a future legend of the sport.''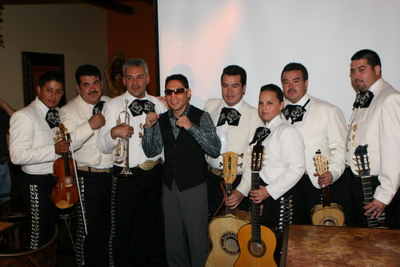 ISRAEL VAZQUEZ: "I'm very touched to be here celebrating the historical trilogy. I feel honored to have been a part of it. It's just now hitting me I was such a huge part of history. I have nothing but the utmost respect for Rafael Marquez and his team.

"The legacy I hope to leave behind is one that will let the fight fans always remember me as a champion. I didn't back down because I am a true warrior for all time.

"It was both the hard work that we put into our training that made the fights. I am thankful for my family, manager and Sycuan for believing in me.

"When I was knocked down in the fourth round in our last fight, I felt angered because I didn't see that coming. I was in my own backyard and in front of my hometown fans and so I channeled that anger to take me through to the rest of the fight.'' Article posted on 03.04.2008
previous article: Poulsen Got His Revenge, Vester and Bladt Victorious