Exclusive Interview With B.J Flores - "I Would Definitely Have Too Much For Maccarinelli!"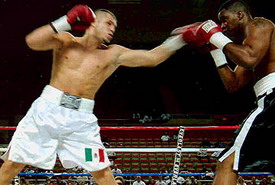 by James Slater: Enzo Maccarinelli has made it quite clear that he wants to get back in the ring soon, hopefully this June. Losing in two rounds to David Haye massively frustrated Macca, and he has told his promoter Frank Warren that he wants him to get him an opponent, and fast. Well, unbeaten IBF No.2 ranked B.J Flores of Arizona has put his name forward as the June opponent for Macca and he says he would also be more than willing to come over to Wales for the bout. Speaking to me over the phone on March 24th, the 29-year-old with the 21-0-1(13) record had the following things to say.

James Slater: Firstly, do you definitely want the fight with Maccarinelli?

B.J Flores: "Absolutely. I saw that Enzo's team were looking around for an opponent and I'm willing to fight him next. They [Team Maccarinelli] actually called me back in October last year, and offered me a November fight with him.. But they only gave me two weeks notice, and that's not enough time to get sufficiently ready for a top opponent. But if they give me a sensible offer this time I will definitely box Enzo next. I'd absolutely come to Wales for the fight, too. In fact, I really want to fight in Europe this year as well."

J.S: What do you think of Enzo as a fighter?

B.J F: "I think he's a good fighter, but I also think he has fought very questionable quality of opposition for a world champion. I don't think fighters like Mark Hobson are really championship level fighters, and I think the general public would agree with me on that. Even the Wayne Braithwaite win was questionable because Braithwaite had been inactive and was past his best."

J.S: How would a potential fight between Macca and yourself unfold do you think?

B.J F: "I think a lot of people tend to have a misconception about my fighting style based on my [12 rounds points] win over Darnell Wilson in my last fight. That was a fight that I had to win at any cost, and I was cautious against him. Wilson is a big puncher and he also has a much better chin than Maccarinelli. If I fought Maccarinelli I would be much more aggressive. I would definitely have too much for Maccarinelli. I have better fighters on my resume than he has on his, and I think he should step up and fight someone like me. I mean, right now I am a free agent, so it would be so easy to make the fight. All Frank Warren has to do is call me and make the fight. There would be no third party involved."

J.S: If The fight with Enzo does not come off, what then for you?

B.J F: "I'm in a very good position now, after my win over Wilson. I'm highly ranked by the organisations and ESPN have contacted me, telling me they would like to do a show with me. I don't need this fight with Maccarinelli. I'm not going to wait for that fight. I want to get back in the ring immediately, really. Pretty soon there are going to be some vacant belts at cruiserweight, what with David Haye's move up north [to the heavyweights]. I would love to face any of the top guys for one of those vacant titles."

J.S: You and David Haye are "good buddies." Would you have liked a fight with Haye though?

B.J F: "It's all about timing in boxing. I think Haye's move up to heavyweight is a good move for him, and his departure leaves a door open for me. I'm not disappointed that a fight between me and Haye didn't come off - that would have been a very hard fight for me. I've sparred a lot with David in the past, and he is easily as good as, if not better than, all the other top fighters I've sparred. He will definitely win a belt up at heavyweight."

J.S: With Haye's departure from the cruiserweight ranks, who is the best fighter at 200 pounds?

B.J F: "I can't really say I am yet. I have beaten one of the best guys in Wilson, but I need to prove myself some more yet. I think Steve Cunningham might be the best right now, but the jury is still out on that I suppose. One thing is clear, though, and that's that the cruiserweight division is pretty hot right now. I look forward to some good, proving fights this year."

A reasonable offer to B.J Flores from Frank Warren, and Enzo Maccarinelli's search for a more than creditable comeback opponent is over it seems.

Article posted on 28.03.2008
previous article: Klitschko vs Thompson!
next article: Estrada-Whitaker Headlines ESPN2 Friday Night Fights, April 4