Boston Boxing At The Roxy - April 12th! "Dat Be Dat" Nguyen vs Robert Daluz
By Peter Mark Heintzelman, Photos by Peter Mark Heintzelman: Richie Cappiello, of Cappiello Promotions, out of Brockton, Massachusetts, announced Monday of this week, at a press conference held at the Sons of Italy, in Revere, MA, his April 12th Fight Card, captioned "Ethnic Invasion!" to be hosted at The Roxy, in Boston. The Saturday night main event squares off one of the countryís most exciting featherweights, "Dat Be Dat" Nguyen 11-1-0, 6 KOís, against Robert "Donít Lose" Daluz 10-10-2, 9 KOís, of Providence, Rhode Island..

Dat Nguyen, now of Vera Beach, Florida, has been impressing boxing fans across the nation, with his boxing skills, tenacity, and desire to succeed. None other than Buddy McGirt works his corner, along with Jack Luce and Jack Matera. Heís hungry for a win, coming off the first loss of his professional career against Arizonian, Gregorio Torres, by split decision, in Arizona on August 31, 2007. Bet he wonít fight there again.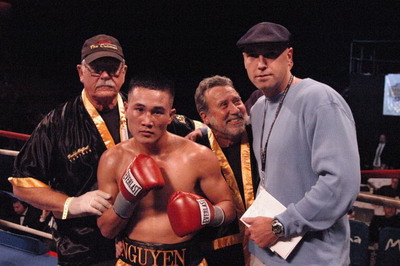 Although Nguyen is not looking past his opponent on April 12th, when Cappiello called him this week about the fight on April 12th being sanctioned, Nguyen, typical of his desire for more said, "Did you see Matt Remillardís fight this past weekend at Mohegan Sun? I want a piece of him! Make that fight!" "That fights ready to be made," Cappiello said to the press conference, "get the word out!"

Robert "Donít Lose" Daluz has more knock outs to his record than Nguyen, however, and isnít coming to Boston to lose. Heís known as a rugged opponent, not afraid to mix it up. Fasten your seatbelts for this one - - its going to be one bumpy ride!

Either way, this main event fight between Nguyen and Daluz is going to be action packed," touted Cappiello at the presser. "Its hard to believe this one wonít end with a knockout!"


Beantown is also being treated to a very special co-main event, featuring newly signed undefeated middleweight, Donald "Donnie Boy" Orr (11-0, 5 KOís, formerly of Las Vegas, and now planting roots in South Boston. His opponent has yet to be named.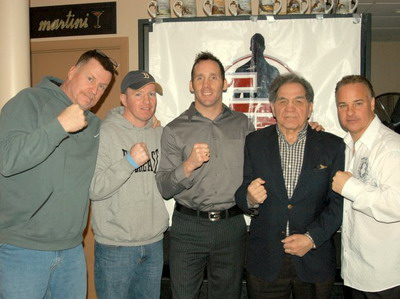 "I couldnít be more excited to have Donnie Orr joining us," said the promoter from the City of Champions. We are really excited to be working with this 2000 Canadian Olympian, who was training out West, but we convinced him he should be fighting here under our Banner.

Heís training out here in Boston now, and will be making his debut in Boston on the April 9th show. Heís a solid, solid fighter, that has huge potential, and there are a lot of possibilities here. Heís talked about fighting John Duddy. I think he would walk all over John Duddy!"

"Thanks to everybody for coming out today, said the mild mannered and well spoken Orr. "And thank you to the Sons of Italy, for hosting this event. Its great to meet Micky Ward! Never got to meet him before, so its been an honor for me. Special thanks to Rich Cappiello and Joe Lake. Its been absolutely excellent management so far. Iíve been out here a week, and getting to meet a lot of people in the community, and Iím really looking to putting on a show on April 12th.

Orr has an Irish ancestry likely to attract attention of his new Beantown fan base: In the late 1700s, when Ireland was occupied by the British, Orrís ancestor, William Orr of Antrim was hung for administrating the united Irish national oath, which was a treasonable offense at the time. It became part of the 1798 Irish Revolution, and gave rise to the slogan, "Remember Orr!"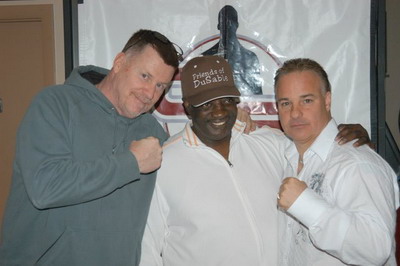 At the presser, which was attended by Irish Micky Ward, former middleweight, Reinaldo Oliveira, Jr., and former welterweight champion of the world, Tony DeMarco, Cappiello announced and recognized his new partner, Joe Lake, now Advisor for Boxing Affairs, and and the re-affiliation with a blast from the past, Doug Pendarvis, who is now Cappiello Promotionís Sales and Marketing Specialist. Jennifer Corbis, Director of Boxing Operations, the "woman who knows whatís going on," was quietly outside the limelight, but ever present, counting heads, and distributing posters and tickets for sale. Publicist, Pat Kelley, was connecting fighter to journalist, and steered a fine presser.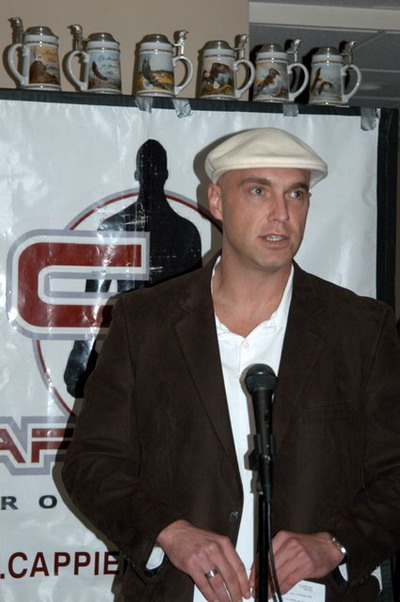 "We are excited to be back at the Roxy, said the promoter. " I think Bostonís Roxy is one of the better boxing forums in the country, outside of the casinos, and weíre excited coming back to the Roxy. Its truly an exciting venue. We got a lot of exciting guys ready to fight. Its an exciting atmosphere. And I think we have a bright future, we got a lot of solid guys, and weíre going to make a lot of noise in 2008," said a confident Cappiello, who introduced some old and new faces that make up the stable of fighters under the Cappiello Banner: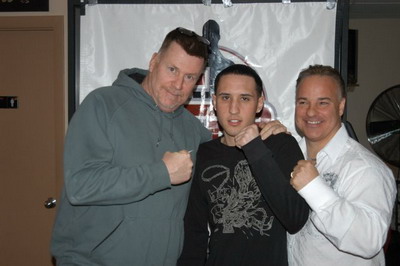 Sean Eklund, 5-2, 1 KO welterweight, from Lowell, Massachusetts, with Micky Ward working his corner.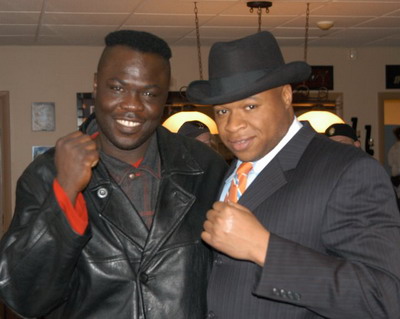 Abraham "The African Assassin" Okine, Heavyweight, 14-3, 8 KOís, a former Ghana National Team member, now living in Worcester, Massachusetts.

"Killa" Phillip Miller, undefeated heavyweight from Providence, Rhode Island, who is currently undefeated at 3-0, 2 KOís, full-time U.S. Coast Guardsman, and sporting a most spectacular derby.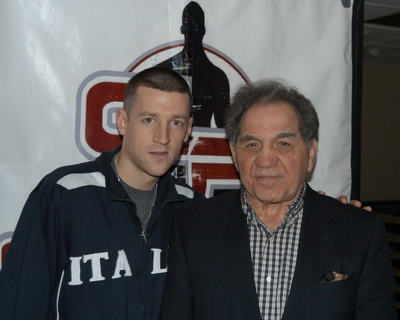 Anthony "The Tiger" LaMonica 5-0, 4 KOís, an unbeaten junior welterweight by night, and Bostonís finest by day.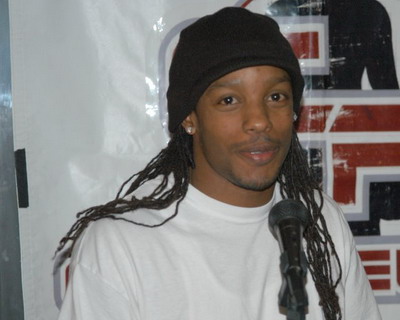 Simeon Dunwell, of Haverhill, MA, sporting a light welterweight undefeated record of 6-0, 2 KOís.

Juan Lopez, 1-0, of Revere MA, a lightweight prospect, from Micky Ward country, Lowell, MA.

The Roxy, one of the most exciting boxing venues in the Northeast, is located at 279 Tremont Street, Boston. Ticket prices are $75.00 ringside, and $40 general admission. Call 508-586-2277 for tickets - MasterCard and Visa accepted. Any remaining tickets will be available at the door.

All fights and fighters subject to change. Get your tickets early for this one; its bound to be another sell out for Cappiello! For more information, see www.cappielloboxing.com . Doors open at 5:30 pm and the first bell rings at 7pm. Article posted on 26.03.2008
previous article: Cortez Appointed To Hopkins vs Calzaghe Fight