Book Review Of Adam Pollack's 'in The Ring With Bob Fitzsimmons'
By Adeyinka Makinde: The task of the historian, most would agree, is to transmit the information collected about the past to the present; in the process utilising the maximum range of tools and resources in gathering the sources that will form the basis of his finished work. Most would also tend to agree that the selection of material be done in an objective and unbiased fashion. However, what is less easy to agree upon are the sources on which the historian relies..

For instance, what level of weight and probative value is one to give to those sources which are in conflict and in contradiction to each other? To what extent must the historian rely on the recollections of the primary participants in the ultimate quest for that elusive and indefinable quality referred to as 'truth'? What is fact and what is merely the interpretation of fact or opinion? There is an arguable tendency for historians, even those who are tackling a subject matter afresh, to base their research on well-trodden paths of source material leaving out other avenues through which fresh undiscovered evidence can be unearthed.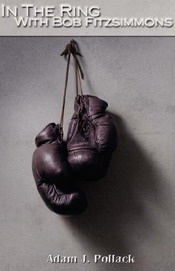 Boxing historiography, in this sense, is no different from other realms of history. Indeed, a frequent criticism levelled at boxing historians, perhaps encumbered by staid and unimaginative methods of finding information, is the tendency to rehash old stories and to uncritically utilise old sources to the detriment of the task of unravelling the truth and ascertaining creditable reappraisals of past fighters.

It is with these issues in mind that Adam Pollack embarked on an ambitious series of projects on the quartet of early heavyweight champions: John L. Sullivan, James J. Corbett, Bob Fitzsimmons and Jim Jeffries. The book 'In the Ring with Bob Fitzsimmons, the third instalment carries on his objective, as he puts it, of wanting history "based not on speculation , hearsay and legend, but on what local reports said at the time."

The outlines of the story of Robert Fitzsimmons, the second fighter to win the world heavyweight championship under Marquis of Queensberry Rules, is well known to boxing fans with any modicum of knowledge of the history of what is known as the beginning of the 'modern era' of the sport, specifically, that which saw the transformation of the game from its bare-knuckle origins to that which permitted the using of gloves, as well as the beginnings of an 'accommodation' by society at large with an activity which was yet to be fully legalised in the United States.

The tale of 'Freckled Bob'; the spindly limbed, bolt shouldered antipodean of Cornish origin, has been a staple subject in countless digests in boxing magazines, annuals and coffee table format offerings. Much in common with many fighters of that age and beyond, are the threads of a tumultuous and fascinating life full of dramatic incidents extraneous to the theatre inherent to the squared ring. Fitzsimmons story was an atypically rags to riches yarn that culminated in the descent from an opulent lifestyle to near pauper status at the end of his life. Like a restless breeze, incidents in his life and the development of his career, took him from the British Isles to the antipodes and on to the Americas. He was the ex-blacksmith boxer who rose from a humble provincial tradesman to a world championship boxer whose legend and immortality is neatly and assuredly encapsulated in the veritable boxing folklore of the 'Solar Plexus punch'.

Pollack's is not a biography in the conventional sense; the title of his book 'In the Ring' being itself a statement of intent. There are no substantive plots or sub-plots related to say, the effect of his upbringing on his character or his relationships with his parents or siblings or spouses. Instead he focuses on ascertaining, in exhaustive measure, the primary sources of the coverage of Fitzsimmons's career for the devoted consumption of the reader, and in the process unfailingly eschews what he perhaps believes is the typical boxing historian's disposition to develop a 'handsome prose.' An articulate writer, Pollack's remit is aimed at finding out those aspects of uncorroborated and unchallenged 'facts' which have wormed their way into the accepted narrated truth of Fitzsimmons's life. His work is one in which the formulating of eloquent prose is secondary to the slavish devotion to unearthing previously unknown facts and also by setting side-by-side for the readers consideration, those primary testimonies which conflict .

For neophyte and aficionado though, there is context. The reader discovers (or is reminded) of the reasons why the Australian boxing environment of the 1880s and the 1890s was the nurturer of a multitude of boxing talents not least of which Fitzsimmons stands as an exemplar. The role played by Larry Foley's Gymnasium, a Sydney-located school where Foley himself and 'professors' such as the St. Croix-born Peter Jackson gave instruction. Foley's gym offered both knowledge and equipment for honing the skills of many pugilists-in-the-making, and under the auspices of its owner, provided the venue of a 'theatre of blood' which hosted dramatic fights to the finish as well as the more sedate offerings of boxing exhibitions. It was here and in nearby regions that the ex-pug Englishman Jem Mace, the well-travelled boxing godfather of the age, played a formative part in the development of the sport and in the career of Fitzsimmons. It was in Australia also that several feuds were developed which would be carried over to America, where many were pulled by the lure of the mighty dollar.

There is much attention to detail and careful referencing of local primary sources such as the Daily Telegraph, The Referee, and the Sydney Bulletin. But here as in many instances, contemporary reports may often times be contradictory or, in certain instances, be silent. Where an author might be content to flow through a narrative by choosing his favoured interpretation of events, Pollack pauses to ask questions and propose alternate explanations without deigning to have definitively fathomed the supposed answer. But a number of 'answers' are implicit; as for instance, where Pollack enquires as to whether or not Fitzsimmons ever faced the heavyweight Herbert Slade or whether he was ever on the receiving end of a thrashing from Mick Dooley another prominent heavyweight. Perhaps the 'juiciest' piece of all relates to whether Fitzsimmons threw a bout with his bitter rival, the Australian middleweight Jim Hall.

He arrived on American shores in 1890, having toiled in relative obscurity in Australia. But his breakthrough was soon to come. By beating fellow Antipodean middleweight, Billy McCarthy, who had fought 28 hard rounds with the world middleweight champion Jack Dempsey before been stopped, and then executing a short, decisive win over Arthur Upham in New Orleans, Fitzsimmons paved the way for a show down with Dempsey, reverentially known as 'The Nonpareil', whom he beat at the beginning of the following year.

The book nonetheless does not solely focus on events inside the ring and Pollack makes detailed references to newspaper coverage of the political and legal obstacles frequently ranged against the sport at the time –notably in regard to Fitz's problems which stemmed from the death of his sparring partner Con Riordan as well as the debate and machinations in the lead up to the fight with heavyweight champion James J. Corbett Corbett in states such as Arkansas, Louisiana and Florida. Here we witness a contest of wills between the boxing industry and the anti-boxing lobby in several riveting episodes of high stakes drama with a cast including assorted sheriffs, governors and state troopers issuing threats to shoot on sight, intercepting trains, conducting surveillance and arrests –all with Fitzsimmons in the thick of things.

Along the way are interesting observations of the man's personality. Fitz, as Pollack observes at the outset of his book was certainly a "chameleon" and a "model of adaptability". Essentially a pragmatist, on the eve of his showdown with Jim Hall soon after he had acquired American citizenship, he was quick to inform American newspaper reporters that he was exercised as to what the Queen of Britain "has ever done for me" (Although not pictured in the book, he can be espied wearing a belt engraved in the colours of the British Empire in an image taken at one of his twilight bouts held in Australia in 1909). And while he was not adverse to taking boxing lessons from Peter Jackson, whom he considered a friend and the best fighter in the world, he had no compunction in announcing like John L. Sullivan, that he would "draw the colour line" if he beat James J. Corbett for the title.

For those readers familiar only with contemporary boxing and its frequently inane, but deadly serious mind games and malice-ridden egotistical declamations by those with a predisposition to riling their opponents, there is the minor revelation that 'bad mouthing' and trash talking are not recent inventions but rather, have been standard fare from the beginnings of the sport. The spiteful animus between Fitzsimmons and Jim Hall, along with his slowly but surely evolving enmity with James J. Corbett, bear copious testament to such matters. On the occasion of the final reaching of agreement between Fitz and Corbett to fight for the heavyweight title, one newspaper sighed almost in relief at the "culminating point of a series of violent ultimatums, proclamations and taunts made by the friends of both men." Peter Jackson's bemoaning of Jim Corbett's extracurricular activities on stage through the comment: "Corbett will not fight, he'd rather be an actor" anticipate the studio recording, television dancing pugs of today. If anything, Chicago reporter Pat Sheedy's worrisome enquiry about boxers preferably being a "race of pugilists and not poseurs" still rings true.

The process of historical enquiry can sometimes become something of a battleground between the perpetuation of so-called 'orthodox' views and contrary heretical re-assessments. Pollack's findings do not seek to re-interpret Fitzsimmons's legacy, but rather to clarify and other times to amplify the different strands and facets of his tale.

If the book is lacking in the glamour of sweeping prose and appears to be somewhat dry and stilted with an encyclopaedia-like pedanticism, 'In the Ring with Bob Fitzsimmons' will nonetheless be embraced by the hardcore boxing fan-historian who will delight in the abundance of first hand sources from the era which the book covers, as well as in the many illustrations of the characters and events mentioned. Above all, it captures the ring career of a masterful boxer replete with power and cunning whose achievement of winning three world titles at different divisions -despite opposition advantages in weight, and later, in age- will continue to resonate as long as the art of boxing is practised.

'In the Ring with Bob Fitzsimmons' by Adam J. Pollack is published by WIN BY KO publications ($34.95) and is available for purchase at amazon.com


Adeyinka Makinde is the author of the biography Dick Tiger: The Life and Times of a Boxing Immortal. His next book, Jersey Boy: The Life and Mob Slaying of Frankie DePaula is due for release in 2008.

Article posted on 17.03.2008
previous article: Manfredo Stops Benfield in Six! Photo Gallery of Twin Rivers Headliner
next article: Deontay Wilder Earns an Olympic Berth with a Heartstopping Fourth Round Finish, Javier Molina and Shawn Estrada Drop Semifinal Contests