Flamos-McInerney Tie with one KO each!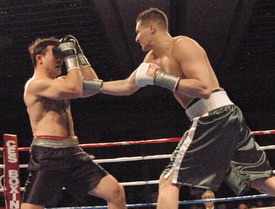 By Peter Mark Heintzelman, Photos by Peter Mark Heintzelman: Cruiserweights, Chris McInerney, of Quincy, MA and Brockton, MA's, Tim "The Hammer" Flamos, re-matched, at the request of Flamos, who was flattened in the sixth round by McInerney in their first match up, on the undercard of Tarver-Santiago, at the Foxwoods Resort Casino, in Mashantucket, Connecticut on December 1, 2007.

The rematch was hosted by promoter, Jimmy Burchfield, at the Twin River Events Center, in Lincoln, Rhode Island, this past Friday night, before a sold out crowd!

"He called me after the first fight," said McInerney to Eastsideboxing, at the press conference, a few weeks before the fight, "and asked for the rematch, and I agreed.."

"I had heard," said McInerney, "that when I knocked him out the first time, I was actually behind on the judge's card, so this time, I intend to be more aggressive in the early rounds," he said before the fight."

Yet, in Friday's re-match bout at Twin River, scheduled for six rounds, it only took Flamos three, to even the score, knocking McInerney down and out, triggering referee, Ricky Gonzalez, to waive off the fight, awarding Flamos a third round KO, as it became McInerney's turn to taste the canvas.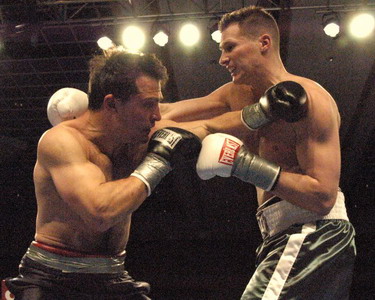 After the fight, and as he left the ring, Flamos paused to answer a couple questions from Eastsideboxing:

Eastsideboxing: Tim Flamos, how did it feel to exact revenge?

Flamos: "Its what I dreamed about!"

Eastsideboxing: Did McInerney have you in trouble at any time during the fight?

Flamos: "He caught me with a right hand and a left tackle. I tried to shut him down so I wouldn't see the flurry."

Eastsideboxing: What was your punch that put Chris on the canvas?

Flamos: "The over hand right put him down."

(Sounds like a Hammer to me)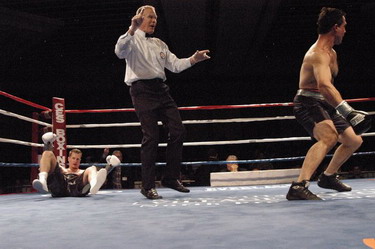 Eastsideboxing: Are you going to give him a chance for a third fight, so we can settle the tie?

Flamos: "Yea, he said he wants it!"

Flamos' revenge notches his 21st win against only four losses, one draw, and adds his 9th KO to his record, while McInerney now 9-3,6 KO's, deserves the professional courtesy of a rematch. Article posted on 16.03.2008
previous article: Mosley-Judah, Barrios-Juarez Quotes