Johnny Ray Narvaez: Looking for something bigger and better
14.03.08 - By Chris Robinson, photo by GRMStudio: In boxing a fighter can only be taught so much. There has so be something else inside of a man or woman to take them to the next level of prizefighting. For all of the training, studying, and sacrifice must almost come a special quality from within that only rare people have..

On a warm mid February day, I noticed something special when watching young Johnny Narvaez spar at Palm Beach Boxing and Training, in West Palm Beach, Florida. Narvaez was helping recently crowned Lightweight Champion Nate Campbell gear up for his then upcoming March 8th title fight against Juan Diaz and the sessions were pretty intense. While sparring with Campbell may have been a bit rough at times, Narvaez hung in there and had moments where has was able to shine, showing poise and an abundance of talent. I told myself that I definitely had to keep my eye on this guy.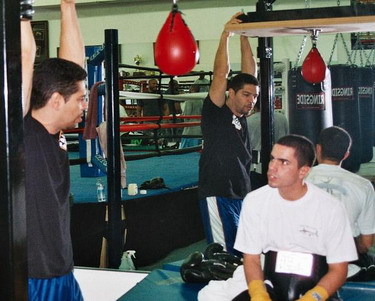 Currently Narvaez is bouncing back and forth between Miami, Florida and Las, Vegas, NV in conjunction with the new reality show Retador Azteca, which simply put is a Spanish version of The Contender featuring former champion Jorge Arce as the show's host.

I was able to speak with Narvaez to get his thoughts on being raised in Brooklyn, his thoughts on living in Florida, his amateur days, and why he is motivated to succeed not just for himself but also for his entire family as well…

Born, raised…
'I was born and raised in Brooklyn, New York. I've been in Florida about eight years now and I got into boxing through my father. One day I was getting picked on and when I tried to stand up for myself, this guy's friend came from out of nowhere and tried to jump me. I said that I didn't want that, so I told me father about it and he signed me up at a gym around the corner, Warrior's Boxing Gym. I've been at it ever since.

Back home…
'I miss Brooklyn, I really do. There's no city quite else like it. It's nice in the summer but after being in Florida so long I've grown not to like to cold as much anymore. I like to go back for vacation every now and then, and take in my roots, as they say.

Florida…
'I like Florida because of the weather, but besides that there isn't anyone for me to fight down here and it can be hard to get great sparring. I sometimes think that going up North or even out West might be a better choice in the future.

Boxing…
'I love the competition that comes with boxing. I love being a man about what I do best. Just getting the respect that I feel I deserve is important to me.

TV…
'I've only had one fight, I'm 1-0 right now. My first fight was on a reality show called 'Retador Azteca' which I'm currently still involved in. It's a Spanish version of the Contender. At first I didn't think I would fit the requirements to enter the show, but Bonnie Cannino down south told me to give it a try and I went for it. I tried out for it in Miami and sure enough I was picked for it because of my ability and my heart. After the show I plan on dropping down to Super Bantamweight and give it my all. After 10-15 fights I feel like I will be looking for a title show and I will go from there.

Amateurs…
'As far as the amateurs I have learned a lot. I know how to take a win and I definitely know how to take a loss. Even though I felt that there was a lot of robbery, every loss I just took into consideration and moved on. I learned from my experiences and in the pros I'm not planning on losing.

Traveling…
'So far I have really grown to like California. I like the environment out there. It has the feeling of being like in New York, plus the weather is beautiful. There are also more fighters who are going to be in my weight class.

Influences…
'Basically my whole family has been my biggest influence and inspiration when it comes to boxing. They are my biggest supporters and they give me the strength and wisdom to do what I do and that's what I love them for.

Change…
'Boxing matured me early on because it showed me who my friends really are and showed me who is going to be there for me when I make it big and become a champion. Boxing has made me more of a humble man when it comes to taking care what I have to take care of.

Hurdles…
'On of the biggest hurdles in my life was my father getting sick with a chemical reaction that put him into disability. Thank god that he is still living but he's not able to do the things that he was doing before he got sick. That's my biggest strength, knowing that God is with my and knowing that I'm fighting not just for myself but also for my father and my family.

Last…
'Right now I am motivated for what I can do for my family, for us being able to move to a bigger house. Right now things are kind of tight for us and I'm just motivated to not only get a title, but also the respect and money that comes with it. I want to move my family somewhere else and be able to give them something that is bigger and better.


To find out more about Retador Azteca please visit www.retadorazteca.com Article posted on 14.03.2008
previous article: Cory Phelps to Fight Bobby Gunn March 22nd