Pacquiao/Marquez Press Conference Quotes
LAS VEGAS, NEV. (March 12, 2008) – Photos by Naoki Fukuda: The final press conference was held moments ago for the hen World Boxing Council (WBC) super featherweight champion between JUAN MANUEL MARQUEZ vs MANNY PACQUIAO Saturday night at the Mandalay Bay Resorts and Casino and live on HBO Pay-Per-View..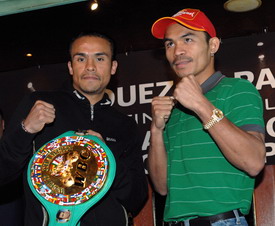 Promoted by Golden Boy Promotions and Top Rank, in association with Romanza Boxing Productions and MP Promotions and sponsored by Tecate Beer, Rock Star Energy Drink and Southwest Airlines, Marquez vs. Pacquiao II Unfinished Business will be for the WBC and vacant Ring Magazine Super Featherweight World Championship. The world title bout will take place at Mandalay Bay Resort & Casino in Las Vegas, and will be produced and distributed live on HBO Pay-Per-View, beginning at 9 p.m. EST/6 p.m. PST.

ODDS (as of press conference): Manny Pacquaio -230 / Juan Manuel Marquez +190 (*First fight at fight time, odds were closer with Pacquaio favored at -180 and Marquez +160.)..

MARK TAFFET, HBO PPV

"Great turnout we have here today for one of the fights I have been looking forward to for a number months. And we are lucky to have these two warriors who are willing to get back in the ring to do it all over again.

"Pacquaio vs Marquez I was one of the most interesting, exciting fights. It epitomized best of sprot of boxing and on anyone's list they are at the top of the best pound for pound in the sport. These two guys carry a nation on their shoulders and that what makes it even mor e special. In ppv in the lighter weight classes, the industry supports these fights like they are heavyweight fights.

"We know Saturday night we are going to have a great fight and one that will be remembered for years to come."

BOB ARUM

"Not too many words or hyperboles for this fight. I've heard Juan Manuel is in great shape but I have witnessed with my own eyes how Manny Pacquaio trained for this fight. If I could get a blueprint for how he trained and get all other fighters to use it, we would have great fights night after night. The conditioning is so important as his stamina and ability to withstand punishment is at his highest peak. I don't know another fighter—and we have Pavlik and Cotto who worked hard—but I have never seen anyone prepare like Manny Pacquaio has for this fight.

"Card will start at 3:30pm with first televised fight at 6:30pm. This is such an internet feast with HBO, Yahoo and I think even ESPN getting behind it. All over you will see this fight so it is a great fight."

RICHARD SCHAEFER

"Another great night of boxing and it can't get much better than this, there is one dream match-up and this is the one they wanted to see (polls taken showed us that). Support has been tremendous and everyone has embraced this great event.

"And so did the sponsors—Tecate Beer, stepping up to the plate and help us take these fights to the people through support through supermarkets and the many conversions that take place as part of this sponsorship.

"Boxing related to their brands really works. There is a direct correlation between these brands, their sponsorships and reaching their customers through this message.

"Golden Boy is extremely pleased to be working with Juan Manuel and his team. He is an unbelievable Champion and you will truly see a magnificent performance by him Saturday night. This is a fight between two great warriors and I don't think anyone will be disappointed."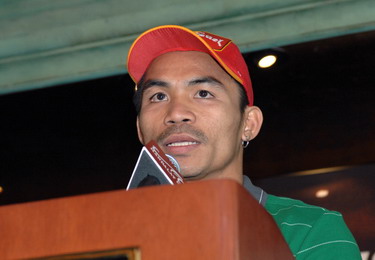 TEAM PACQUAIO

MANNY PACQUAIO

"First like to thank God for giving me the sign everyday. To both promoters and MP Promotions I thank you. Thanks to my wife who is very supportive of my boxing career.

"It will be a great fight on Saturday as I heard Marquez has trained very hard and doesn't want to let his countrymen down. But I don't either as I need to win this fight for my people as this is the key to the Filipino unity. Not only for myself but all the people who love boxing I want them to be satisfied with my performance and not disappoint them on Saturday. I will do my best to make them happy. I also pray that both Marquez and me will be safe and all fighters will not get hurt in the ring."

FREDDIE ROACH, TRAINER

"Manny came to camp early and we usually have a rule that we don't play basketball and I didn't even have to worry about it. He said he didn't want to play this time because this fight is so important.

"We are ready and I am looking forward to the fight and Saturday night."


TEAM MARQUEZ


JUAN MANUEL MARQUEZ

"Thank your for being here. I am happy to be here for this fight and everyone watching this fight is a war. I have prepared very hard for 3 months. I don't really like to talk in the ring I do it in the ring. This fight is for my country, my people and I will win it with my heart."

IGNACIO BERISTAIN, TRAINER

"After recouping and swallowing the sour decision of the Juan's brother Rafael's fight against Vasquez, please watch and witness what well be a great fight with two warriors."

Tickets for Marquez-Pacquiao II, priced at $600, $400, $300, $200 and $100, are now on sale and can be purchased at the Mandalay Bay box office and at all Las Vegas Ticketmaster locations (select Smith's Food and Drug Centers, Macy's West at the Fashion Show Mall, and Ritmo Latino). Ticket sales are limited to eight (8) per person. To charge by phone with a major credit card, call Ticketmaster at (702) 474-4000 or Mandalay Bay (702) 632-7580. Tickets are also available for purchase at www.mandalaybay.com or www.ticketmaster.com.

The Marquez vs. Pacquiao II pay-per-view telecast, beginning at 9 p.m. EST/6 p.m. PST, has a suggested retail price of $49.95, will be produced and distributed by HBO Pay-Per-View and will be available to more than 61 million pay-per-view homes. The telecast will be available in HD-TV for those viewers who can receive HD. HBO Pay-Per-View is the leading supplier of event programming to the pay-per-view industry. For your Marquez vs. Pacquiao II fight week updates, log on to www.hbo.com. Article posted on 13.03.2008
previous article: Faruq Saleem vs. Tye Fields is the Right Fight
next article: Travis Walker Calls Out Peter, Rahman and Arreola