'Any Given Night': Considering Campbell's Upset Victory, Is Cotto, Calzaghe, Dawson, and Tarver In For A Surprise?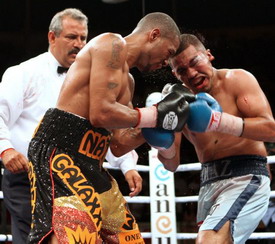 10.03.08 - By Vivek Wallace, Photo by David Martin Warr/DKP: Saturday night's action went a long way in describing why it is that fight fans are so passionate about the sport of boxing. In the world of football there's the saying, "On Any Given Sunday", which speaks of the reality that no matter who you are and what you've accomplished, any team can win when you step on that gridiron.

In the world of boxing there's no such saying, but the sentiment couldn't be any closer to reality as time and time again we see the unexpected.

Last Saturday nights action displayed the full arsenal of outcomes to take place in boxing as we saw a number of fights that varied in outcome.

We saw one guy with amazing ability fall flat on the big stage (Enzo Maccaranelli). We saw his opponent - (Haye) - solidify his status as a true contender amongst the big boys.. In other action we saw an elderstatesman - (Campbell) - prove his mettle in a very Glen Johnson-esque fashion by showing the world youth isn't always a good thing, particularly when up against a salty vet who's been through the 'wickeds'. Capping the night off we saw a talented yet questionable figure in the heavyweight division - (Peter) - reestablish himself as a key figure amongst the elite.

Each of these fights ended with implications that served as a prelude to better things to come for each of the fighters involved, and within the next few months that "Any Given Sunday" motto could become transparent again as we see a few of the sports big names square off against both, very credible opponents, as well as very live underdogs.

Cotto vs Gomez: April 12th (Atlantic City, NJ)

First up to bat is rising Puerto Rican star Miguel Cotto who will take on a man that most see far from his level, yet to those who are aware, presents a very good challenge for any fighter that dare enter the ring unprepared for him.

Alphonso Gomez, relatively unknown in the mainstream boxing world, currently holds a 1(W)-1(L)-1(D) record against the same Jesse Feliciano who only weeks ago gave Welterweight titlist Kermit Cintron all he could handle in a fight meant to showcase Cintron's readiness for the likes of the divisions elite.

How Gomez holds up against Cotto could be a totally different story, but his style could present a few problems for Cotto as well. Gomez isn't known as a particularly fast fighter but one of the strengths that he has is a knack for very well placed shots and an awkwardness about him that allows him to stay out of position of a flush shot in return. The odds of this fight being another 'upset of the year' contender is not as great, but soon enough we shall see.

Tarver vs Woods: April 12th (Tampa, Fl)

This fight is another classic example of the "Any Given Sunday" effect. Antonio Tarver, known most for his triumphant moment against the since rejuvenated Roy Jones Jr., is very talented but on this night will find himself in the ring against a man who brings the type of effort that could very well arrest his.

Always known as a very solid boxer, Woods comes in riding the wave of 6 consecutive victories which includes personal vindication against Glen Johnson who previously defeated him via decision.

Tarver's last 6 fights also included a split series against Johnson, but in a very humbling ring moment, he also suffered a total dismantling at the hands of the "Executioner", Bernard Hopkins. The loss was later disputed by Tarver through the media but it was pretty telling that a guy known for such verbal bravado failed to demand a rematch.

It'll be interesting to see how Tarver reacts in his initial moment of adversity against his first formidable opponent since that humbling loss.

Dawson vs Johnson: April 12th (Tampa, Fl)

This battle employs the old lion against the younger cub with a fresh mane. Glen Johnson, previously seen as an above average in talent journeyman, has done more than make a name for himself by defeating very credible names in the division. Tarver, Jones and Woods have been the biggest names to come along in recent times and he holds a "W" over each. A victory over Chad Dawson would put Johnson in the company of Foreman, Holyfield, and a relatively small group of fighters to overcome those odds.

As great as it would be for Johnson, there's one other fighter in the 'aged' category that could make an even bigger statement a week later....

Hopkins vs Calzaghe: April 19th (Las Vegas, NV)

Although Calzaghe is no spring chicken, youth is clearly on his side in this fight, as evidenced in his workrate in comparison to that of Hopkins. Despite the workrate of Calzaghe, the ring intelligence of Hopkins could prove to be the X-Factor.

In the end, a victory by either man should come as no surprise, but I'd personally go out on a limb and say that I'm totally amazed at Calzaghe's heart and stamina. If Hopkins finds a way to win this fight he goes down as a top pound for pound great of all time. His style may leave alot to be desired, but history shows that the old man employs aggression when necessary as well. He took the fight to both Tarver and Wright. Against Tarver some may see that as a moderate effort, but Hopkins became the first fighter to totally dissect Wright, a fighter known for an impenetrable defense.

If Hopkins can somehow take the fight, and effectively the heart, from Calzaghe, that would in my mind solidify his greatness. It was a humbling moment in time for him to lose to Jermain Taylor but it was probably the best thing to happen to him in his career as he kicked his aggression into another gear and has been a totally different fighter ever since.

Within the next month and a half all of these potential great moments shall come to pass, but as a prelude to them all, just keep in mind, on any given night, any given man can emerge. The eyes of boxing fans around the globe remain locked as we prepare to see who will it be?

(Got Feedback Or Questions?: Write ESB's Vivek Wallace at vivexemail@yahoo.com or show some love at www.myspace.com/anonymouslyinvolved)

Article posted on 10.03.2008
previous article: Gerry Cooney Headlines Salute to Irish American Heritage
next article: Welcome Back, David Haye; Saviour Of The Heavyweight Division!