Cristobal Cruz Grabs IBO Featherweight Title!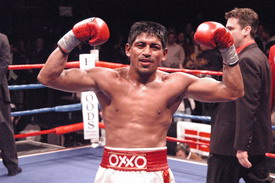 By Peter Mark Heintzelman, Photos by Peter Mark Heintzelman: By majority decision, the challenger became the champion, in the form of Cristobal Cruz, as the rugged Mexican became the newly crowned IBO featherweight title holder, having mercilessly defeated South African, Thomas Mashaba, on ESPN's Friday Night Fights.

126 pound Cruz, now 36-11-1, 23 KO's, of Tijuana, Mexico, relentlessly poured on the punches against the, now former, title holder, Mashaba, who was fighting for the first time in North America.

Cruz set a new world record for the most punches thrown in a championship fight, with 1,580 punches. Try throwing that many punches at the bag in the gym, much less with strong five time defender of a world title on the other side of the ring, just to put things in perspective!

The mild-mannered, but stronger puncher, Mashaba, at 125 pounds, was attempting to gain a sixth defense of the green belt, but it was not in the cards, at a place known for cards, Foxwoods Resort Casino's historic Fox Theatre, in Mashantucket, Connecticut.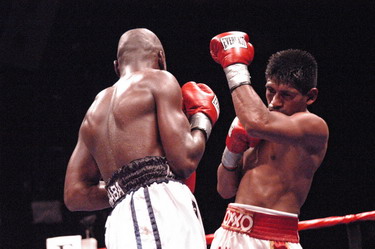 To wrestle a belt away from a current title holder, the litmus test is to convincingly beat the current champion. And convincing Cruz was, when, after twelve lively and entertaining rounds, the judges' score cards tallied 114-114 (Judge Glenn Feldman), and 115-113 twice (Judges Tom Miller and Michael Pernick), in favor of the new champion, when the twelfth and final bell rang.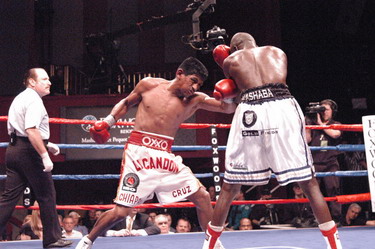 When the house lights dimmed, and the ESPN film began to roll, Mashaba kneeled in the neutral corner, to silently call out the help of God. But God was en route to Germany to view Saturday night's Matt Godfrey versus Rudolf Kraz WBC Cruiserweight Title scheduled in Germany for this weekend, and Mashaba was left to his own devices.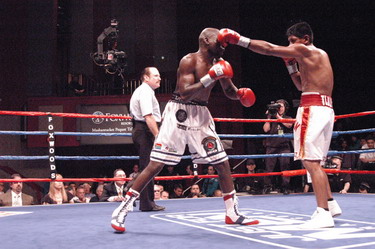 With Teddy Atlas and Joe Tessitore commenting for ESPN, Peter Timothy at the helm of the Mashantucket Boxing Commission, and referee Steve Smoger, in charge of fair game inside the ropes, the first bell of twelve rang in front of national television and a packed live audience.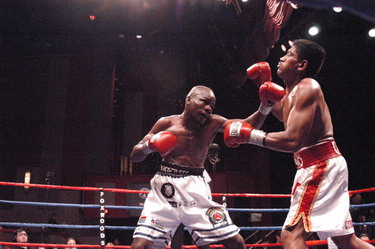 Mashaba started forward with body shots, and was the more active fighter. Cruz came forward returning body shots in like kind. "Jab, jab" yelled Mashaba's corner. As they traded jabs, Cruz is first. Cruz objected to Smoger about a head but, but Smoger doesn't react. "Come on champ" encouraged Mashaba's corner. Cruz seemed to have control of the first round, and I scored it for him.




In round two, the talented fighters traded body and head shots. Cruz seemed to dominate inside, and Mashaba pushed back to jab distance. The pugilist traded upper cuts, like they would for all twelve rounds, with great effect. Mashaba lands to Cruz' head, and the challenger lost balance and swung a headhunter without effect. Mashaba seemed more balanced, showed ring generalship, despite strong jabs thrown by Cruz. Mashaba won the round on my card, and the boxers were now even.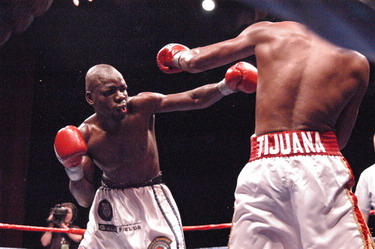 Cruz came out on the attack in the third round, and caught Mashaba off guard. Smoger watched closely, as Mashaba covered up. The champ's corner yelled, "jab, jab!" As Cruz approached, Mashaba rings the clock with an uppercut that had Cruz looking to the rafters. Mashaba followed up with a left to the body, his apparent patented power punch, that left Cruz hurt, and the crowd smelled blood. The champ's trainer shifted strategy: "work the body, work the body!," came the instruction from the blue corner. Yet Cruz kept coming forward, and these guys traded punches at high volume; jabs, body punches, and most effective upper cuts. A real hard round to score, just a thriller, but I gave the edge to Mashaba.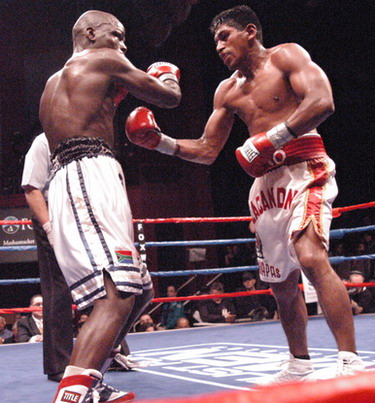 Cruz punched back and forth to the body, in the fourth round, while Mashaba pushed Cruz away to a jabbing distance. Cruz aimed for the body - Mashaba, for the head. They circled. Mashaba liked throwing the uppercut. Mashaba counterpunched Cruz' attack in the final ten seconds. Looks to me like Mashaba won the round, but could well have been a draw.

In the fifth stanza, Cruz came out on the offensive, Mashaba countered, and they traded in close. Cruz got the best. Right jab by Mashaba to Cruz. Cruz landed more punches, but not as strong at Mashaba's reply. Cruz came back with decent body shots that kept coming, despite Mashaba's attempts to push his opponent a distance back. " Jab, jab," repeated the Mashaba's corner, like a broken record. Mashaba landed a power body shot. Cruz responded with jabs to the head. Cruz ended the round tired, and walked back to the red corner, with his mouthpiece halfway out his mouth, gasping for air. This guy was hungry; hungry for a title. The kind of hunger Mexican boxers are known for.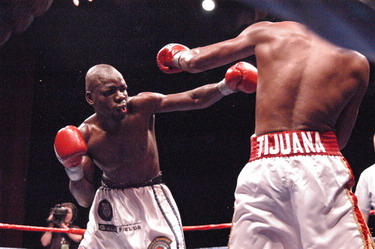 After the two minute siesta between rounds five and six, Cruz came center ring, bouncing on his toes. The bounce found its way to his fists, and he scored an amazing number of punches, although Mashaba remained in the action. Mashaba again loved responding with effective uppercut, but the Mexican just kept on coming forward, and punched a bloody mess to Mashaba's lower lip. The South African's trunks, white and blue, were now emblazoned with red as well; a momento of his first visit to America. ESPN's ratings must have been rising, and so was the sell-out crowd's enthusiastic reactions between rounds.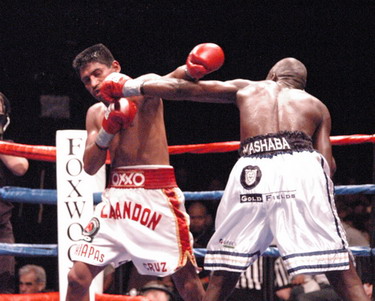 In round seven, although Mashaba remained in the action, Cruz threw more punches, bouncing on his toes, and tattooing the South African with uppercuts that were returned in like kind. Cruz kept coming forward, and his game plan evidenced a more rapid pace of thrown punches in the last ten seconds of the final rounds, a political move effective in persuading the judge's final scores, although, I gave the round to Mashaba, based upon my perception of stronger, more effective punching.

The eighth round showed Cruz in trouble, after Mashaba landed effective jabs, and left sided body shot. Cruz's eyes are thrown skyward by Mashaba's punching. They traded effective body shots and connect simultaneously with the jab. Cruz appears in trouble. Mashaba's lower lip continues to flow with the color red, but he connects with a great left which punctuated the final seconds and scored him the round, at least in my humble ledger.

The ninth round bell rings, and a few seconds are shaved off, as Smoger directs Cruz' corner to wipe too much grease off their fighter's puss. The fighters approach each other with an energy level typical for the first round, not a ninth round. These guys are professionally fit for a world title. "Knock him out!," yells a Mashaba follower from the sold out crowd. But, the Mexican was one tough dude. Mashaba continued with his effective hook to the head, and seemed to be wearing Cruz down. Mashaba's continued pace seemed to have Cruz in real trouble; looked like the fight might end in the ninth! "Hold on, baby, hold on!," replies a Cruz fan. Cruz was saved by the bell, and the round went to Mashaba on my card.

Cruz started the tenth round with a great left jab that kicked Mashaba back. Cruz hit to the body, and looked like he was gassed out. Mashaba regained a jabbing distance, and Cruz advanced with a vicious right to the head. Mashaba seemed to have this fight wrapped up, unless Cruz could do something miraculous to win. The crowd had been waiting for a knock out all night, and they might see it in this round. Mashaba loved to throw that left hook to the body. Cruz jabbed away, and Mashaba replied with left upper cuts, and punished Cruz's body. Cruz jabbed his way back in. Cruz hit three body shots to Mashaba, who stumbled back, stumbling over his own feet. Cruz was revitalized in this round, with close-in fighting. Cruz landed a great head shot right at rounds' end! Cruz won the round on my sheet, and the crowd responded with their own championship level applause.

The eleventh round welcomed Mashaba with body and head shots from Cruz.
"Jab," yelled Mashaba's corner! An instruction Mashaba seemed deaf to throughout the fight. Cruz was the more active fighter, but Mashaba seemed steady and stronger with punches. Cruz thrived on mixing it up. It looked like they are both gassed out. Fighting at a jabbing distance. At the ten second clap, Cruz got more active and ended the eleventh with political activity to woo the judges. Mashaba spit out water on the stool, with legs stetched out, and blood dripping down his torso. I had the round for Cruz.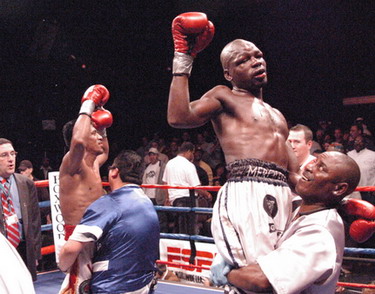 In the twelfth and final round, Mashaba showed a burst of energy. He connected with a right hook to the head. He swung around to a jabbing distance. He looked to jab his way out of this round. Cruz came in, Mashaba pushed him out. Cruz connected with a right hook, and kept on coming. Mashaba seemed to be in trouble - they are both gassed out. Cruz hit a number of punches and Mashaba played defensive. Mashaba looked all the more out of gas. With ten seconds left, they duked it out. Mashaba tried to beat Cruz's head, and Smoger calls the stop at the final bell.

While awaiting the final judges' scoring, the controversy was on, as it was a real tough fight to call. "It was a close one," piped in Smoger. "It could go either way," added famed photographer, Angie Carlino. But judges are judges, whether you agreed or not, and they did their job, and gave the tough decision nod to "THE NEW" champion, Cristobal Cruz.

And deservingly so.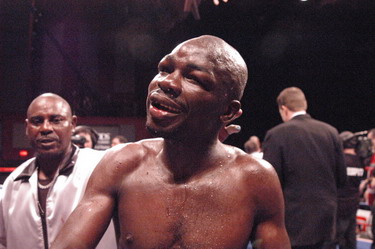 The torch was passed, as it has been over the history of boxing, at many weight divisions. Yet it ends a notable five defense championship of the likeable South African, Thomas Mashaba, who levels his record at 20-3-4, 12 KO's. He can fly home with head held high, as this fight should be a candidate for fight of the year. Boxing fans in the U.S. of A, will anticipate his hopeful return to the States, because his talent and spirit is what boxing is all about.

For Cristobal Cruz, its been a tedious and hard climb to the top, but as he wakes up in the morning, sore and bruised, he will smile at the sight of the green belt next to him. Ready to be worn with pride. And demanding to be defended.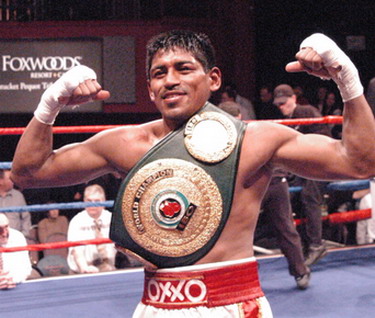 Any takers? Article posted on 09.03.2008
previous article: Who'd Have Believed It!? The Cruiserweights Are More Interesting Than The Heavyweights