David Haye Lands The Haymaker!
Photos by Tom Casino/Showtime - LONDON (March 9, 2008) – South London native David Haye disposed of Welshman Enzo Maccarinelli in less than two rounds to unify the cruiserweight division. Haye entered London's O2 Arena on Saturday night with the WBA and WBC belts and collected Maccarinelli's WBO strap after a brilliant show of speed and power. The fight began shortly after 2 a.m. local time with a delirious, sold out crowd of 20,000 rocking the O2. Maccarinelli vs. Haye was a promotion of Frank Warren's Sports Network..

It was a special night on SHOWTIME Sports as the premium network aired a boxing and MMA doubleheader for the first time in history. Immediately following the live boxing telecast, SHOWTIME aired EliteXC presents Cage Rage 25 from Wembley Arena via tape delay from earlier in the night.

In a battle of big punching British champions, Haye landed the first big punch early in the second round staggering Maccarinelli. Haye stalked him into the corner and followed up with a barrage of lefts and rights. Haye, aptly nicknamed "The Hayemaker," landed another big right hand to send Maccarinelli down. Although he was able to get to his feet, Maccarinelli was on unsteady legs as referee John Keane began to count. Keane waived off the fight before completing his count at 2:04 of the second.

"'The Hayemaker' doesn't lie," said the jubilant and fresh unified champion. "It is nice to know that the cruiserweight division is now cleaned up. It is time to move up to heavyweight and fix that disgraceful division."

Haye improves his record to 21-1 with 20 knockouts.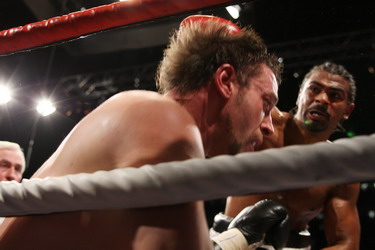 "Ever since I was a boy, I've said I would be the heavyweight champion of the world,'' Haye said. "Against my speed, my athleticism, my amateur pedigree, there's nothing those heavyweights out there can do."

"I didn't box the plan," said Maccarinelli, who drops to 28-2, 21 KOs. "Take nothing away from David Haye. It was a crackin' shot and I just got caught. Enzo (Trainer, Enzo Calzaghe) will crucify me for this."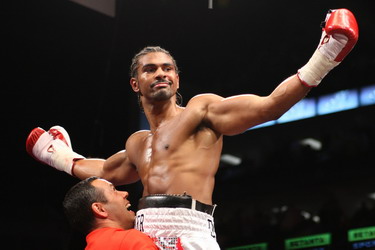 The renowned tandem of Steve Albert and Al Bernstein called the action for SHOWTIME CHAMPIONSHIP BOXING with Bob Dunphy directing. The executive producer of SHOWTIME Sports is David Dinkins, Jr.

Across town, before an equally excitable crowd of 8,000-plus at Wembley Arena, MMA pioneer Ken Shamrock of the USA was handed his first knockout loss by English powerhouse Robert "Buzz" Berry.

Berry landed a series of strikes to the head of Shamrock and sent him down. The referee waved off the fight at 3:26 of the first round as the 240-pound Berry prepared to pounce on his fallen opponent.

In other televised fights, Cage Rage featherweight champion Masakazu Imanari of Japan applied a text book reverse heel hook to destroy the knee of formidable Brazilian adversary Jean Silva. Silva tapped out at 2:35 of round one, and appeared to be in tremendous pain.

In a battle of big men, heavyweights Rob Broughton of England won a majority decision over fellow countryman Neil Grove by scores of 29-28 twice and 28-29. The two men entered the cage at a combined 250-plus pounds and fought an entertaining scrape for three full rounds.

And local favorite Tommy "Kong" Watson thrilled his adoring fans with a knockout of American Pierre Guillet. With Watson on his back during first-round action, Guillet dove in to attack, but Watson struck first by landing a devastating upward heel strike to Guillet's head. Watson quickly pounced on top of the fallen Guillet and finished him with fist strikes to the head.

SHOWTIME announcers Mauro Ranallo and Stephen Quadros called the action at Wembley Arena. The producer of the EliteXC telecast was Richard Gaughan with Rick Phillips directing. The executive producer of SHOWTIME Sports is David Dinkins, Jr.

Catch an encore of Saturday's SHOWTIME CHAMPIONSHIP BOXING telecast:

Monday, March 10 8 p.m. SHO Extreme
Tuesday, March 11 10 p.m. SHO2
Wednesday, March 12 10:30 p.m. SHOWTIME


And on SHOWTIME On Demand (where available) beginning March 11.

Catch an encore of Saturday's EliteXC telecast:

Monday, March 10 9:30 p.m. SHO Extreme
Tuesday, March 11 Midnight SHOWTIME Article posted on 09.03.2008
previous article: Sharkie's Machine: Nate Campbell Finally Gets His Due!