Foxwoods Hosts World Title Fight On Friday Night Fights!
by Peter Mark Heintzelman at Ringside - Photos by Peter Mark Heintzelman: Banner Promotions and Golden Gloves Promotions arrived at Foxwoods Resort Casino, in Mashantucket, Connecticut today, hosting an ESPN Friday Night Fights card, featuring "Merciless" Thomas Mashaba, 20-2-4, 12 KO's, facing tough opposition from a game Cristobal Cruz (35-11-1, 23 KO's!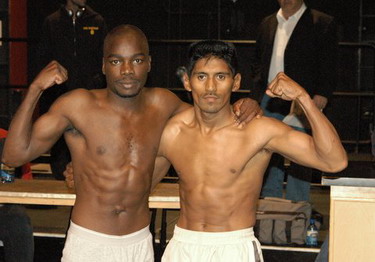 Mashaba, of Temba, South Africa, is making his first appearance in America, is coming off a resounding knock out victory against former IBF featherweight world champ, Eric Aiken, and looks to extend his legacy against the tough Cruz, of Tijuana, B.C., Mexico.

Fasten your seat belt for this one, aired on ESPN's Friday Night Fights, at 9:00 pm. EST. Tickets are basically sold out, but there remain a few available for sale through Foxwoods Resort Casino's webpage.

The co-feature showcases New England favorite, middleweight Jason LeHoullier, of Portland, Maine, undefeated with 21 wins and 8 KO's against late substitute, Jose Gonzalez, 11-2-0, 9 KO's of Garden City Kansas, after originally scheduled opponent, Harry Joe Yorgey, of Bridgeport, PA fell out, reportedly because of promotional strife.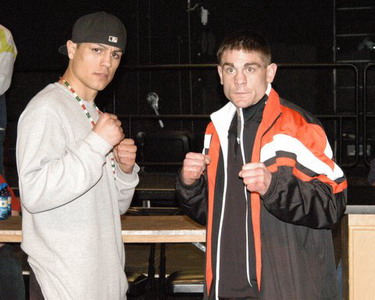 Weigh in results, from the famed and historic Fox Theatre today, were as follows:

12 Round IBO Featherweight World Title
Thomas Mashaba (125 lbs) v. Cristobal Cruz (126 lbs)

10 Rounds Junior Middleweight
Jason LeHoullier (154 lbs) v. Jose Gonzalez (153 lbs)

6 Rounds Junior Welterweight
Jose Angel Roman (144 lbs) v. Ruslan Provodnikov (141 lbs)
Provodnikov was originally scheduled to fight Charles Wade, of Hartford, CT, who came in overweight at 149 lbs. Jose Angel Roman's original opponent, Richard Abril, of Miami, Fl, reportedly failed to show up for the weight in. "Only in Boxing," touted famed promoter, Artie Pelullo!

8 Rounds Super Middleweight
Rodrigo Aguiar (167 lbs) v. Maxim Vlasov (165 lbs)

4 Rounds Super Flyweight
Mario Gaxiola (112 lbs) v. Qa'Id Muhammad (113 lbs)

4 Rounds Super Welterweight
Brian Macy (174) v. TBA, after opponent, Brandon Burke, of Ohio, showed up, but ill.

What remain of tickets are at $35, $50 and $65, available at Foxwoods Resort Casino Box Office (800-200-2882) and online at www.foxwoods.com. Doors open at 7:00 p.m. EST, with the first bell at 8:00 p.m. ESPN will begin live broadcasting at 9:00 p.m. All bouts are subject to change without notice. Article posted on 07.03.2008
previous article: Maskaev 243, Peter 250 / Castillo 7 lbs Overweight