Maccarinelli-Haye Final Press Conference Quotes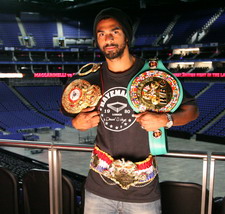 Photos: Tom Casino/SHOWTIME - In the most significant cruiserweight unification title bout in years, world champions Enzo Maccarinelli (World Boxing Organization) and David Haye (World Boxing Council/World Boxing Association) will collide this Saturday, March 8, live on SHOWTIME CHAMPIONSHIP BOXING at 9 p.m. ET/PT (delayed on the west coast). The Maccarinelli-Haye fight will start at 2 a.m. local time at the O2 Arena in London and open a history-making night on America's No. 1 Boxing Network. SHOWTIME will achieve another first when it presents an unprecedented back-to-back boxing and MMA doubleheader.

Immediately following the cruiserweight world title unification scrap, SHOWTIME will feature a four-fight MMA telecast headlined by legendary Ken "The World's Most Dangerous Man" Shamrock, who returns to the cage against Britain's Robert "Buzz" Berry.. EliteXC Presents Cage Rage 25 from Wembley Arena in London, will air via tape delay in the U.S. immediately following the conclusion of the boxing telecast.

David Haye failed to show up for the mid-day press conference at the O2 Arena. Promoter Frank Warren and Maccarinelli addressed their displeasure and disappointment to the press. Haye arrived to the O2 Arena later in the day and spoke to reporters.

Enzo Maccarinelli (28-1, 21 KOs)

"Haye is just a glamour boy. I'm excited, I've wanted this fight for a while and I am ready. I couldn't care less about what Haye is doing.

"I've done everything to prepare for this fight, I am tougher, stronger and quicker.

"David Haye has shown how unprofessional he is for not showing up at this press conference today. Haye claims that he is sleeping to adjust for the 2 am start. I'll be putting him to sleep come Saturday night.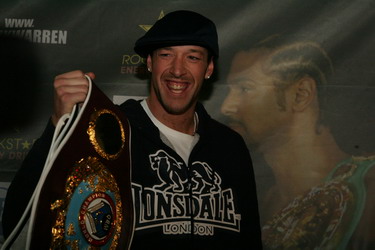 "I don't like Haye at all. He has disrespected me as a fellow champion. On Saturday, you will see a real world champion unifying the cruiserweight titles.

"I don't think this fight will go the 12 rounds, but if it does I am well prepared.

David Haye (20-1, 19 KOs) was not present at the Noon press conference but arrived later and spoke to reporters.

"I was told the press conference was at 2 p.m. and they changed it on us at the last minute. I don't dislike Enzo Maccarinelli as a person. But I dislike the Maccarinelli bandwagon.

"They changed the press conference, they are trying to change the time of the weigh-in. They are trying to mess with me, but what they don't realize is that they are only fueling me to bring more hurt.

"This is the first time he's been in the ring with a winner. The first time he's been in with someone who hasn't come to lose. He won a vacant title and claims he is the best champion. I earned my titles. I had to fight for them. I fought for titles in (Jean Marc) Mormeck's back yard.

"Maccarinelli thinks he can use me to make a name for himself, but that is not going to happen. He has made his fame by fighting nobodies; I've fought all the way to the top against top contenders.

"I knock people out. As soon as I land my shots on him, you will see the difference between class and hype. He's been built up and he believes the hype, but I will beat reality into him.

"I'm going to show everyone what I am made of. They will see that I will be the heavyweight to watch out for after this fight. It won't be like the Klitchko's poor excuse for a so called fight last week."

Haye Responding To Questions On Making The Cruiserweight Limit

"Going into the Mormeck fight, I couldn't drink any fluids for a long time. But I have been in training since then. Coming out of the Mormeck fight, I went straight into training for this. I have been I the gym for nine months and I never let my weight get too high. This time, I am more prepared. I have been drinking as much water as I want.

My running is up, my sparring is up. I am ready. I will destroy Maccarinelli real quick."

Promoter Frank Warren

"I am very disappointed David Haye and Adam Booth weren't able to attend the final press conference today. Haye is getting paid very well and I thought he would show me, Maccarinelli, media and fans some respect and show up for the press conference. It is a shame Haye is not here. We have a great turnout and everyone wants to hear what both fighters have to say. His no show is an insult to everyone."

"He says that he is sleeping on American time. Well, I hope he sleeps well because come Saturday night, he will have a nightmare. Enzo Maccarinelli is ready for this fight." Article posted on 07.03.2008
previous article: Peter vs Maskaev Quotes
next article: Maskaev 243, Peter 250 / Castillo 7 lbs Overweight