Peter vs Maskaev Quotes
Photos by David Martin Warr: Samuel Peter: (To Oleg Maskaev's promoter Dennis Rappaport): "Buy a new pair of glasses because I want you to see how hard I'm going to hit your man on Saturday.."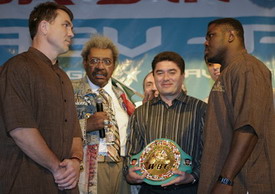 (To Oleg Maskaev): "I want to tell you one thing: "I'm going to knock you out. I'm going to eat you alive."

(From Monday press conference in Cancun): "I'm coming to fight on Saturday night and I promise I'm going to beat you. I'm going to punish you and beat you up. I've been fighting for seven years and I've never ducked anyone. I hope you're planning on coming to fight on Saturday. You can run no more.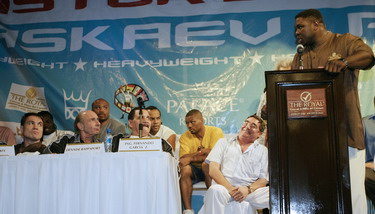 Oleg Maskaev: "I'm ready and I'm coming to win on Saturday night. I have worked very hard."

Nate Campbell: "It has been a hard road for me to get here but I am here now. I don't have anything to do with what's going on between Juan Diaz and Don King but I can tell you this: On Saturday night I'm going to take you to hell, Juan."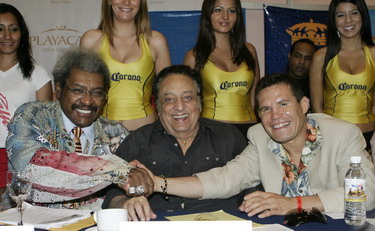 Juan Diaz: "I've fought in Mexico many times and it's great to be back home. I fought here when I was 16 years old. Nate Campbell is a good fighter and I'm ready to go 12 rounds.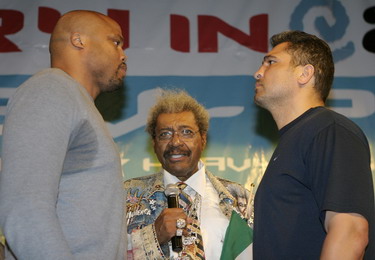 Article posted on 06.03.2008
previous article: Damage control for hungry Manfredo vs. Benfield
next article: Maccarinelli-Haye Final Press Conference Quotes



If you detect any issues with the legality of this site, problems are always unintentional and will be corrected with notification.
The views and opinions of all writers expressed on Boxing247.com do not necessarily state or reflect those of the Management.
Copyright © 2001- 2015 Boxing247.com - Privacy Policy l Contact