Vazquez Earns Split Decision Over Marquez
By Matthew Hurley, photo by Tom Casino: As the anticipation continued to build for the rubber match between Israel Vazquez, 43-4 with 32 KOs and Rafael Marquez, 37-5 with 33 KOs nearly everyone in the boxing community assumed the third match-up would more than live up to the hype. Their first two bouts provided relentless action of the highest order and gave each fighter a win over the other. Tonight they did not disappoint with WBC super bantamweight champion Vazquez taking the rubber match with a twelve round split decision victory..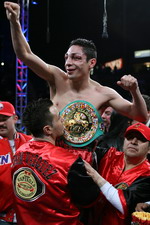 The official scores were 114-111, 113-112 for Vazquez while the third judge scored it 114-111 for Marquez. I scored the bout 114-110 for Vazquez. Their epic three bout series will now go down alongside such other legendary trilogies as Erik Morales – Marco Antonio Barrera, Tony Zale – Rocky Graziano and Micky Ward – Arturo Gatti.

In an intense battle controlled early by Marquez the bout stepped into epic status in a remarkable fourth round in which Marquez dropped Vazquez to the canvas with two beautiful right hands with fifty seconds left in the round. Earlier in the round an accidental head butt seemed to stun Vazquez. Once he regained his feet however the champion stormed forward and wobbled Marquez. At the end of the round Vazquez was cut over the left eye.

The bout, fought at a tremendously high level of technical skill, became more tactical in the middle rounds with Marquez moving to his left and striking with a superior jab but in the sixth and seventh rounds Vazquez began to connect more consistently and backed Marquez up. There were instances in rounds seven through nine where Marquez seemed to be slowing down from Vazquez's relentless pressure.

In the tenth round, after three previous warnings for slightly low blows, referee Pat Russell deducted a point from Marquez in a round in which Rafael was doing very well. In the eleventh round Marquez's left eye was closing while Vazquez was now suffering from a cut over the right eye.

The twelfth and final round would prove pivotal as a tiring Marquez began to clinch as Vazquez walked him down. With under a minute remaining in a round where it appeared that Marquez would hit the canvas Vazquez connected, driving his rival backwards. Marquez grabbed for the top rope to steady himself and was immediately punched flush in the face by a Vazquez right hand. Pat Russell then jumped in and correctly gave Marquez a standing eight count. Marquez, shaking his head then parried a charging Vazquez in the final seconds before the bell finally ended this amazing rivalry.

One question on nearly everyone's lips was "Should they fight a fourth time?" The two fighters are so evenly matched that they couldn't possibly disappoint but one would assume that neither man wants to see the other immediately. The punishment both absorbed in their twenty-five scintillating rounds would be enough to alter any man's career. A tremendously disappointed Marquez, who insisted that he deserved the decision, was too upset in the ring to commit to a fourth match or even discuss his future. Vazquez however nodded when asked if he would be willing to engage his most intense rival yet again.

Whatever happens in the future Israel Vazquez and Rafael Marquez gave boxing fans three fights that define boxing at its best. The reverence the crowd showed them at the final bell was more than well deserved and a long rest for both fighters would seem the best course of action in the immediate future. They have given so much in such a short period of time.

Article posted on 02.03.2008
previous article: Vazquez vs. Marquez Shootout: The Prediction and the Outcome
next article: Who Was The Greater Fighter - Iran Barkley Or Nigel Benn?