Guerrero Annihilates Litzau, Walker Stops Wilson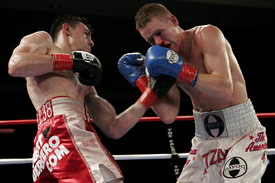 LEMOORE, Calif. (March 1, 2008) – Photos: Daisy Rosas/For Showtime - Robert "The Ghost" Guerrero produced perhaps the finest performance of his career Friday when he successfully defended his International Boxing Federation (IBF) featherweight title with an exciting eighth-round knockout over Jason "The American Boy'' Litzau in a thrilling one-sided war in the main event on ShoBox: The New Generation on SHOWTIME.

In the co-feature, promising once-beaten Travis "Freight Train" Walker got back on track by registering a second-round knockout over the only boxer to defeat him, T.J. Wilson, in a non-stop action heavyweight fight..

The crowd-pleasing doubleheader, promoted by Goossen Tutor Promotions, LLC, took place in front of a sellout crowd at Tachi Palace Hotel & Casino in Lemoore, Calif. It aired live on SHOWTIME at 11 p.m. ET/PT (delayed on the west coast).

Fans anxiously awaiting the highly anticipated rubber match between Israel Vazquez and Rafael Marquez today/Saturday, March 1, on SHOWTIME CHAMPIONSHIP BOXING (9 p.m. ET/PT, delayed on the west coast) got more than an appetizer. They got two marvelous main courses rolled into one.

So what else is new? After all, this is ShoBox and exhilarating, compelling matchups has been the norm since the popular pugilistic series debuted in July 2001.

Southpaw Guerrero (22-1-1, 1 ND, 15 KOs), of nearby Gilroy, Calif., fairly dominated Litzau (23-2, 19 KOs), of St. Paul, Minn., before dropping him twice in the eighth round. After the second knockdown, the referee stopped the contest at 2:25.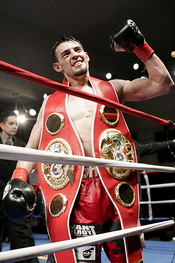 Making the second defense in his second stint as IBF 126-pound kingpin, Guerrero floored the challenger the first time with two left hands approximately 40 seconds into the session. A three-punch combination ended the evening for Litzau.

"It went how I expected it to go,'' Guerrero said. "A lot of fans came here and a whole lot more were watching on SHOWTIME to see me put on a good show and I think I did. The support I get is just incredible and I really appreciate the fans that come to see me fight or watch on television.

"I expended a lot of energy at the beginning throwing a lot of power punches. A lot landed, but some missed, too. Between rounds, my corner told me to just go out and relax and box more and let the knockout come and sure enough they were right and it did.

"I'll fight anybody next. There are a lot of big fights out there. If the winner of Vazquez-Marquez wants to move up, I would fight either of them. I am ready to fight now.''

Litzau started slowly and seemed reluctant to let his fists go. Once he picked up the pace, however, he landed some solid shots, but rarely in combination. Guerrero also made him miss, at one point avoiding six consecutive punches.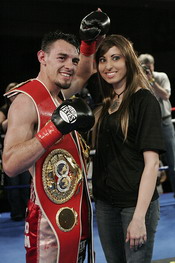 "I have nothing but respect for Guerrero. He is a great champion,'' said Litzau, who's three fight-winning streak ended. "He came in and did his job. He got a little dirty at times and got me with some good headbutts, but you will not hear any excuses from me.

"I worked my butt off in the gym and trained hard. I was as ready as I could be, but this was his night. I know I did my part to make this a very entertaining fight, but I'm just 24 and I will be back.''

In the telecast's opening bout, Walker (27-1-1, 21 KOs) of Houston, Tex., exacted sweet revenge on Wilson (12-2, eight KOs) of Miami, Fla. Walker won by knockout at 1:50 of the second round.

This was a rematch of a fight Wilson won on a controversial 15-second, first-round KO on Oct. 19, 2007, on ShoBox.

Both boxers came out aggressively and connected with solid shots in a fast-paced opening round. The second frame picked up where the first left off until Wilson ran into a Walker right uppercut. Walker continued to connect with unanswered right and left hands and had Wilson out on his feet when the referee stepped in and waved off the proceedings.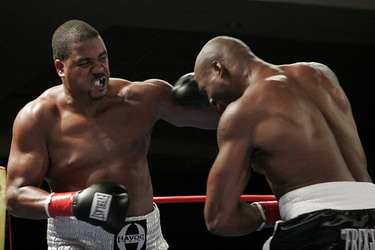 "I have never been motivated for any fight before and this is total vindication and exactly the kind of fight I wanted,'' Walker said. "I did what I was supposed to do in our first fight. I knew he wasn't in my league and I couldn't wait to show the world that.

"He hit me with the same kind of punches this time as he did in our first fight, but this time the referee let it go on. The guy lost a lot of weight and came in shape (at 264, Wilson weighed 18 pounds lighter than he did four months ago), but it didn't matter.

"Maybe the loss was a good thing. It made me smarter. I do know the real Travis Walker got to show what he was about tonight. I would love to fight any of the top heavyweights.''

If Wilson has his way, he and Wilson will have a third encounter.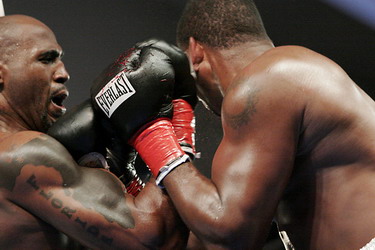 "There's a rematch clause in my contract, so, yes, we will fight again,'' Wilson said. "I have no idea why the referee stopped the fight. I could have gone on. I wanted to go on. Walker got his rematch with me. Now he has to give me a rematch with him.''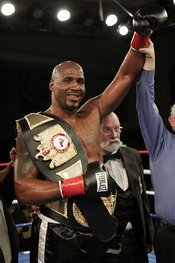 Nick Charles called the action from ringside with Steve Farhood serving as expert analyst. The executive producer of ShoBox is Gordon Hall with Richard Gaughan producing.

Friday's stirring bouts will re-air this week as follows:

DAY CHANNEL

Saturday, March 1, at 3 a.m. ET/PT SHOTOO

Monday, March 3, at 9:30 p.m. ET/PT SHO EXTREME

Tuesday, March 4, at Midnight ET/PT SHO EXTREME

Thursday, March 6, at 10 p.m. ET/PT SHOTOO

Four world-class boxers with a combined record of 93-0 will headline a "Special Edition" of ShoBox on Saturday, March 29, (SHOWTIME, 11 p.m. ET/PT, delayed on the west coast) in England. In the main event, the World Boxing Council's (WBC's) No. 1 and No. 2 super middleweight contenders, respectively, Carl Froch (22-0) and Dennis Inkin (32-0), collide in a 168-pound elimination bout. The winner becomes the mandatory challenger to WBC titleholder Joe Calzaghe. In the co-feature, John Murray (23-0) faces John "Fireball" Fewkes (16-0) in a junior welterweight bout.

The ShoBox telecast will follow an excellent EliteXC Mixed Martial Arts event on SHOWTIME (9 p.m., ET/PT, delayed on the west coast) that features the legendary Frank Shamrock against Cung Le.

For more information on Showtime Sports, including exclusive video, photos and news links on SHOWTIME CHAMPIONSHIP BOXING and EliteXC mixed martial arts telecasts, please go www.SHO.com/sports.

About ShoBox: The New Generation

Since its inception in July 2001, the critically acclaimed SHOWTIME boxing series, ShoBox: The New Generation has featured young talented fighters matched tough. The ShoBox philosophy is to televise crowd-pleasing and competitive fights while providing a proving ground for willing prospects determined to fight for a world title. The growing list of fighters who have appeared on ShoBox and advanced to garner world titles includes Scott Harrison, Juan Diaz, Jeff Lacy, Ricky Hatton, Joan Guzman, Juan Urango, David Diaz, Robert Guerrero, Kelly Pavlik, Paulie Malignaggi and Paul Williams. Article posted on 01.03.2008
previous article: Chicago's Polyakov Bringing Kryptonite For Superman March 14th
next article: Vazquez vs. Marquez Shootout: The Prediction and the Outcome