Solis victorious in Milan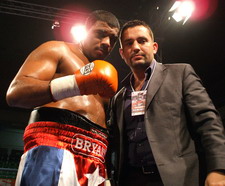 Without any problems ARENA's Olympic heavyeight gold medallist Odlanier Solis scored his 7th win in his 7th pro-fight (5 kos) in Milan Friday night. "El Sombra" ("The Shadow") knocked out Adrian Rajkai (now 16-6-0, 4 kos) from Hungary with a straight right to the head in round 3. Rajkai was down and out for about 30 seconds. It was already the third knock-down after two devastating uppercuts in rounds 2 and 3.

ARENA-CEO Ahmet Öner: "The referee could have stopped the fight earlier which would have saved Rajkai from getting knocked out that hard. Solis was just too strong for the Hungarian kid. At his next appearance in two weeks in Munich he will face stronger opposition.."

Solis' next opponent won't be Bruce Seldon though. The former world heavyweight champion cannot leave US soil due to legal problems.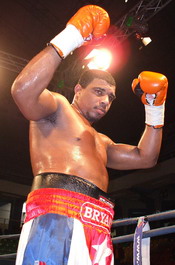 Öner: "That's a shame. Seldon would have been a good test for Solis. Now we are looking for an adequate replacement but it's always hard to find opponents for Solis as nobody wants to get knocked out."

And who does the Cuban want to fight?

Solis: "I don't care. I will beat anybody who comes my way. I want to become world champion as fast as possible."

Did he watch the unification bout between Wladimir Klitschko and Sultan Ibragimov to study possible future opponents?

Solis: "No, I never watch fights on TV – except my own! I don't care about other boxers until I face them in the ring – and then I'm only interested in knocking them out."

Also on Friday night ARENA's Polish lightweight Krzysztof Cieslak scored his fourth win in his wourth pro-fight by decisioning his fellow countryman Piotr Niesporek over four rounds in Warsaw.

Article posted on 01.03.2008
previous article: Litzau vs. Guerrero: The Prediction and the Outcome
next article: Hot Prospect Paul Appleby Wins Again With 3rd Round TKO Over Tough Ferenc Szabo