Manny Pacquiao Registers 10.0 on San Francisco's Richter Scale!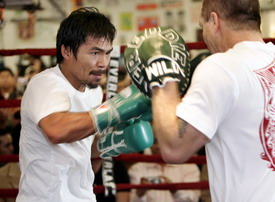 Photos by Chris Farina / TopRank - SAN FRANCISCO (February 28, 2008) -- It wasn't an earthquake that shook the bay area today but the excitement of hundreds of fight fans, including many young families with children, jam-packed in the Titantium Training Center to see Manny Pacquiao's first ever public workout in San Francisco. Pacquiao, (45-3-2, 34 KOs), a three-division world champion, hit the mitts, jumped rope, then signed autographs, did a slew of interviews and posed for photographers. Dubbed "Republica Enemy No. 1" for blitzing the best fighters Mexico has had to offer since 2003, Pacquiao is in his final weeks of training before challenging WBC/The Ring magazine super featherweight champion Juan Manuel Marquez (48-3-1, 35 KOs), from Mexico in a rematch of their 2004 world title rumble .

MANNY PACQUIAO: "I've never trained harder - NEVER - for a fight. Two days ago I hit the mitts with Freddie Roach for 17 straight rounds with no timeouts. I run high in the mountains every day, then I go to the Wild Card gym and train 3 hours non-stop. I don't like timeouts while training and do not use them.. I am very serious about this fight as I know Marquez is the last great Mexican to beat. There is no more Morales or Barrera. I have a lot of power. In my heart I don't believe Marquez can stand up to my power. It will be too much for him to overcome. I am focused on Marquez and my boxing career. When I am in training, that is all that matters to me."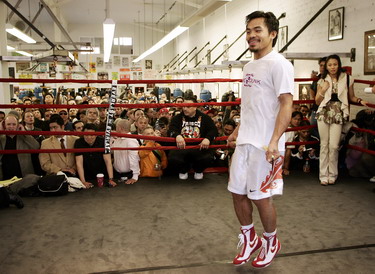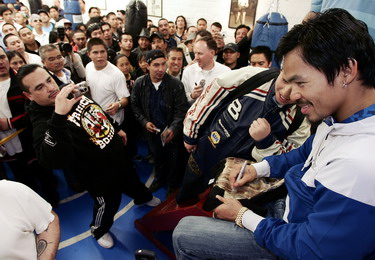 FREDDIE ROACH

"The best thing Manny did was come to the U.S. and train. He has worked very hard. He's been very tough on his sparring partners. One got hit on the chin, went down, continued but went home the next day. Manny is very serious about Marquez, which he should me. It is a difficult fight and Manny understands that. Marquez represents the last line of defense in Manny's domination of Mexican champions. We know he's prepared to go down swinging."

Promoted by Golden Boy Promotions and Top Rank, in association with Romanza Boxing Productions and MP Promotions and sponsored by Tecate Beer, Rock Star Energy Drink and Southwest Airlines, Marquez-Pacquiao II Unfinished Business will take place Saturday, March 15 at Mandalay Bay Resort & Casino in Las Vegas and will be produced and distributed live on HBO Pay-Per-View, beginning at 9 p.m. ET/6 p.m. PT. Remaining tickets, priced at $600, $400, $300, $200 and $100, can be purchased at the Mandalay Bay box office and all Las Vegas Ticketmaster locations (select Smith's Food and Drug Centers, Macy's Wrst at the Fashion Show Mall, and Ritmo Latino). Ticket sales are limited to eight (8) per person. To charge by phone with a major credit card, call Ticketmaster at (702) 474-4000 or Mandalay Bay (702) 632-7580. Tickets are also available for purchase at www.mandalaybay.com or www.ticketmaster.com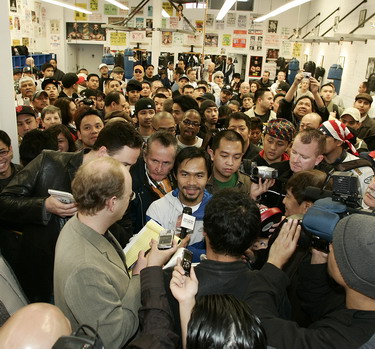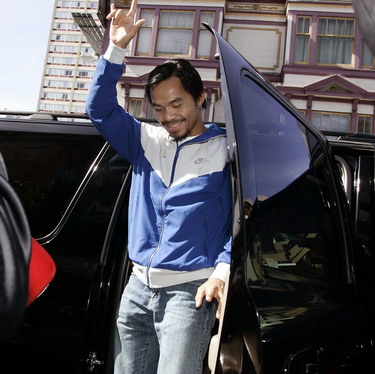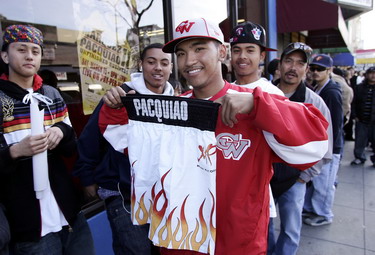 Article posted on 28.02.2008
previous article: Godfrey heads to Germany for March 8th WBC Title Eliminator vs Kraj