"Homecoming": De La Hoya-Forbes May 3rd on HBO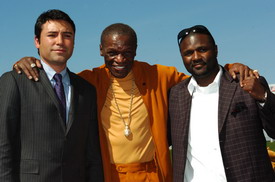 LOS ANGELES (February 27, 2008) – all photos by Hoganphotos.com / Golden Boy Promotions - Ever since his emergence on the world scene as an Olympic Gold Medalist in 1992, Oscar de la Hoya's name has been synonymous with Los Angeles, the city that molded him into "The Golden Boy," a boxing legend. On Saturday, May 3, De La Hoya will face former world champion Steve Forbes, in what will be the first-ever boxing event at The Home Depot Center's 27,000 seat soccer stadium. The bout will also mark De La Hoya's return home to fight for the first time in Los Angeles since 2000 as well as his return to HBO's World Championship Boxing for the first time since 2001. De La Hoya-Forbes is the featured event of a "Homecoming" weekend the likes of which the sport has never seen..

"Homecoming" is presented by Golden Boy Promotions in association with AEG and The Home Depot Center and sponsored by Cazadores, Tecate, Rockstar Energy Drink, Southwest Airlines and Affliction Clothing. The match up will be televised live by HBO's World Championship Boxing beginning at 10pm ET / 7pm PT.

The weekend will start with an evening filled with excitement featuring a live TeleFutura "Solo Boxeo" fight card and a Latin music concert on Friday, May 2 from The Home Depot 8,000-seat tennis stadium and culminate with the De La Hoya-Forbes event on Saturday night.

The May 3 bout will not only pit boxing's reigning superstar against an upset-minded opponent, but will also bring back a taste of boxing's golden age, when the top fighters competed in front of tens of thousands of diehard fight fans packed into huge stadiums.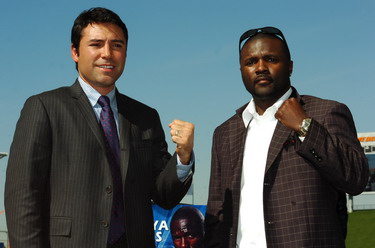 "I can't even put into words how excited I am to fight at home in Los Angeles and to be able to have the fight in The Home Depot Center's soccer stadium is just unbelievable," said De La Hoya, whose last fight in the area was in 2000. "This is a dream come true and I am dedicating the whole weekend to all of my fans, those who will be there and those who get to see the bout on HBO rather than pay-per-view, as they are the ones who have supported and embraced me throughout the many years of my career. I promise to give them plenty to cheer about that night."

"This is a fight between two gentlemen, a match between two masters of the fistic arts, one who is the face of this art and the other a man that has never had the chance to prove he belongs until now," said De La Hoya's challenger, Forbes. "I will be ready and I'm coming to win."

"The three things Oscar wanted when this bout was being discussed was to have it at home in Los Angeles, hold the fight outdoors and to broadcast it on HBO's World Championship Boxing," said Richard Schaefer, CEO of Golden Boy Promotions. "Not only are we going to make those things happen, but we are very excited about planning an entire weekend of events surrounding Oscar's fight, something that the boxing world has never seen."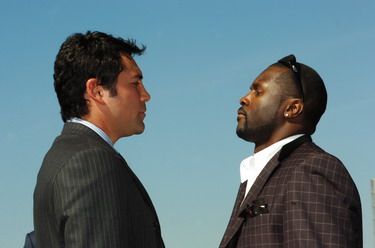 "For Steve Forbes, fighting Oscar de la Hoya is the brass ring, he is the grand prize," said Jeff Wald, promoter for Tournament of Contenders. "Steve has never been on the canvas as an amateur or as a professional and the fans are going to see a great fight on May 3. This fight is the continuation of a great relationship between Tournament of Contenders and Golden Boy Promotions."

"Oscar is the most dynamic and popular boxer of our time," said Timothy J. Leiweke, president and CEO, AEG. "We are thrilled that Oscar has chosen to fight in Southern California at The Home Depot Center, where his biggest fans will have the opportunity to witness history in one of the most unique boxing venues they will have ever been to. Thanks to Richard Schaefer and Ross Greenburg for putting together this incredible night of sports. We won't let you down."

"We are thrilled to be able to bring Oscar de la Hoya to our subscribers on May 3," said Ross Greenburg, president of HBO Sports. "We think this great event will broaden the appeal of boxing to a larger fan base. And Steve Forbes is presented with the opportunity of a lifetime, which is all any pro athlete asks."

Also adding to the intrigue surrounding this event is the return of Floyd Mayweather Sr. to the corner of De La Hoya as head trainer. In the opposite corner training Steve Forbes will be Mayweather Sr.'s brother Roger, who also acts as the lead trainer for the last man to beat De La Hoya, Floyd Mayweather Jr.

"It's great to have Mayweather Sr. back in my corner," said De La Hoya. "After this fight, Roger Mayweather will have to go back to the drawing board if he thinks Floyd Jr. can beat me again."

"Roger has the blueprint to beat Oscar and I'm going to use that blueprint, expand on it, and send a message to the boxing world that it was a big mistake to pick me as his opponent." said Forbes.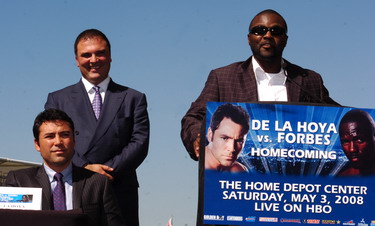 Tickets start at just $25.00 and will go on sale to the public on Tuesday, March 4 at 10:00 a.m. Individual tickets may be purchased by calling Ticketmaster at 213-480-3232 or by visiting ticketsmaster.com. Group tickets, VIP packages and Hospitality packages are available by calling 1-877-AEG-TICKETS (1-877-234-8425) or by visiting www.aegtickets.com.

A 1992 Olympic Gold Medalist for the United States, Oscar de la Hoya (38-5, 30 KO's) is a champion in every division he has competed in from 130 to 160 pounds. "The Golden Boy" has faced boxing's elite for over 15 years, including Floyd Mayweather, Julio Cesar Chavez, Bernard Hopkins, Shane Mosley, Felix Trinidad, Pernell Whitaker, Ike Quartey, Fernando Vargas, Arturo Gatti, Genaro Hernandez, Jesse James Leija and Hector Camacho Sr. In his last fight, on May 5, 2007, De La Hoya fell short via a close split decision to boxing's pound for pound champion Mayweather, but is eager to get back in the win column in 2008 against Forbes in his first bout at home since 2000. In his professional debut, De La Hoya fought Lamar Williams at The Forum on November 23, 1992. De La Hoya's first world title bout was in Los Angeles on March 5, 1994, when he stopped Jimmi Bredahl at the Olympic Auditorium to win the WBO World Super Featherweight Title. Four fights later, he returned to the Olympic to stop John Avila in December of 1994, but he didn't fight at home again until his 2000 super fight with Shane Mosley at the STAPLES Center. He now returns May 3.

A former World Champion who has come up the hard way in the sport, Stevie "2 Pounds" Forbes (33-5, 9 KO's) is finally getting the big shot every fighter dreams of and has no intentions of losing on May 3. An eleven year veteran who won his world title in 2000 with a stoppage of John Brown, the 30-year-old Forbes is a slick stylist with a granite chin who has never been knocked down, is unafraid of standing and trading with anyone. Winner of nine of his last eleven fights, with the only setbacks being controversial decision losses at the hands of Demetrius Hopkins and Grady Brewer, Forbes put a halt to the comeback of highly-touted Francisco "Panchito" Bojado in October of last year and he plans on doing the same to De La Hoya this spring.

For more information on the "Homecoming" weekend, please visit www.goldenboypromotions.com. Article posted on 28.02.2008
previous article: March 7 Boxing at New Alhambra in Philly