Manfredo on Benfield: "He's Not Going to Be A Problem For Me!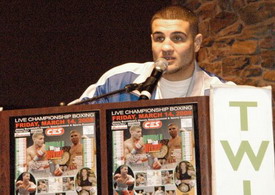 By Peter Mark Heintzelman: Jimmy Burchfield's Classic Entertainment & Sports, in association with Budweiser and the Tournament of Contenders, hosted a press conference on Thursday, to announce their "Rumble At The River," fight card, scheduled for Friday, March 14, 2008, at the Twin River Events Center, in Lincoln, Rhode Island.

The ten round super middleweight main event pits "The Pride of Providence" Peter Manfredo, Jr. (28-5, 13 KO's) against Shane "The Irish Hitman" Benfield (17-1, 9 KO's), of York, South Carolina. The card is being promoted by Burchfield an Italian-Irish themed boxing show, with Vinny Paz acting the part of team leader of the Italian quarter, and team leader, Irish Micky Ward in the, well, green corner..

Coming into the fight, Shane Benfield's record suffered his first blemish on an otherwise undefeated record, when on September 1, 2007, he lost the vacant WBO NABO light heavyweight title, to DeAndrey Abron. Manfredo's last fight was a unanimous decision loss to Jeff Lacy, on December 8, 2007. Both fighters are looking for salvation on March 14th, and with Burchfield's religious references to Saint Joseph's and Saint Patrick's Days, the crusades are on!

At the press conference, East Side Boxing had an opportunity to ask Manfredo a few candid questions: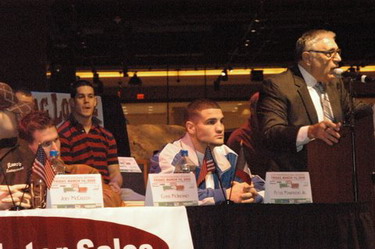 East Side Boxing: Jimmy Burchfield has billed this card as the Irish against the Italians. Does that give you any emotional incentives as you prepare for fight night, and what's your prediction as to whether the Italians or Irish will come out on top?

Manfredo: I don't care who they put in front of me. It happens this guy is Irish, and he's going to take a beating just like anybody else! It doesn't matter, even if the Irish take a lead in the beginning. The final bell of the evening doesn't sound until MY final event, and I'll tell you, the Italians will come out on top that night!

East Side Boxing: Are you comfortable fighting at super middleweight, or do you plan to go up or down in weight in the future?

Manfredo: I am comfortable as a middleweight, but I have been lazy this past year, fighting as a super middleweight, and I'm going to try to go back down to middleweight, where I think I can become a world champion.

East Side Boxing: How many more fights do you have in you, and what do you want to achieve in the remainder of your boxing career?

Manfredo: That's the thing, I don't know. Before the Lacy fight, I didn't know how
many fights I wanted, or how many more I had left in me. I don't think I was as hungry as I am right now. I'm determined right now. As many fights as it takes me to get where I want to be, and that's to be a world champion, to fight for a middleweight world title. To get my name up there where it should be, with all these guys, John Duddy and Kelly Pavlik. I've known these guys growing up in the amateurs. I know I'm right there with them. So, I just have to prove that to myself and prove that to the boxing world, and to my fans. So, as many fights as it takes me. I'm in this to win it!

East Side Boxing: Peter, how would you describe your opponent, Shane Benfield's style, and what are your plans as to how to deal with him on fight night?

Manfredo: I don't know. I haven't looked at any tape yet. Its like the beginning of my career. I was just coming out focused, I didn't care who I was fighting. It's the same situation I have now. I just don't care who it is. I don't care how he fights. I'm focused. I'm determined against whoever they put in front of me. He's not going to be a problem for me on March 14th, I'll tell you that much!

East Side Boxing: So, when you're done with Benfield, are you calling out John Duddy?

Manfredo: Well, yea , sure. I don't know if I can make 160 pounds. I have to work my way down gradually. So, if he does, it would be at 165, yea, why not!!

Benfield doesn't appear intimidated. He is already looking past this fight: His next bout is already scheduled for April 12th, in Biloxi, Mississippi, when he faces LaFarrell Bunteng (16-3-1, 16 KO's), for the vacant IBO USBO super middleweight title!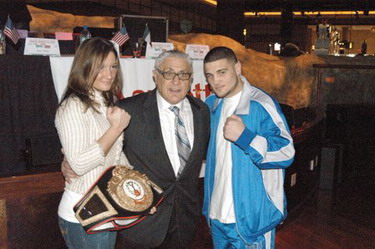 During the Twin River presser, Benfield phoned in, stating to the crowd: "I'm 'The Hitman' and Peter should know that. I will make sure everyone in Providence knows they call me 'The Hitman.' Vinny Paz is a good friend of mine and I will make him proud. I'm excited to fight, and I'm coming to fight. Peter is a big star from The Contender and I can't wait to beat him."

The card beyond the headliner is power packed, with Cranston, Rhode Island's IWBF lightweight champion Jaime "The Hurricane" Clampitt (18-4-1, 7 KOs), defending her golden belt against Belinda "Brown Sugar" Larcuente (23-20-3, 9 KOs), the GBU junior welterweight title-holder from New York City, in the 10-round co-feature. Clampitt is a 3-time world champion, while 20 of Larcuente's last 21 bouts, dating back nearly five years, have been against world champions. Cruiserweight Chris McInerney (9-1-1, 6 KOs) of Stoughton, MA faces former Massachusetts' cruiserweight king, Tim "The Hammer" Flamos (19-4-1, 7 KOs), of Brockton, in a six-round bout of a rematch McInerney won by sixth round TKO last December. Russian undefeated middleweight Andre Nevsky (3-0, 3 KOs), of Worcester , MA faces his toughest test to date in a four-round bout versus Eric Pinarreta (2-1, 2 KOs), of New Bedford (MA). USBA No. 4 super middleweight Joey "KO Kid" Spina (20-1-1, 15 KOs), of Providence; light heavyweight "Irish" Joey McCreedy (6-1, 4 KOs), of Lowell (MA); unbeaten Lynn (MA) flyweight Isander Beauchamp (3-0) and Providence junior welterweight Diego Pereira making his pro debut, are also on the card against opponents to be determined.

"Rumble at the River," tickets are priced at $35 (ADA stage seating only), $40, $50, $75, $100, and $150, and may be purchased by calling Classic Entertainment & Sports, Inc., at 401-724-2253/2254, going on line at www.cesboxing.com, or www.twinriver.com, or Twin River Events Center at 877-82RIVER. All fights and fighters are subject to change. Twin River has waived its 18 year old plus rule, for Rumble at the River, but any one under 18 years of age must be accompanied at all times by and adult, and must enter through the West entrance. Twin River Events Center is located at 100 Twin River Road, in Lincoln, Rhode Island. Doors open at 6pm, and the first bell rings at 7pm.

all photos by Peter Mark Heintzelman: PeterHeintzelman@yahoo.com Article posted on 23.02.2008
previous article: Tickets On Sale Today For Cory Spinks-Verno Phillips