Ibragimov vs Klitschko: Sultan Ibragimov Prepared To Make Boxing History In Unification Match With Wladimir Klitschko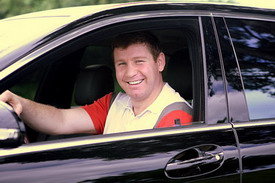 10.02.08 - Photos © Wray Edwards/ESB, exclusive from Sultan's Palace. Year after year, city after city and ring after ring I have watched this unusual man ply his trade and train for more. Unusual, because it is common for one to observe how unassuming and downright genuine he really is. Often, the stereotype of a champion is that of a macho braggart coveting the spotlight, flashing his bling and threatening his next opponent. Around Sultan, one is reminded of an idealistic, hard-working high school hero who is popular for his skills, and honored for his respectful and friendly nature.

With a ready smile, which has just a hint of mischief, he drives up in his car to begin yet another day of grueling work at perfecting his dangerous abilities. It is fascinating to watch this good-looking, but seemingly ordinary man make the transition a seemingly ordinary joe to world-class, blood-sport Boxer.. All-of-a-sudden the eyes narrow, the veins stand out and muscle-driven tendons propel his fists, and steady his head and legs as he faces the blunt-force power of his opponents. Win or lose, Sultan is what Boxing is all about. Now if you think it's all sweat and violence at camp…check this out: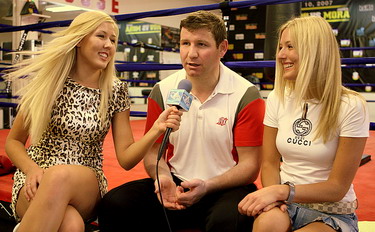 Iana (left) and Kristina from Vladivostok, Russia (now living in New Zealand) interview Sultan for MASKTV.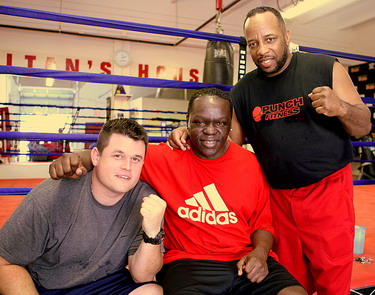 These guys (from left) conditioning coach Jeremy Fedoryk, trainer Jeff Mayweather and assistant trainer Anthony "Chill" Wilson had just put Ibragimov through his training paces. It was a treat to watch a 225 Lb. athlete blaze the jump-rope session under their watchful eyes.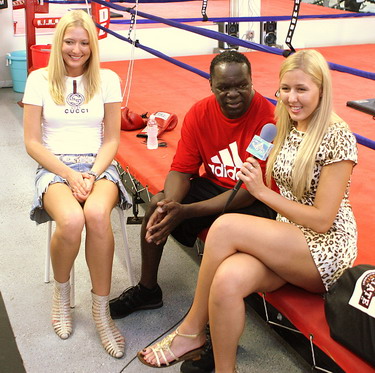 Then it was Jeff's turn with the ladies. Who wouldn't smile?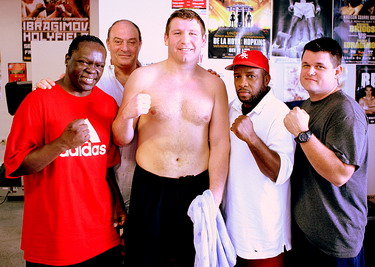 The whole gang posed for the ESB camera with Sultan's manager Boris second from left.




George Sergeev of MASKTV covers Sultan's career for his many fans in the Russian Federation.

We had an opportunity to sit down with Boris Grinberg who is the final authority on the history and future hopes of Ibragimov's career. He is as dedicated and hard-working a manager as we have ever seen. Serious-minded and practical, he consented to give us his best read on the first unification Heavyweight Championship in years.

ESB: It's good to see you again. Thank you for your time. How has
Sultan's camp gone so far?

Boris: "Sultan's camp has been very good. He is determined and practices very hard. His conditioner Jeremy is doing a great job as are Jeff and Chill.

ESB: Prior to the Austin fight what do you think was the cause of the inflammation in Sultan's knees?

Boris: "There were two factors. The first was that Sultan came to camp overweight which caused a lot of physical stress. Also we probably tried to do too much right at the end of the camp. Of course we did not know at the time as he didn't tell us about the pain until after the fight. We feel that Panama Lewis pushed Sultan too hard right at the end of camp."

ESB: What do you say about all the people who say Wlad is going to have an easy time against Sultan?

Boris: "I don't think that their opinions are correct. Some of the things they may be overlooking are his heart, bravery and he is a smart fighter like Holyfield said at the news conference."

ESB: Has he had sparring partners who are a little bit like Klitschko in terms of size and style?

Boris: America is a country of big men…six two, six three, six six…it is not a problem for us. It is a very big problem for Klitschko. I know he has taken some middleweight some 70 kilos from England for sparring southpaw. Sultan has a habit of countering three or four shots if he gets hit. He will never give up.

ESB: So what's the difference?

Boris: Wlad has had too many easy fights lately. Austin did not take the fight to him and Brewster was probably affected by his eye problems. When Wlad fights guys like Castillo who may have been intimidated by the big fireworks entrance he does not challenge himself. He will discover that when he faces Sultan. It will be good for him to be knocked out.

ESB: Well, with the height difference, it puts the body shots right there.

Boris: I think Ibragimov has a greater variety of angles and shots. Steward is a very smart guy and he has made the most of Klitschko's limited selection of punches. No doubt he is very effective with them, but I believe that what Sultan lacks in height is more than compensated for in terms of speed and variety.

ESB: Where did he go after Moscow?

Boris: Sultan went back to Rostov and some villages where he is a great hero and an example to the youth of the world. He is respectful of all he meets…has never said a bad word about any other boxers…does not trash talk and works very hard because Boxing is probably the hardest job in all of sports. I think American boxers do not work so hard. "

ESB: Like he told Brian Kenny…"They are not hungry."

Boris: "Absolutely."

ESB: Also in the higher weights American guys go into football and basketball.

Boris: "Yes…and in team sports you have guys to step in and help with a team effort. In Boxing it's one-on-one. Nobody is going to help you, not your mother, not your father, not your friends, not your trainer…you are all alone."

ESB: This is out of the ring, but I always wonder, considering the shortness of a boxer's career and other dynamics, does Sultan have a good financial manager or plan? We have seen many champions end up in very bad shape financially even after very big winnings and careers. Ending up as a greeter at a casino is not exactly the best outcome.

Boris: "I have been a business man all my life and Sultan is one of the smartest businessman I have met in or out of Boxing. He invests in real estate in Russia and here in the United States and every penny he earns is carefully spent. He does not smoke or drink or run out to buy a Rolls Royce or fancy toys like others. He is a happy man with a good sense of humor. I think his tactics in life are reflected in the ring. He manages his Boxing resources in the ring with economy and focus."

ESB: I have met a lot of people in Boxing and though he likes to kid around a bit, he is generally a very serious guy. Sampson told me post Briggs that if Sultan had lost he would retire. That doesn't square with what he told me at the Glen Johnson weigh-ins. Sultan said then that all boxers lose fights…that's just part of the game. Do you think that if he has a big loss he would call it quits or try to come back?

Boris: "I think now that Sultan is not the kind of guy that will quit the sport just because he lost a fight. The problem is American boxers. I pray every day that a great American heavyweight will emerge to fight our guys. It is a shame that Americans do not have a champion that they can identify with to fight the Russians. Also the money would be better with a famous American were a contender."

ESB: Thank you Boris for speaking with us.

Boris: "Of course. I like very much the writing and coverage of East Side Boxing. See you in New York."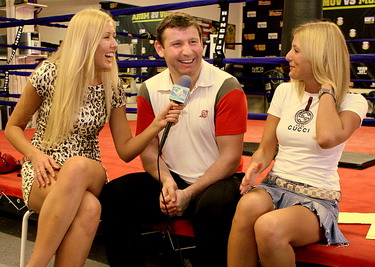 There are, of course, some things about being a champion boxer which can help to make it all worth while. If one must be interviewed, it might as well be by those who will cuddle afterwards.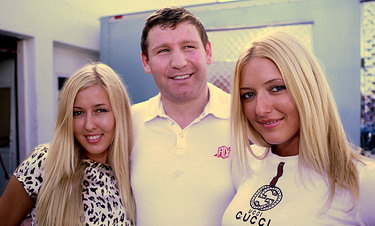 Alright you three…this is serious business. That will be enough kidding around.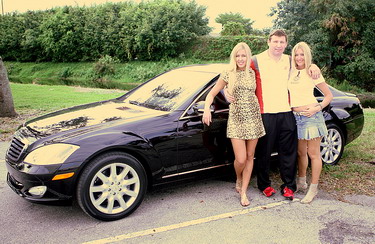 Nice wheels!

Well I must say that it is a pleasure to interview Boris. He gives a good read on Sultan without a bunch of rah rah crap. Around Grinberg one gets the impression that he is friendly but never off point. He and all the rest of Sultan's team are a class act.

Regarding the fight, which is now less than two weeks away, I like the contrast: The height and reach differences…the stance difference and very much the style differences. Sultan will probably try to outsmart Wlad's stand-off jab and coiled straight right power. Klitschko's style is somewhat akin to classical European fight postures…straight up, to fight tall, with footwork by the book and measured offense featuring lead-taking efforts.

On the other hand Ibragimov fights a ducking style with countering as a staple. Sultan will have to get inside from time-to-time to prosecute his forte which is working low angles. This drove Briggs nuts, because Sultan's counters were, as a result of the height difference, half straight or cross and half "uppercut", but not exactly an uppercut…more like punches from below. Not fun for Shannon.

Ibragimov's lateral movement is, IMO, superior to Wlad who must move those long legs with greater amplitude. I greatly admire Klitschko's conditioning, Boxing skills and professional attitude. He has put to rest whether he can go long, or get off the canvass and fight on. He has courage, discipline and heart. It has, however, been a long time since he has faced a dedicated scrapper like Sultan. Also, neither fighter will have hometown advantage or the big glitzy entries Wlad is used to in Europe.

These guys will meet on neutral ground in the greatest championship venue on the planet. This fight is a benchmark for Boxing fans and the HW division. It is also a great opportunity for American fans to drop their nationalistic attitude toward the sport, and realize that Boxing is planetary, and displays that which is best in us humans regardless of country of origin.

East Side Boxing will be ringside to cover the action of this unification event including a tremendous under-card. It is the event which will light the afterburner for Boxing action in 2008. See you at the fights. Article posted on 12.02.2008
previous article: Welter-'Wait': With Mayweather Chasing Oscar, Is Boxing's Deepest Division An Arrested Development?
next article: Calzaghe Sr Confident That Calzaghe, Rees And Macca Will Win