Q & A Nikolai Valuev
Nikolai Valuev is a man on a mission. The Russian Giant is eager to win back his WBA belt from Ruslan Chagaev, the man who handed him the sole loss of his career. In order to get a rematch with the reigning champion, Valuev (47-1, 34 KOs) needs to defeat Sergey Liakhovich when the two battle out a final WBA eliminator in Nurnberg on February 16. After another exhausting training session in the Max-Schmeling-Gym, the Russian Giant took time out to speak with boxen.com about his ambitious goals.

Q: Nikolai, with just one week between now and the final eliminator against Liakhovich, how are things inside camp?

A: Everything has been going well. I'm in great shape and have no doubts I will win..

Q: You´ve started your preparations in Japan…

A: Yes, that's right. Together with my coach, I was in Tokyo and Okinawa. We spent three weeks over there. Alexander Zimin used to work in Japan as a coach. We then travelled back to St. Petersburg where we stayed for two weeks.

Q: You moved camp to Berlin right at the start of the new year. Is the early arrival an indication of your special motivation?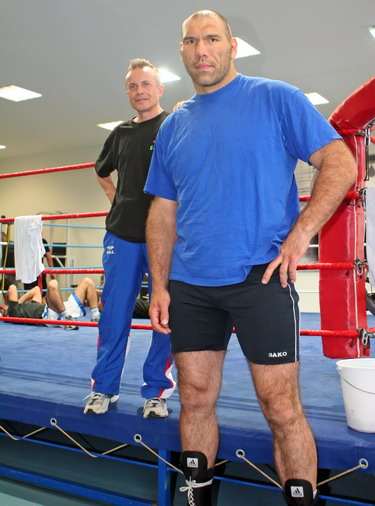 A: It was mainly due to the sparring partners which we could get in the Max-Schmeling-Gym. And the climate in Berlin is a little bit better than in St. Petersburg. It's a little warmer during the wintertime. Plus in Germany there are not so many distractions for me and I can fully concentrate on practice.

Q: Your wife Galina and your two children were also in Berlin.

A: Yes, that's right. It's the first time we've had them over the full time, If my family hadn't been here, I would have constantly worried about how they feel and what they do at home. And with them being in Berlin, I did not have to make so many phone calls back to Russia. After practice I could just relax instead of calling them. It was a very good decision.

Q: You seem to be in great shape. Can the fans expect to see the lightest Valuev of all time?

A: After sparring I now weigh around 143 kilograms which for me is not very much. But in the next days the training won't be as exhausting and before but I feel in very good shape.

Q: When you defeated Jean-Francois Bergeron in Oldenburg, Alexander Zimin was in your corner for the first time. In retrospect, how well had you adopted to his new style by then?

A: Back then, Alexander hadn't changed everything because he did not have enough time. He focused on a few certain things which I did well. Bergeron was an uncomfortable opponent. He was quite fast and constantly ran away. Who knows how I would have performed against him had I used my old style? But in the future and especially against Liakhovich, I will show much more of the things we have been working on in practice.

Q: Fighting Liakhovich will be tough…

A: Yes. But I am in great shape. We have worked very, very hard in the last couple of weeks. Our sparring partners were better than ever. I will be entering the fight with a lot of confidence.

Q: What are Liakhovich's strengths and weaknesses?

A: I don't usually speak much about my opponents before a fight. We'll find out in the ring.

Q: What is the bigger motivation – beating Liakhovich or getting another shot at Chagaev?

A: Getting another shot at Chagaev…

Q: Did you watch his fight against Matt Skelton? How do you rate his performance?

A: I watched the fight. Chagaev wasn´t really in good shape. Article posted on 08.02.2008
previous article: Paul Williams Enters The Proving Stage
next article: Paul Williams and Carlos Quintana weigh in results