Tarver-Woods, Johnson-Dawson Quotes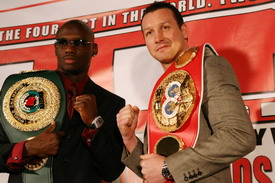 Photos by Tom Casino/Showtime: SHOWTIME will thrill boxing fans with an exciting and explosive light heavyweight championship doubleheader when International Boxing Organization (IBO) 175-pound champion and former undisputed light heavyweight kingpin Antonio Tarver defends his crown against International Boxing Federation (IBF) titleholder Clinton Woods at the St. Pete Times Forum in Tampa, Fla. on Saturday, April, 12.

Before Tarver and Woods exchange leather, fans will enjoy the highly anticipated light heavyweight championship fight between World Boxing Council (WBC) titleholder Chad Dawson and former world champion Glen Johnson, making April 12 a can't miss night of boxing..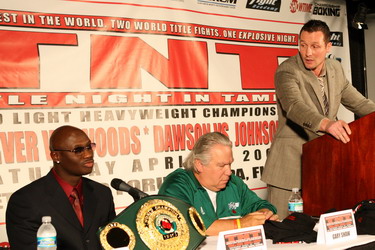 Tickets go on sale Saturday, February 9, at 10 a.m., at the McDonald's Box Office at the St Pete Times Forum and all Ticketmaster outlets. Charge by phone at 813-287-8844 or 727-898-2100 or log onto ticketmaster.com. Tickets are priced at $27.75, $52.75, $102.75, $202.75, $302.75. Limited ringside seats are available at $602.75. Limited VIP Packages are available at $1002.75. Prices do not include service charges. For dinner reservations, the night of the event, call 813-301-6926 or log on to ticketmaster.com. Parking passes are available at ticketmaster.com.

The world championship doubleheader, billed as "TNT: Title Night in Tampa," is being promoted by Gary Shaw Productions and AT Entertainment in association with Fight Academy and will air live on SHOWTIME CHAMPIONSHIP BOXING beginning at 9 p.m. ET/PT (delayed on the west coast).

Here is what the fighters had to say. Dawson could not attend the press conference due to illness.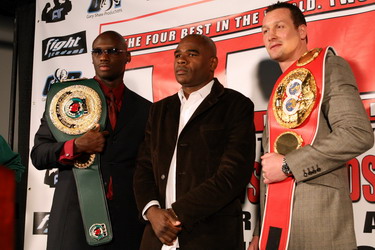 ANTONIO TARVER

"I'm getting too old to go 12 rounds. I can only go four. I'm not going to waste any time. I'm going to go in and take him out. I'm not at an age to be tussling for 12 rounds.

"At the end of the day, there will only be one man standing and that's what it's all about. By the end of the year there will be only one. I'll get all the belts.

"I'll make sure everyone gets what they pay for. This will be a great fight. It's rare you get two main events on one fight card. This will be the March Madness, the Super Bowl of boxing. This will be the best.

"God has blessed me, I feel very blessed. I wish I could have fought (Jeff) Lacy, but you can't make a man fight, but this fight came to me and I feel blessed. I will own all the titles by the end of year. Write that down.

"This is going to be a tough fight for me. He's coming after my belt. I'm going to need all of you to come out and support me. Make no mistake about it, I'm gonna knock him out!

"I'm going to punish Woods for the lack of respect that I and my entire team received in London."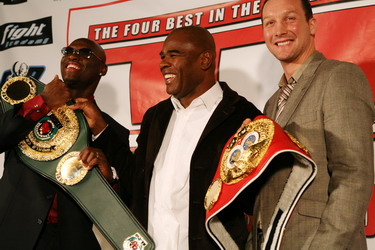 CLINTON WOODS

"Tarver hasn't fought anyone. He has had a short acting career and I'm here to take his belt.

"Since he came to England all he did was talk trash. All I did was talk trash back. He needs to stop being such a diva. He will have a reality check on April 12.

"I'm sure it will be a long hard night for Tarver. I will do whatever it takes to beat him. It will be a great fight for the crowd and those watching on SHOWTIME.

"I can't wait to get in the ring and kick his butt!"

GLEN JOHNSON

"Please tell Dawson to hurry and get better because I want his best on April 12.

I will knock out Dawson and wait to see who wins the Tarver-Woods battle so I can take them next.

"This fight is very exciting. Dawson is a young fighter so I will be making adjustments constantly. We're aware of his skills, but we know how to break them down.

"This fight at this point of my career is very important to me. I want the WBC light heavyweight title. It's something that I have not done yet.

"I will destroy Chad Dawson. He has no clue what's coming to him. I'm going to tear him apart."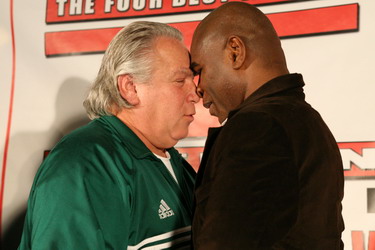 Article posted on 08.02.2008
previous article: Boxing Fans - Is There Something Wrong With Us?