Quotes and Photos From Israel Vazquez' Appearance at Santa Anita Park
03.02.08 - Photos by Benoit Photo -- Israel Vazquez, WBC super bantamweight champion and one of the most feared pound-for-pound boxers in the world, made a special appearance at Santa Anita Park, the historic thoroughbred racing track in Arcadia, Calif., earlier today..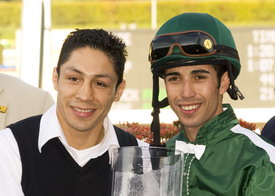 Vazquez, who battles Rafael Marquez for a third consecutive time on Saturday, March 1 at the Home Depot Center in Carson, Calif., presented the winner's trophy for the Grade I Santa Monica Handicap ($250,000), a race which featured multiple lead changes and a thrilling final stretch duel with a photo finish.

The winning horse, Intangaroo, ridden by jockey Alonso Quinonez, trained by Gary Sherlock, came in at 1:20 and gave Quinonez his first Grade I Stakes win of his career. Grade I races are the highest graded races out of three.

The 12-round championship fight is for Vazquez' WBC Super Bantamweight Title and Ring Magazine 122-pound title and will be televised on SHOWTIME CHAMPIONSHIP BOXING beginning at 9 p.m. ET/PT (delayed on the West Coast).

Tickets for this sure-to-be-classic battle are on sale. Tickets are priced at $300, $150, $75, $50 and $25 and may be purchased at The Home Depot Center Box Office, open 10:00 a.m. to 6:00 p.m. Monday through Friday, at all Ticketmaster retail ticket locations, as well as www.Ticketmaster.com and Ticketmaster-Charge-by-Phone, by calling 213-480-3232.

The fight is being presented by Gary Shaw Promotions in association with Sycuan Ringside Promotions, Golden Boy Promotions and Romanza Boxing Productions.

Here is what Israel Vazquez and jockey Alonso Quinonez had to say.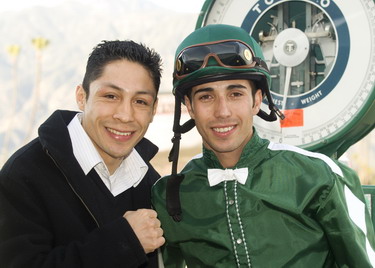 ISRAEL VAZQUEZ

"This is a good change of pace for me. I've been training non-stop for this fight so it was great to take my son out to Santa Anita Park for the afternoon.

"Horse races are fun to watch on TV but it's a different feeling when you're out here live. There is so much excitement and energy that you kind of feel like you're at a boxing match.

"I don't know if there is another horse racing track in the country with a backdrop as beautiful as the one at Santa Anita Park. You look out and you see the foothills of the San Gabriel Mountains. It's an amazing view.

"I thought the picture of myself with jockey Alonso Quinonez on the scale was a nice touch. Boxers and jockeys can relate to that because we're always keeping an eye on our weight.

"I just can't wait to get in the ring on March 1st. There's been so much positive talk about our rubber match. I feel really fortunate to be in the position that I am in.

"Fans will be treated to a spectacular show. I know a lot of boxers say that to hype up a fight but I think it means a little more when I say it. The proof is in our last two fights. Everyone loved those battles and everyone will love our third fight too."

ALONSO QUINONEZ

"It felt great to meet a world champion boxer. I wished Israel good luck in his upcoming fight and I hope he does well.

"He's exciting to watch. I don't think he has ever been in a boring fight.

"This filly was very, very, game. All I had to do was follow Gary Sherlock's (trainer) instructions. He told me to save something for the stretch and everything went great. This is unbelievable, it feels great." Article posted on 03.02.2008
previous article: Pavel Miranda, Josesito Lopez Return On Feb 22