Roy Jones Jr. Quotes at New York Knicks Practice
All Photos: Avi Gerver/MSG Photos - TARRYTOWN, N.Y.—Eight-time boxing world champion Roy Jones Jr. planned to visit with New York Knicks players after they finished practice at the Madison Square Garden Training Center in Tarrytown, N.Y., today but was surprised when Knicks head coach Isiah Thomas waved him over to take part in a full-court, three-man weave drill with the team..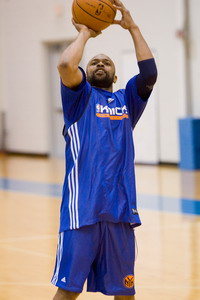 "It was a dream come true for me to get on the court and shoot around and do some drills with the Knicks," Jones, who once played in the professional United States Basketball League, said. "I was a little rusty but I wasn't going to say no to coach Isiah. What a thrill it was to be on the court with the Knicks to see up close and personal how good they really are."

Thomas joked that his players may have avoided contact with Jones.

"The shot was a little suspect but nobody got close enough to him," Thomas said. "I don't think anybody wanted to challenge him for fear that he may punch him."

Knicks guard and fan-favorite Nate Robinson was chided by fellow players when Jones donned a Knicks practice jersey sporting Robinson's number. They further antagonized their teammate by suggesting that gloves Jones was planning to autograph were really there for sparring between Jones and Robinson.

Jones assured him it was only a message to his Jan. 19 opponent at Madison Square Garden, Felix "Tito" Trinidad. Jones reiterated his oft-repeated slogan, "Tito must go in fo'. That's why I've got the number four on my jersey."

Robinson declared, "There's no way I'm stepping into the ring with that man. He can wear whatever number he wants."

After practice Robinson commented on what it meant to him to have Jones at the Knicks practice.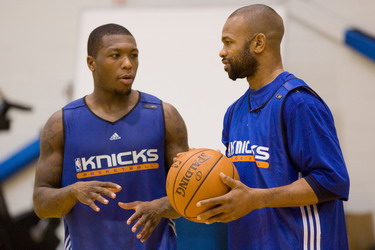 "Roy Jones is a boxing great and it was fun to have him practice with us. That shows a lot of love on his part to join us today. It provided us with some inspiration. He didn't have to come out here with us but that just goes to show what kind of guy he is."

Robinson quipped, "He may be one of the smaller guys out here today, but I'll bet he could beat up all of us."

Jones was gratified to have the opportunity to play with the team.

"It was inspiring for me too," Jones said. "I've had my ups and downs over the last three years so I came out here today to let coach Thomas and the Knicks know they just need to hang in there, do the best they can, and their time will come. I know it will."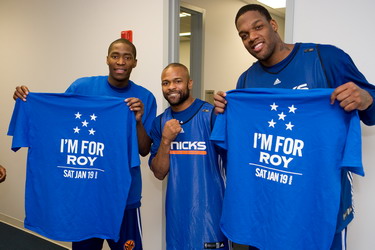 Full Quotes and Camp Notes from Roy Jones Jr.

"It was a dream come true for me to get on the court and shoot around and do some drills with the Knicks. I was a little rusty but I wasn't going to say no to coach Isiah. What a thrill it was to be on the court with the Knicks to see up close and personal how good they really are.

"It was inspiring for me too. I've had my ups and downs over the last three years so I came out here today to let coach Thomas and the Knicks know they just need to hang in there, do the best they can, and their time will come. I know it will."

Jones was told by a friend about a training facility near Pittsburgh, in California, Penn. He has been training there since the beginning of December with longtime trainer Alton Merkerson. His six-day-a-week training schedule often starts with a three-to-five mile run around 6 a.m.,"depending on how I feel each day," followed by breakfast usually consisting of only fruit. After a nap, Jones is up at noon followed by a three-hour gym workout around 4 p.m.

"It's working out really well at the training camp. I need to be focused for this fight and this camp out in the country is a good place to be focused.

"The rooster is back in Roy Jones. I used to strut and entertain people. Somehow I lost that for a time. I started to focus more on my opponents than on simply going out and entertaining my fans. Now I'm back to doing what I do best.

"Tito and his people think it's going to hurt me to have to go all the way down to 170 pounds—and it is a smart move on their part—but it's nothing I haven't been through before. I've had more than enough time to get down to weight so I'm not going to have to kill myself getting there.

"The big question is can Tito bring his punch and take my punches at 170 pounds. Tito must go in fo'. That's what everybody's waiting to see on January 19." Article posted on 29.12.2007
previous article: Hawkins Outpoints Guinn on "FNF"; Jones, Jr. Calls Out Calzaghe On The Broadcast, & He Predicts A Fourth Round Stoppage Over Trinidad