Cunningham vs Huck: No Christmas Break for Captain Huck
There will be no Christmas break for Captain Huck this year as he is shifting his full focus to Saturday´s showdown with IBF cruiserweight champion Steve Cunningham. The determined youngster will not travel home to Bielefeld to see his family but remain "locked" into a Berlin hotel alongside coach Ulli Wegner. "Even though it is Christmas - all the festivities would just be a distraction," the star trainer stated. "Unfortunately we can´t think about it this year.."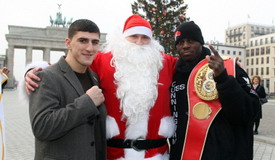 Naturally, Wegner will not leave his fighter alone. He has booked himself into the same hotel and will look after Huck until the fight. "It goes without saying that I don´t leave him alone," Wegner added. "We´ll do a practice session on the 24th and then spend the afternoon at my home with my wife Margret. We´ll have dinner under the Christmas tree and will sing a few songs before going back to the hotel."

Huck, undefeated in 19 fights (14 KOs), was sad not to see his family but vowed to put all distractions aside until the 29th. "My parents know that the fight against Cunningham will be the most important one of my career," he said. "Next Saturday I can pave my way for a successful future. Nothing can distract me. All that matters is the title. Once I´m world champion, I´ve plenty of time to celebrate."

Article posted on 23.12.2007
previous article: Final 2007 Pound for Pound List
next article: Heavyweight, Tony Grano Dishes Out Meals For The Holidays!