Manuel Charr: "The heavyweight division is full of circus fighters"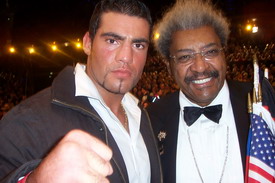 23.12.07 - Interview by Andrew Wake: You may not know his name but 23 year old Berlin-based heavyweight prospect Manuel "Diamond Boy" Charr may just be the man to shake up boxing's biggest and most talked about division.

Charr (real name Machmoud Omeirat Charr), a former kickboxer, started his climb to boxing supremacy in May 2005 when, under the tutorage of Ulli Wagner, he won a four round decision over Czech David Vicena on a bill headlined by fellow heavyweight Nicolay Valuev. During the twelve months that followed he added another six names to his résumé, four by way of knockout, and all seemed rosy for the Beirut born pug except for one thing…he wasn't being paid..

The financial problem is because Charr, despite living in Germany since he was four years old, is the son of illegal immigrants and does not carry the necessary work permit or passport that would allow him to be paid.

If that wasn't bad enough for the undefeated heavyweight, things got even worse last year when he and Alexander Abraham, younger brother of IBF middleweight champion Arthur, were arrested over a stabbing.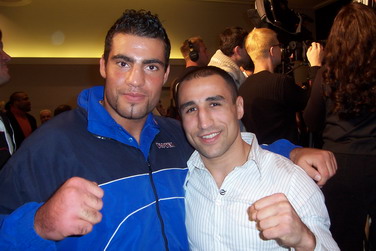 I caught up with the young fighter and asked him about his past, present, and future.

AW: Manuel, it's been over 18 months now since you were last in action, against Pedro Carrion. Is the big gap to do with the problems you had with your German work permit?

MC: Yes but next year I hope that they can permit me to come back.

AW: Obviously, the lay off will have been hard for you but I have heard that you have had problems with the German authorities for a long time and that because of it you haven't been paid for any professional fights. Is that true?

MC: Yes, that's true. Again, it's because of my passport in Germany.

AW: Your passport problems also mean that at present you are unable to leave Germany, do you think that your inability to travel will hold your career back?

MC: Yes, of course, it's always a big problem for a fighter when he can't leave his country. It's been trouble for me since the time I came to live in Germany.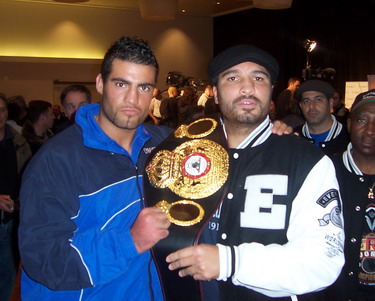 AW: You also had a running with the law last year over an alleged stabbing, is that now resolved and is there anything you would like to say on the matter?

MC: I would like to say that I am happy that the truth won in the end and that I got a verdict of not guilty.

AW: What was it like being a kick boxer and why did you make the change to full time professional boxing?

MC: I did kickboxing because I was a big Jean Claude Van Damme fan when I was a boy. I started my career at the Duisburg masters gym, which is the only school in Germany for K1-fighters but I used to do amateur boxing as well. I was very good at kickboxing but won most of the fights with a right handed punch, so one day in 2005 Ulli Wegner came to the gym and asked to go with him to Berlin to take up boxing full time. There [in Berlin] I started sparring with Nicolay Valuev and Sinan Samil Sam and Cengiz Koc and they were no problem for me. One week later I was given a contract for five years.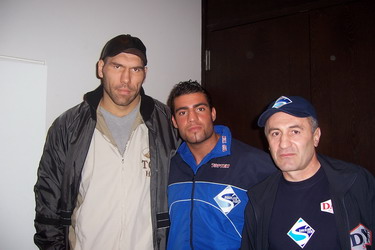 AW: How did with training with top contenders, like Sinan Samil Sam and former world champion Nikolay Valuev, help you develop as a fighter?

MC: It helped me a lot. They are very good fighters and I was young and learning so it was a big challenge for me to spar with them, but, like I said before, they were not really a big exercise for me.

AW: Another of your former stable mates, Alexander Povetkin, is tipped for big things and is expected to fight for a world title in 2008 but is it also true that you used to give him a tough time in sparring as well?

MC: (Laughs) Yes, of course, you can ask him yourself. He had a lot of problems against me. I have no respect for him and I would fight against him every time, with or without money.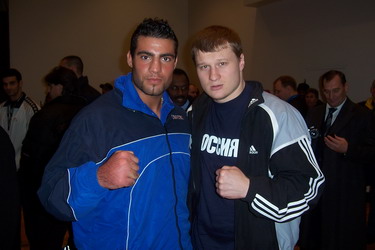 AW: What's your opinion on the current state of the heavyweight division?

MC: It's terrible! Besides Wladimir Klitschko, Ruslan Chagaev and Alexander Povetkin there's nobody. All the others are only circus fighters…Oh, except Samuel Peter, I like him.

AW: When can we expect to see you fighting again?

MC: Sometime in 2008 I hope.

AW: What are you looking to accomplish when you do get back in the ring?

MC: Well, I will give my fans and the whole boxing world a lot of excitement and I promise many knock outs. I am the first Arab heavyweight and I will be the first Arab heavyweight champion.

AW: Is there anything else you want to add in closing?

MC: Yes, my time with Sauerland events has ended this year and I will now fight for Universum Box promotions. Peter Kohl is my new manager and Fritz Sdunek is my new teacher. He [Sdunek] used to train the Klitschkos and he has a lot of confidence in me. Next year I will be back and you will see the best from me.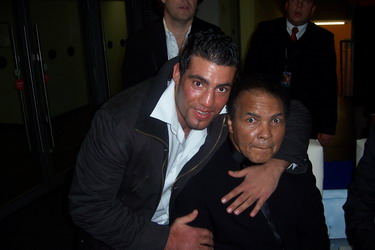 AW: Thank you Manuel and good luck in your career.

MC: Thank you, my friend.

Although he answers were short and to the point I found Manuel a very affable and confident young man and if he really can handle Povetkin, Valuev and the like in the manner he says he can then he will really be something special. If you have not seen Manuel in action then a quick trip to youtube should satisfy your curiosity. Article posted on 23.12.2007
previous article: Hopkins Calzaghe: Why does it always have to be a "Black or White" thing?