Trinidad/Jones Jr: First Of Three-Part Series On Trinidad-Jones To Air Sunday On Cox Sports Television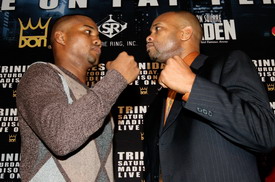 NEW YORK— Boxing fans searching for an inside look at the non-stop Felix "Tito" Trinidad and Roy Jones Jr. media tour will get a treat when Cox Sports Television the first in a three-part series documentary showcasing the legendary fighters on Sunday, Dec. 23, at 11 p.m. ET/8 p.m. PT. The documentary highlights press stops in major United States cities such as New York City, Los Angeles, Sacramento, Miami and ESPN studios, among others. Both fighters offer predictions and are candid about their strategies for their upcoming, highly anticipated fight.

Two of the greatest boxers in history who are both destined for the Hall of Fame, Trinidad and Jones, will square off at New York's famed Madison Square Garden on Saturday, Jan. 19, 2008. The match will be produced and distributed live by HBO Pay-Per-View..

Tickets for the premier boxing event are now on sale. Prices range from $15,000 to $100 and can be purchased via www.Ticketmaster.com.

Trinidad (42-2, 35 KOs), of Monte Hiedra, Puerto Rico, and Jones (51-4, 38 KOs) of Pensacola, Fla., have built a staggering list of accomplishments and will enter the ring at or below the catch weight of 170 pounds.




Jones is an eight-time world champion who has captured belts in the middleweight, super middleweight, light heavyweight and heavyweight divisions. Additionally, he became the first former middleweight champion to win a world heavyweight crown in more than 100 years.

Trinidad is a five-time world champion with a stunning career knockout ratio of 80 percent who has won titles in the welterweight, junior middleweight and middleweight classes. He also holds the distinction of having defeated three Olympic Games gold medalists: Pernell "Sweet Pea" Whitaker, "The Golden Boy" Oscar De La Hoya and David Reid.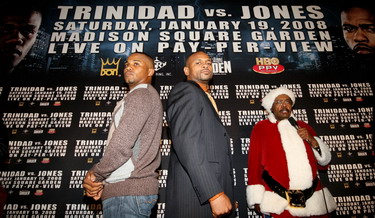 The event, which is being promoted by Don King Productions in association with Madison Square Garden, will be distributed internationally by KingVision, available through DK International Sales, a division of Don King Productions, Inc.


MSG Sports Properties is part of Madison Square Garden, L.P., owned by Cablevision Systems Corporation, which includes the New York Knicks (NBA); the New York Rangers (NHL); the New York Liberty (WNBA); the Hartford Wolf Pack (American Hockey League); MSG Entertainment, which includes concerts and events at Radio City Music Hall, Madison Square Garden, WaMu Theater at Madison Square Garden, and the Beacon Theatre; MSG Media, which is comprised of MSG and FSN New York; and the Madison Square Garden arena complex, located in the heart of the New York metropolitan area.

Don King Productions has promoted over 500 world championship fights with nearly 100 individual boxers having been paid $1 million or more. DKP also holds the distinction of having promoted or co-promoted seven of the 10 largest pay-per-view events in history, as gauged by total buys, including three of the top five: Holyfield vs. Tyson II, 1.99 million buys, June 1997; Tyson vs. Holyfield I, 1.6 million buys, November 1996; and Tyson vs. McNeeley, 1.58 million buys, August 1995.

DKP has promoted or co-promoted 11 of the top 15 highest-grossing live gates in the history of the state of Nevada including four of the top five: Holyfield vs. Lewis II, paid attendance: 17,078, gross: $16,860,300 (NOTE: Also second-highest live-gate gross for any event in history.), date: Nov. 13, 1999; Holyfield vs. Tyson II, paid attendance: 16,279, gross: $14,277,200, date: June 28, 1997; Holyfield vs. Tyson I, paid attendance: 16,103, gross: $14,150,700, date: Nov. 9, 1996; and Tyson vs. McNeeley, paid attendance: 16,113, gross: $13,965,600, date: Aug. 19, 1995. Article posted on 22.12.2007
previous article: Hot Prospect Aaron Williams Featured in Ring Magazine
next article: Nephew of Trevor Berbick Found Guilty Of Former Champ's Murder